---
"If you want to teach people a new way of thinking, don't bother trying to teach them. Instead, give them a tool, the use of which will lead to new ways of thinking." — Buckminster Fuller
A Healing Setting for Your Psilocybin Retreat Center
A healing setting is an essential element of the psilocybin experience. Within the healing qualities of a dome's multidimensional pyramid, one of nature's oldest and most effective plant medicines, the magic mushroom, blends ancient therapies and modern wellness science inside a professionally managed and restorative psychedelic lab – digitally enhanced for relaxation, reflection and transformation. What better place to experience healing therapies, than within the higher frequency of a geodesic dome?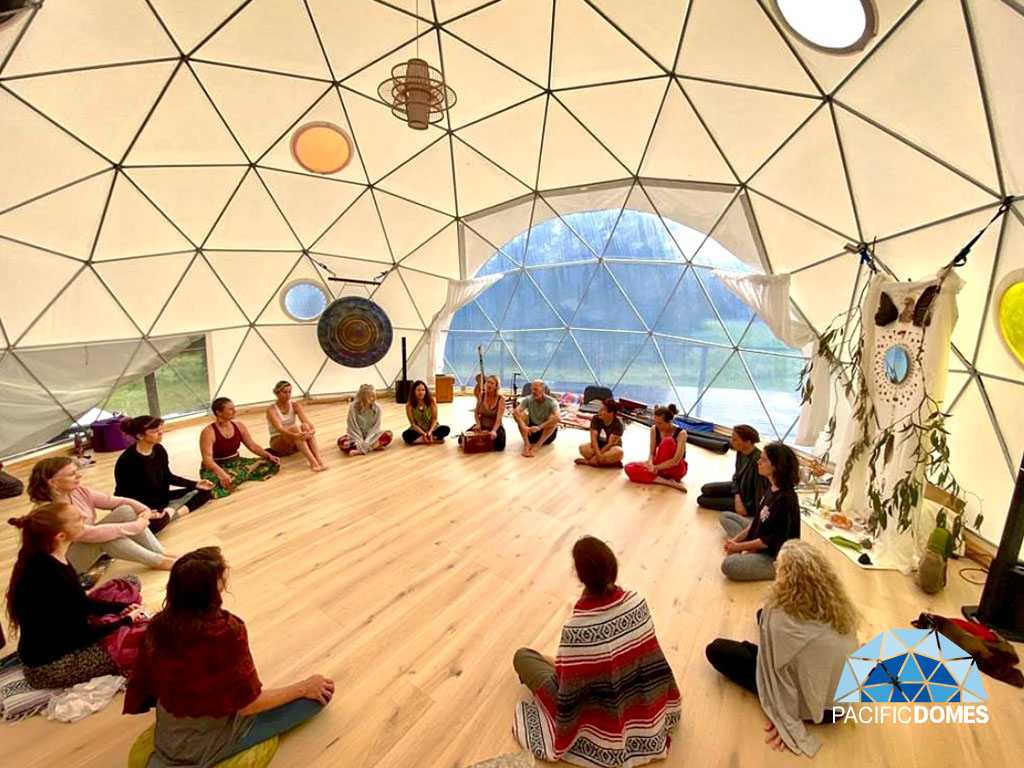 ---
About Harmonic Architecture
Harmonic architecture is a philosophy of organic architecture which promotes harmony between Nature's incredible architecture and our human habitations. Harmonic architecture stems from a reverence for the inter-connectedness with our natural world and champions the understanding that the human psyche cannot thrive when disconnected from its natural world.
Organic design approaches can be found in the study of ancient sacred geometry principles, where dwellings and surroundings become a unified, interrelated composition. Today, more and more people are re-discovering health and healing through the energetic qualities of domes.
Research conducted by a team of architects and neuroscientists strongly suggests that harmonic architecture may indeed have measurable effects in promoting more positive mental states. The study of Resonance Science supports the environmental influence of shapes – demonstrating that human brain patterns are notably different in frequencies of harmonic architecture when weighed against dissonant environments, i.e. box-like concrete jungle settings.
Psilocybin Therapy FAQ's
Are psychedelics legal in the US?
Oregon voters passed the 2020 Oregon Ballot Measure 109, making it the first state to both decriminalize psilocybin and also legalize it for therapeutic use – and, Colorado followed with the 2022 Colorado Ballot Measure 122.
Oregon Psilocybin Services Section began accepting applications for licensure on January 2, 2023. This means that, magic mushroom therapy, has now been legalized for therapeutic use by licensed psychedelic practitioners in the State of Oregon – it's expected that other states will soon follow suit.
What does a psychedelic therapist do?
Psychedelic or magic mushroom therapy refers to cutting-edge alternative treatments administered under carefully controlled conditions within a professional clinical setting. A vast amount of research and data conducted by major universities and clinics worldwide supports the use of mushroom therapy for the treatment of imbalances – such as, physiological, emotional or mental disorders, where patients have not responded well to standard medications or therapies.
Psilocybin Therapy: Treating Depression, Anxiety and more with Mushrooms
While the topic of psilocybin-assisted therapy is still being widely researched today, what's really exciting is that neurogenesis, the process by which neurons are produced in the brain, has proven to be one of the ground-breaking discoveries and restorative benefits of mushroom therapy!
The results thus far, are positive and encouraging. Participants state that they have experienced a decline in depression, a feeling of wellbeing – many report having experienced full and complete mystical experiences and an inter-connectedness with all life.
Brief History of Psilocybin Mushrooms
"Psilocybin mushrooms have been used for millennia by indigenous cultures from Europe to Mesoamerica. More than 116 species have been identified thus far in the genus Psilocybe, alone. New scientific evidence is pointing to the fact that, not only can they be psycho-spiritually transformative, but they are capable of stimulating neurogenesis, i.e. the growth of nervous system tissue. These recent discoveries show psilocybin's potential for helping address such conditions as depression and anxiety, but perhaps as well, to help prevent dementia, Alzheimer's and other neuropathies – in fact, they may increase intelligence."
---
---
"But these exciting new findings have generated a rush of investors seeking to corner medicalized psilocybin, which raises the question: Should psilocybin mushrooms come to market as People's Medicine or Profit Medicine?" — Paul Stamets, Microdose.me
---
Who better to ask than the renowned mycologist and lifelong activist for mushroom therapy, Paul Stamets? Quite possibly the world's foremost expert on psilocybin mushrooms, Paul believes that we can save the world with mushrooms! Learn more about Paul and his work at Paul Stamets.com.
---
Modern History of Psychedelia
Popularized by the hippie movement, a worldwide subculture of the 1960s, psychedelia refers to the psychedelic experience produced by ingesting psychoactive substances. The hippie lifestyle or artistic freedom of expression exemplified by the Flower Power era, included a style of clothing, psychedelic music and art that's still with us today – and, seems to be experiencing a renaissance during these unprecedented times of uncertainty.
---
Born during this era of innovation in the 1980's, Pacific Domes of Southern Oregon, has been blazing the trail in the footsteps of Buckminster Fuller's vision to, "Make the world work for 100% of humanity" . The Pacific Domes family invites you to browse our website, our Knowledge Base and YouTube Channel. Connect with us on Social media. As always, our friendly Customer Support Reps are happy to answer your burning questions.
---