"I invented a way of enclosing space with what's called a geodesic dome, which is very much stronger and more efficient than other ways of enclosing space." — Buckminster Fuller
If you're looking to jumpstart your journey toward self-sufficiency amidst rising concerns involving food scarcity and empty grocery shelves, you've come to the right place to learn about the Greenhouse Grow Dome: a revolution in urban homesteading.  Empowering you to take control of your family's food security, greenhouse grow dome kits offer an opportunity to grow your own fresh, pesticide-free food.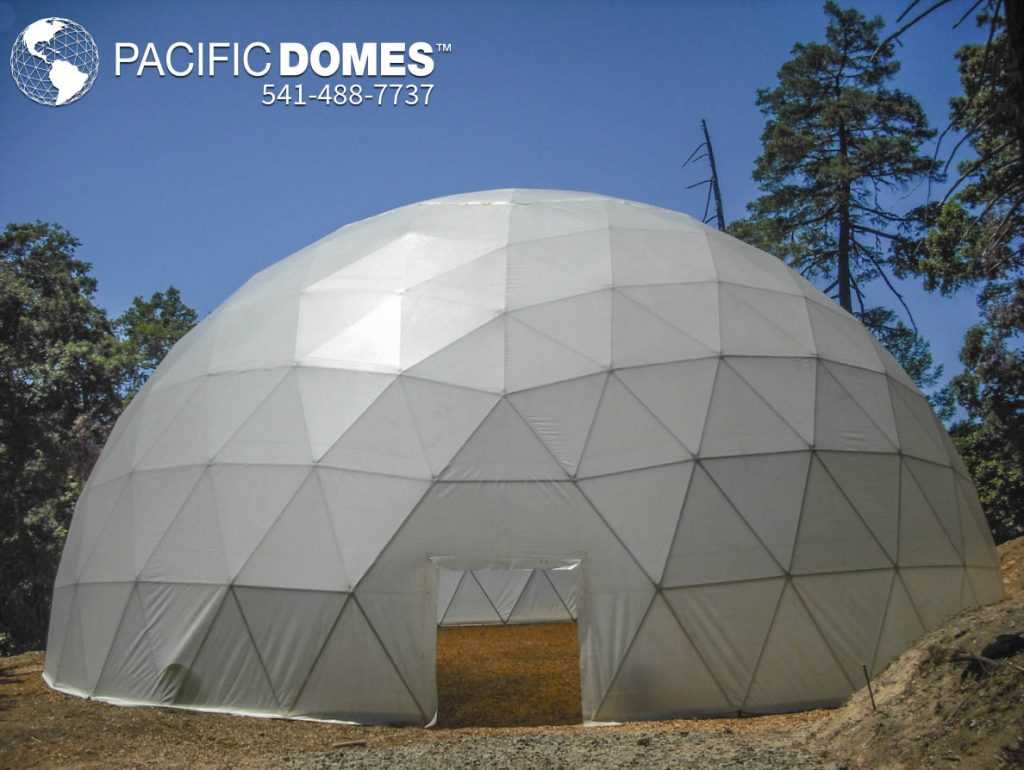 The airflow and round space of this 30′ green house dome makes a magnificent space for growing anything under the sun.
---
Benefits of Geodesic Greenhouse Structures
Did you know that geodesic structures make great year-round greenhouses? One of the great benefits that geodesic dome structures offer the urban family homestead is four-season food production. Regions that experience more dramatic drops in winter and extreme heat in the summer, find that insulated geodesic greenhouses, not only extend their growing season, they can be used year-round.
Geodesic domes offer other uses and benefits, as well. From raised bed gardens to vertical growing towers, the dome's interior structure has limitless design potential. Its circular design encloses the greatest volume of interior space with the least amount of surface area – making greenhouse domes ideal for urban settings.
Geodesic Greenhouse Structural Strength
The American Institute of Architects calls the geodesic dome "the strongest, lightest and most efficient means of enclosing space known to man." Manufactured in the USA, Pacific Domes' prefab greenhouse kits use the highest engineering standards.
Geodesic Domes are composed of inter-connected triangles that lend them unparalleled structural strength. Buckminster 'Bucky' Fuller, father of the modern geodesic dome, demonstrated the difference in strength between a rectangle and a triangle by applying pressure to both structures. The triangle proved to be twice as strong and remained rigid while the unstable rectangle collapsed.

Energy Efficient and Cost Effective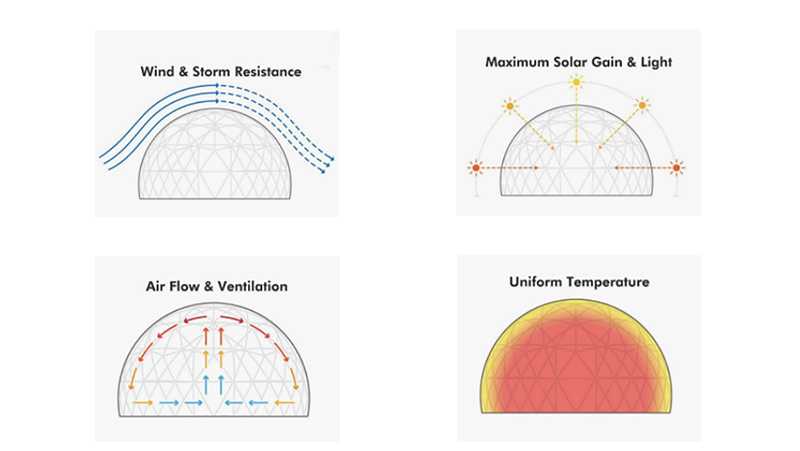 A dome's structure is one of the most energy-efficient interior spaces. Air and energy circulate without obstruction – this enables natural heating and cooling to take place.
Specifically, a dome is energy-efficient for the following reasons:
Its decreased surface area requires less building materials.
Exposure to cold in winter and heat in summer is decreased, due to less surface area per unit of volume.
The concave interior creates a natural airflow, allowing hot or cool air to flow evenly throughout the dome with the help of return air ducts.
Extreme wind turbulence is lessened because winds contributing to heat loss flow evenly around the dome.
It acts like a giant downward reflector that concentrates interior heat, preventing radiant heat loss.
Dome studies, comparing same-size traditional homes, have shown a 30% energy savings.
Designing Your Greenhouse Dome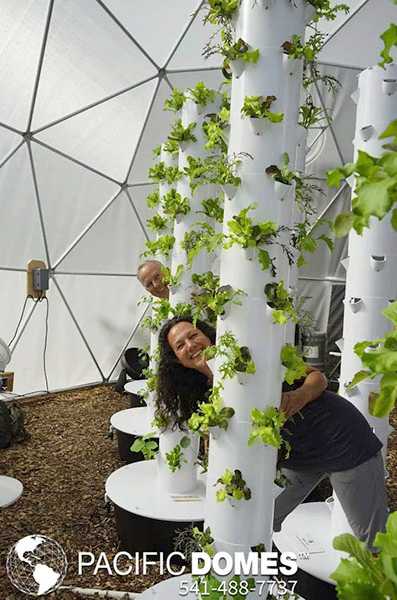 "The world is suffering from loss of growing habitat, genetically modified seeds and global warming. Aquaponics empowers growers to stay ahead of climate change, making it the future of sustainable farming. An outdoor geodesic dome can house the system, and we enjoy maximum yields from little labor. It's an ethical way to make healthy, quality food, affordable and profitable." ― Erik Oberholtzer, Tender Greens Restaurants
Designing and outfitting your dome begins with asking yourself what type of system works best for you. Modern technology has made it possible to install systems that are fairly self-regulating and require very little maintenance – such as, an aquaponic or vertical tower system.
You may wish to explore the convenience of both a closed-loop aquaponics system and a grow tower system. You'll be pleasantly surprised at how much food you can continually harvest with the near-seamless efficiency of a geodesic greenhouse dome. You'll be amazed at how soon, you'll be growing enough pesticide-free organic produce for your entire family, friends – and even, share your abundance at a local Farmer's Market!
Urban Placemaking and the Community Food Garden
"In our society, growing food ourselves, has become the most radical of acts. It is truly the only effective protest, one that can – and will – overturn the corporate powers that be. By the process of directly working in harmony with nature, we do the one thing most essential to change the world – we change ourselves." ― Jules Dervaes, Urban Homestead (1947 – 2016)
Organically grown and pesticide-free produce is fast becoming the preferred choice by educated consumers. While global hunger seems to be on the rise, urban family homesteads and community food gardens have the potential of rising to the challenge. Learn more about the Urban Homestead by watching this short award-winning film below.
Inspirational! Homegrown Revolution – Urban Homestead (15 min).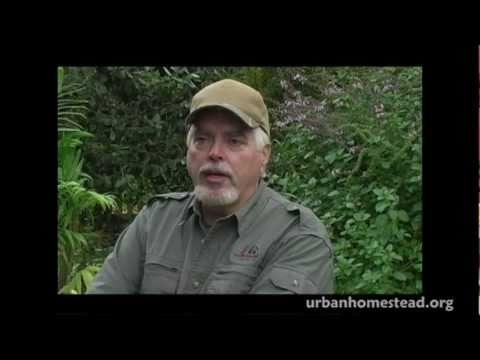 ---
Pacific Domes prefab geodesic greenhouse grow dome kits are available from backyard to customized commercial sizes. Be sure to check out Pacific Domes online store for basic greenhouse pricing.
We're here to help!
Whether you have a backyard urban garden project, a larger community or commercial project you'll love how our 3D renderings will bring your project to life.
Pacific Domes sales and support teams are here to assist you each step of the way.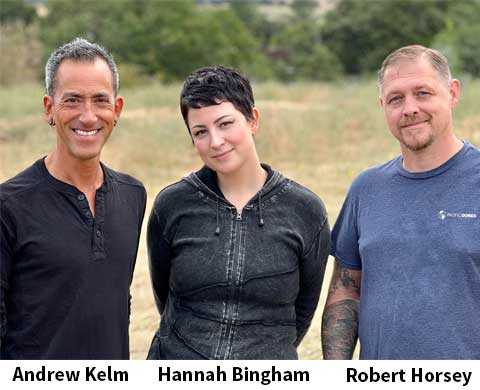 ---