"Yes! The heart and soul thrive in Nature!" – Pacific Domes
When most people think about outdoor living, they mainly refer to extending their indoor-outdoor living space for recreational or entertainment purposes. While spending time outdoors in one's backyard patio helps to temporarily unplug from the busyness of everyday life, it's not necessarily what one would call a genuine outdoor living experience – outdoor living is more about rewilding yourself in Nature.
Whether you're due for a weekend glamping getaway or you're among those feeling the call to permanently exit the urban jungle, you're sure to find an authentic, close to the elements experience by spending time immersed in Nature's splendor – in an off-grid ecoliving dome, of course.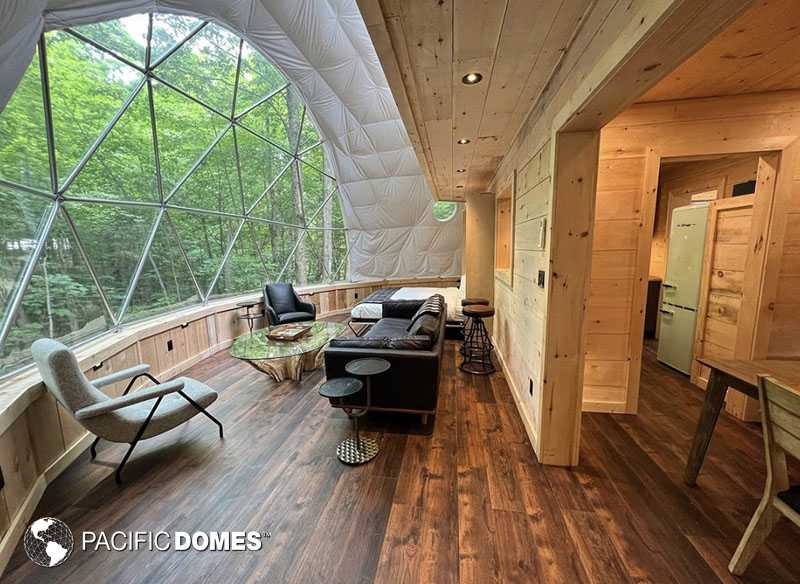 Using Nature's Design to Build!
The same subtle blueprint of creation found everywhere in Nature is visible in the varied geometric patterns and frequencies of geodesic dome design. The sacred geometry principles used in construction of the geodesic-engineered dome guarantees its inherent ability to withstand the forces of nature, such as temperature fluctuations, high winds, snow loads – even, tornadoes, hurricanes and earthquakes.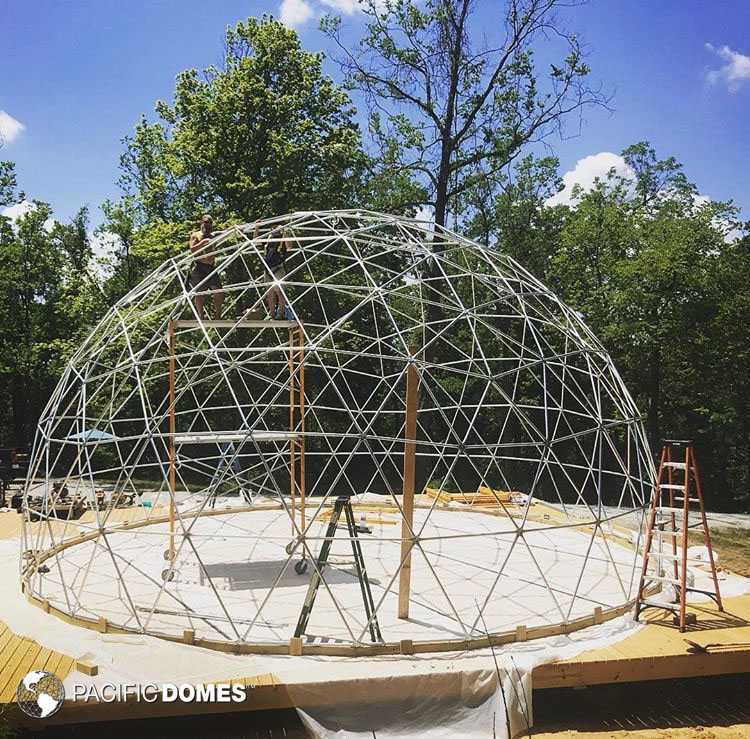 "Domes are the strongest, lightest and most efficient means of enclosing space yet known to man." — R. Buckminster Fuller
Geodomes have been built all around the world in diverse climates and temperature zones. They have proven to be energy-efficient ecoliving shelters – a dome's unobstructed ambient air and energy flow enables heating and cooling to occur naturally.
Geodome shelters create peaceful, spacious Zen-like environments. A dome's spherical geodesic frame lends itself to innovative interior design layouts. Studies have shown that time spent in a dome is beneficial to humans – it rebalances one's energies and promotes healing.
Harmonic Qualities of Domes
No matter whether it's a nomad dome tent or a more complex geodesic dome home, people find that they feel happier after spending time in a dome. Why? This is largely due to a geodesic dome's energetic qualities.
When immersed in a dome's harmonic architecture we begin to experience natural states of happiness in our daily lives. Those who spend time in a dome have remarked how they feel an uplifting general sense of well-being. Delving deeper into the study of sacred geometry helps us understand how we can build a dome home that truly nurtures us.
Enchanting DOME Home in Woods w/ Luxury Bath-House & Rain Catchment (22-min.)
If you're excited about the thought of spending more time in Nature, you'll feel inspired by this young couple who love living close to Nature in their woodland domestead!
Meet Evan & Sam, who've built an affordable dome home of their own. First, they built their very functional vaulted-ceiling outhouse and luxuriously outfitted bathhouse – then, came the geodesic-engineered dome kit manufactured by Pacific Domes of Southern Oregon.
---
We hope that this post about authentic outdoor living has impacted your life in a good way to motivate you to spend more time rewilding yourself in Nature. If you're ready to embrace an ecoliving dome home lifestyle and want to learn more, we invite you to check out Pacific Domes Knowledge Base – and while you're at it, check out our helpful How to Guides.
We're here to help!
We love solving your problems and strive to keep your needs at the forefront of every interaction!
Our Customer Support representatives excel in providing personalized service from beginning to completion. Spanning decades of combined product knowledge, our team handles all phases of geodesic dome manufacture, construction and installation, so don't hesitate to reach out for solutions to your shelter needs.