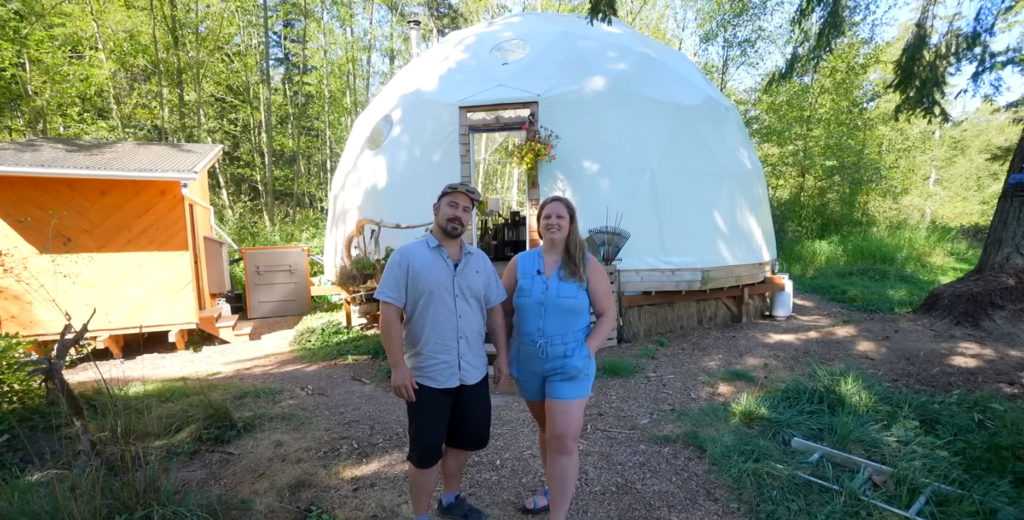 Meet Evan & Sam, a very artistic young couple whose passion for outdoor living (aka alternative living) has taken them on a journey into building their own dome sweet home – a 30-ft. dome home in the enchanting woodlands of the Pacific Northwest.
They love living close to nature and their newly built domestead affords them both the space and Zen-like ambiance they needed to pursue their hobbies and livelihood – carpentry, soap-making and other hand-made crafts.
Prior to building, Evan and Sam had looked into other affordably priced box-like tiny homes as an option and decided that this setup wouldn't work well for them, since their homemade arts and crafts take up a lot of room. Unlike many tiny home setups, tiny dome home living met their requirements for space and outdoor living lifestyle .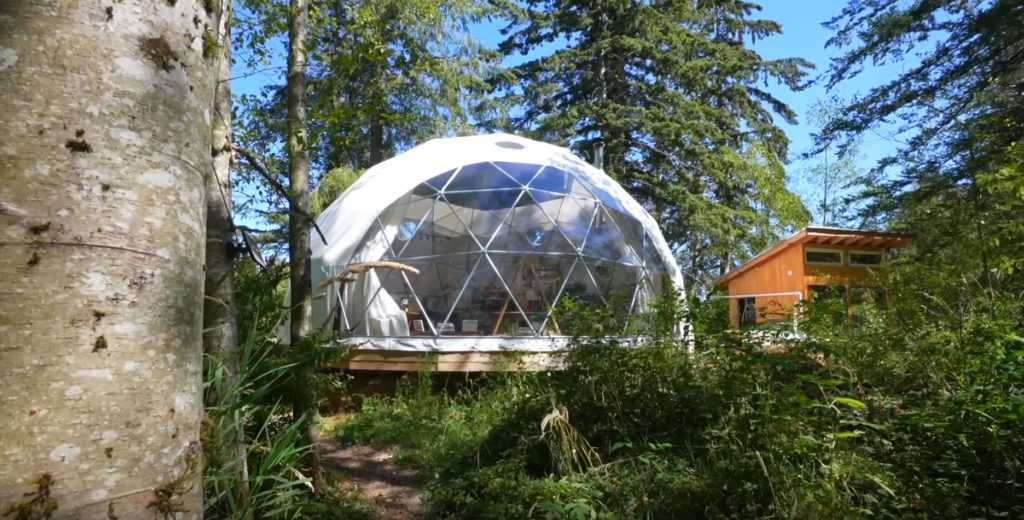 "Alternative living, for me, is about being in tune with Nature and living closer to the land. You have to think about interacting with Nature in ways that you wouldn't, living in a house." – Sam
Tour Evan and Sam's Domestead
First Stop – Touring their Dome Home
Even though the dome wasn't built first, Evan and Sam began their tour with an exterior view of their 700-sq.ft. dome set onto a custom-built treated-lumber post and beam decking platform. The stair-step deck with rustic redwood railing, which they call their micro-deck leads to the welcoming front door entry.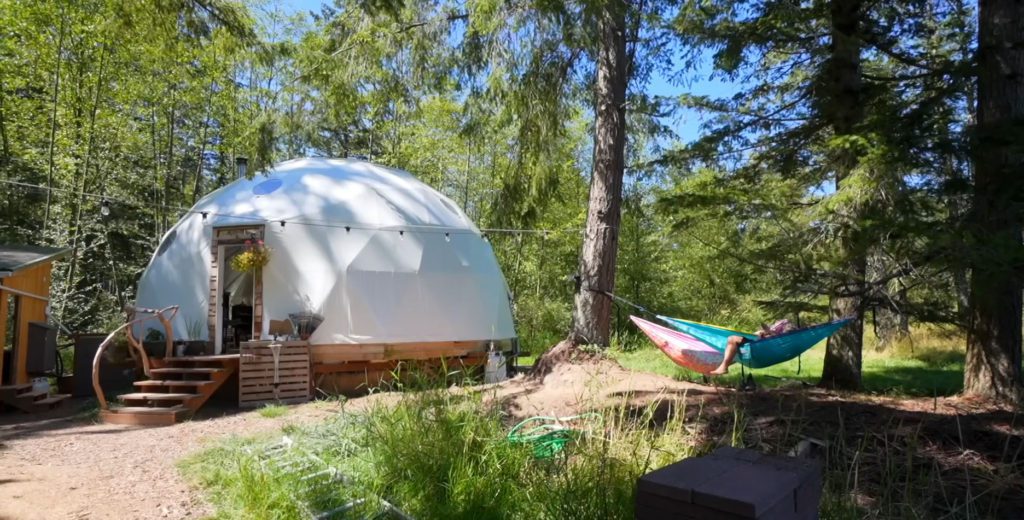 Upon entering inside the dome's interior, a 15-ft ceiling showcases their large bay window and skylight surrounded by randomly placed round windows. Dome Windows allow plenty of diffused sunlight to warm the inside with a Zen-like ambiance.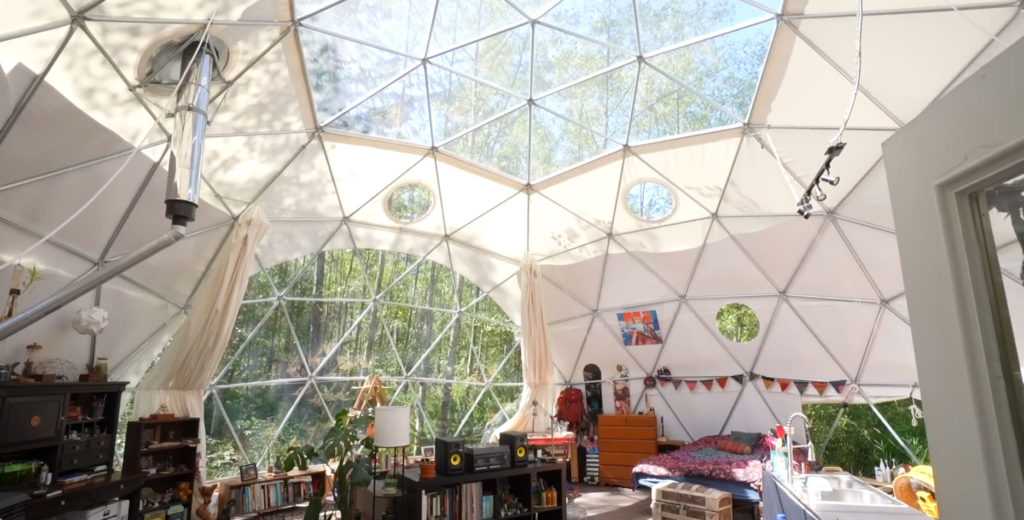 Next Stop – Touring Outdoor Structures
It goes without saying that the first structures the couple actually built after clearing the land, were a detached vaulted composting-toilet outhouse and a luxurious bathhouse – complete with a delightful summertime outdoor shower.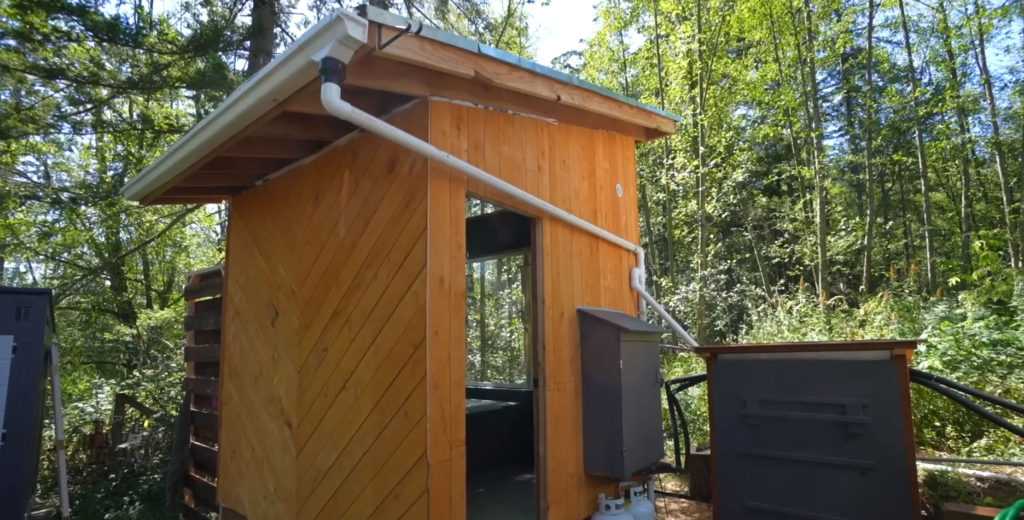 If you were to ask Sam what it's been like so far, she'll likely compare it to a continuing evolution of their love for camping and hiking. Evan might be quick to respond that it's more like full-time glamping. Although, dome life in a 30-ft. dome is still definitely alternative living – yet, with all its modern creature comforts you can have still enjoy the best of both worlds!
Enchanting DOME Home in Woods w/ Luxury Bath-House & Rain Catchment (21:55 min)
There's lots more to take in! Enjoy taking the full tour and feeling inspired by what this innovative outdoor living couple has accomplished in such a short time.
---