Camping Tents vs. Walled-Canvas Tents vs. Glamping Dome Tents
---
If you've been wondering, "what's the difference between all the recreational tent types?", you might find this blog helpful. Warning – this inevitably leads to further questions, such as, "What sets camping tents apart from walled-canvas tents, e.g., domes, yurts, bell tents and tipis?" "What's the best investment, a camping tent, a canvas tent or a glamping dome tent?
To best answer these questions, we'll need to point out a few distinctions between camping tents and their close-cousins, walled-canvas tents and glamping dome tents. Once you understand a few basic differences between these tent types, you'll be better able to weigh-in on which tent is best for you. Much depends on what type of camper you are – your needs, specific use, preferences and mode of travel.
When it comes to sorting through the many recreational tent types available in today's marketplace it can get pretty complex. In guiding your choice, it's helpful to decide what you will be using your tent for by preparing a simple checklist that addresses a few basic considerations that are unique to you, such as:
What will your tent be used for and for how long? Will your tent be for short-term or long-term usage?
Where and under what conditions and circumstances will you be using your tent?
How many people do you plan to shelter? Do you need an Individual or family-size tent?
Do you plan to travel with your tent? How far will you be transporting it and by what method?
Do you plan on roughing-it or do you lean more towards having a few creature comforts?
Camping Tents
Pop-up camping tents are great because they're inexpensive, lightweight and go up fairly easily and quickly. Historically, they're used for back-packing, off-road expeditions and the occasional camping trip. Their light-duty shelter functionality appeals to those taking to the great outdoors, who don't mind roughing-it for short periods of time.
The downside to most camping tents is that they aren't designed for long-term use. You might consider camping tents to be a short-term investment, as most synthetic materials are known to eventually deteriorate by overexposure to the elements. Take note that the larger the tent size, the more unstable they are under extreme weather – not to mention that, they lack head-room and can get claustrophobic when you need to take shelter for more than a couple of hours. If a light-duty tent is what you're looking for, then you'll have fun exploring the ever expanding range of tents offered in today's marketplace.
Walled-Canvas Tents and Glamping Dome Tents
As a tribute to our nomadic ancestors, canvas tents appeal to those who enjoy the freedom of a more nomadic lifestyle, being immersed in Nature, while leaving a light eco-footprint – yet, still appreciating some of those creature comforts that we are accustomed to. In this category, you'll find A-frame tents, domes, yurts, bell tents and tipis, to name a few of the more popular tent styles. Canvas tents are excellent when it comes to hosting events and family gatherings – they can be built to just about any spec and size to suit your needs.
Canvas tents are extremely durable and can be found in many stunning, pristine Nature spots around the world. The flame-proof, water-proof canvas has been treated with fire-retardant, as well as, mold and mildew-resistant chemicals. Hybrid fabrics are now available that extend the life of the fabric up to 20-years or more.
Pitched to be lightweight, portable and easy-to-set-up, you'll need to be aware that in contrast to a typical camping tent, canvas tents require planning and set-up time. They're heavier and often take a bit more muscle, as well. The downside of the canvas tent is that you wouldn't want to just pack-it in, find a level spot on the spur of the moment and expect to pitch your tent in less than 30-minutes – depending on its size, your skill level and whether you brought a friend along, set-up is more realistically going to take anywhere from an hour or two to several hours and even a half-day. Heavy canvas can get musty without proper ventilation, so you will want to consider this in your design.
Raising your tent above the ground adds to the aesthetics and comfort level. It also, makes it easier to run electrical and plumbing. Many prefab kit manufacturers offer deck-building plans.
It's a good idea to clean or power wash your tent on a seasonal basis. Be sure to allow it to dryout thoroughly whenever you're done using it.
If you're still intrigued after covering a few basic distinctions that set camping tents apart from walled-canvas tents, then, let's dive into an overview of a few common types of walled-canvas tents, along with some of their unique features – each have their strengths and benefits. We won't cover cost, as price is too broad a subject and best left for you to explore.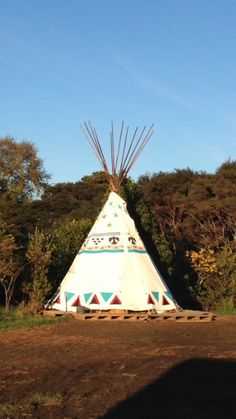 Tipis: A bit of a novelty reminiscent of our Native American relatives, cone-shaped tipis, aka teepees, serve a functional use as shelters. The supporting tent poles lean-in and come together at mid-point, so the interior living space is open. Although they tend to be smaller and don't lend as much head-room as other canvas tents, the larger tipis can hold a group event, no problem. The downside might be that when it comes to daily living and sleeping, you will want to limit use to smaller family-size groups.
---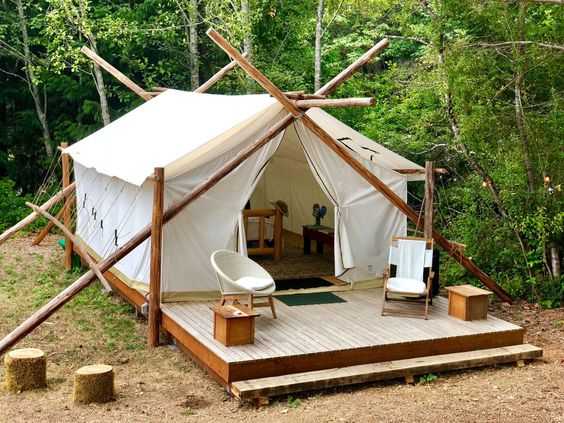 A-Frame Tent Cabins: Except for their canvas covered walls, A-frame tent cabins much resemble a rectangular home with a peaked-roof and interior fabric dividers for living, sleeping and eating areas. They can be framed with lumber or purchased as a prefab tent kit ranging in sizes to accommodate anywhere from small family-size groups to larger groups. Before the days of glamping, they were commonly used as field hospitals and for military housing. Set-up can take as little as 2-hours or a day depending on size and complexity.. A-frame tents require plenty of ventilation during the day but will keep you cozy at night.
---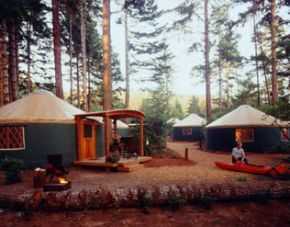 Yurts: What's not to love about a round yurt with its warm, wooden lattice-frame structure that lends, not only beauty, but functional support to its circular canvas walls? Yurts come in various sizes to accommodate small or large groups. As far as Nature travel and glamping goes, yurts rival with the best, when it comes to comfy-cozy vacations. If there's a downside, it's the set-up time – without some help from your friends, larger yurts aren't easy to pack-in, assemble. dismantle and pack-out.
---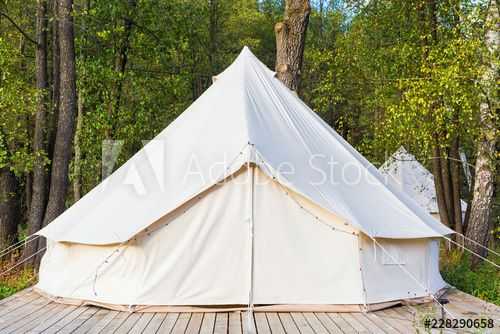 Bell Tents: A bell tent is distinguished by its walls, ropes and large, welcoming entrance. Although level ground is preferable, it's rounded design makes it possible to withstand strong winds and heavy rain; as well as offer stability on just about any terrain.
As with the previous tents, bell tents come in a variety of sizes. People love the nomadic look of bell tents. The downside might be that there's a pole in the middle – this can work to your advantage if you want to hang a divider. Bell tents require plenty of ventilation.
---
Domes: What people love most about domes is their expansive Zen-like ambiance that allows natural sunlight to permeate the entire interior lending a warm, cozy feeling. The popularity of geodesic domes has been gaining momentum since the sixties when they were first introduced by Buckminster Fuller.
Air circulates naturally and they are known to be 30% more energy-efficient than traditional structures. Touted as Nature's perfect structure, dome owners brag that there is no downside when it comes to its engineering design.
---
In Summary
Although they are considered to be temporary structures, walled-canvas tents should be viewed as a long-term investment. They are an investment in the freedom-lifestyle. Thanks to modern technology, privacy and security can be optimized to give you peace of mind.
As with any home, portable canvas shelters come with periodic maintenance. No matter what type of walled-canvas tent you choose, with proper care and maintenance, you can expect to enjoy many years of leisure-time.
More on Glamping Dome Tents
"There are constant reports of geodesic domes being the only structure left standing after a hurricane." — Pacific Domes
Get ready to live large! If you're looking for prefab shelter that's durable, long-lasting and affordably priced – shelter that's designed to withstand Nature's extremes, you've come to the right place to learn more. Glamping dome tents, not only look awesome – they offer many distinctive features that other walled-canvas structures can't match. They come in many functional sizes and specs, too.
We invite you to visit our Knowledge Base for FAQ's and How to Guides. In recent years, Glamping and Eco-resorts have put domes on the map in a big way. The downside might be considered to be its initial up-front cost – it's a lifetime investment that's reasonably priced as alt-housing shelter.