Pacific Domes offers a 100% Natural Fiber Dome with a Cotton Canvas exterior cover and a Felted Wool inner liner for insulation. Both the exterior cover and interior liner have an attractive natural cream color – our felted wool interior liner has the added benefit of imbuing the interior space with a pleasing fragrance.
Cotton Canvas Exterior Covers
Our 100% Cotton canvas exterior covers have stood the test of time – clients have lived in them for as long as 30-years!
---
Cotton Canvas Duck simply means it meets specifications that were established in the 1920's – that water rolls off the fabric, like off a duck's back. This heavy woven fabric has been used for centuries in the making of tents and sailcloth for boats.
Cotton canvas duck is a double fill (warp & fill; lengthwise & crosswise) canvas, which means the threads are doubled by twisting two threads into a thicker, stronger single thread. This heavier thread is used in both directions, making a stronger and tighter woven canvas.
"Both regular canvas and cotton canvas duck are plain-woven fabrics, but there are a few differences between them: Canvas Duck is more tightly woven than standard canvas. Canvas Duck also has a classification system that is graded on a scale of 1 to 12, with 12 being the lightest fabric and 1 being the heaviest."
Dome tents made from Cotton Canvas Duck are breathable, water resistant, mold and mildew resistant, insulating and environmentally friendly. When it rains, the fibers of our Natural Fiber Domes will swell, making your tent more water repellent.
Insulated Dome Liners
Felted wool has been used for thousands of years to create clothing and shelter. The famous Mongolian Yurts were made of felted wool and housed people in extreme climates for thousands of years.
---
---
Thermo-Shield®
Our Thermo-Shield® paint penetrates and bonds with the tightly woven threads of our Natural Fiber Domes to increase the longevity of the fabric indefinitely. It protects covers from UV, the main cause of deterioration.
Thermo-Shield® will also insulate your dome, making it much cooler in the summer and warmer in the Winter. Thermo-Shield® is also fire retardant – you can take a blow torch to Thermo-Shield® coated fabric and it will not burn.
Thermo-Shield Story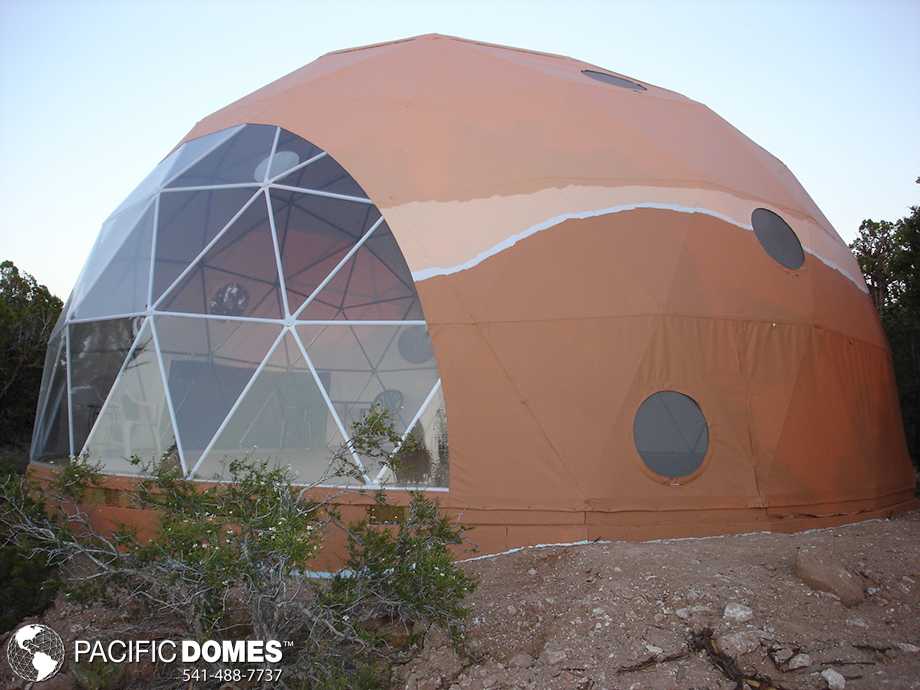 SPM Thermo-Shield® INC., USA, has been manufacturing °Cool Coats since 1984. Based out of Tampa, Florida, Thermo-Shield® products are available across the world. Our story has been one of Durability and Reliability. The dome in Al Rahba in Abu Dhabi, UAE, is a testament of the Quality and Efficiency of Thermo-Shield®. First coated in 1998, it was re-coated after 23 years. For more than two decades, Thermo-Shield® Coat withstood the scorching desert sun, condensation at night, and the raging sand-storms – protecting the building 24×7 from UV, Moisture and Abrasion.
---
---