Guide: How to Plan and Build a Deck for Your DIY Dome Home
A deck, not only provides an anchor for your dome home's foundation and flooring, it can extend your outdoor living space with an attractive, comfortable area to relax and entertain your guests. A well-designed deck should be considered eco-friendly and complement its surrounding environment. Beyond that, your deck can be an expression of how you live – its style, size and décor should match your lifestyle and accommodate your use of the deck.
If you possess minimal carpentry skills, you can build your own deck over a weekend using commonly available building materials and basic tools. Or, you can opt to hire a skilled professional. This How to Plan and Build a Deck Guide gives you a few basic steps to proper planning and building – included at the end, are some Bonus Design Tips.
Things to Consider When Planning, Designing and Building Your Deck
First, determine your desired outcome for building a deck. Is it simply to provide a foundation for your dome home; or, do you want to extend its functionality and create additional outdoor living space?
When it comes to deciding how large your deck should be, a good guideline is to make it large enough to comfortably handle the activities you imagine that your dome and deck will be used for.
Take a tour of your existing landscape. When doing site prep, you'll be better able to assess if there are  any issues that need to be addressed.
Location:
There's always a lot to consider when choosing a location for your dome home and deck.  Your lot size, terrain, soil and weather will determine where you choose to position your deck. Your proximity to utilities is another consideration. Privacy and the view you wish to have from your deck will, also, be determined by its location.
Existing Topography:
Take specific note of the terrain, soil, potential weather impacts and vegetation – as well as, environmentally sensitive areas. If your site is fairly level, deck-building will be less complicated. Unlevel or sloping terrains require additional steps to reinforce the piers holding up the decking foundation. Slopes may require building a retaining wall or grading to level a spot at the bottom.
Ground decks are built on level ground and do not require special permitting when built anywhere from 6 to 30 inches off the ground. However, they are more likely to need protection from moisture, so sealing and periodic maintenance is key to keeping them in optimal condition.
Some dome owners prefer to build their decks on top of a slope for spectacular views. Strategically placed posts deeply embedded into the slope can support the deck and keep it level. You can, also, build a multi-level deck to expand your site's panoramic vista.
While great for gardening, loose, sandy-loamy soil may not provide necessary stability or reduce erosion caused by heavy rain or snow. Local building codes may require you to secure posts to concrete footings. You may need to include a drainage system to divert water runoff away from your deck.
Seasonal Climate:
Weather variables, areas of direct sunlight, shade or wind can affect your indoor-outdoor comfort level and how frequently you use your surrounding deck. When planning your deck, think about taking advantage of existing trees and vegetation. Trellises, awnings or other climate control structures can provide additional shade and protection from the elements.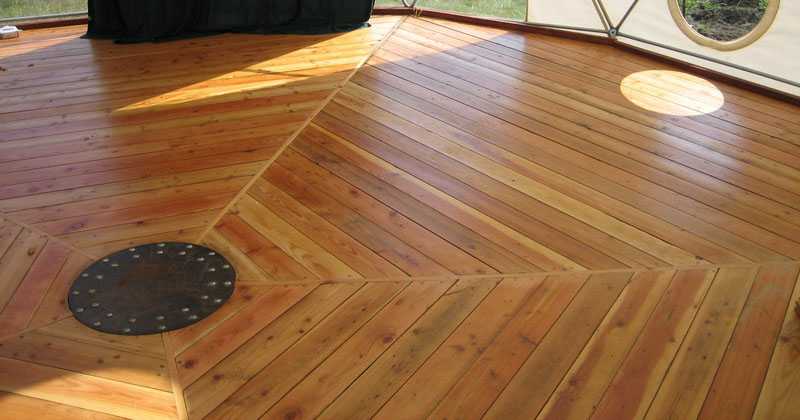 Budget:
In many cases, deciding whether to hire a professional or make this a DIY project will depend on the scope of your project and your budget. The look and design of your deck will depend on your design preferences and the materials you use.
Which decking material you use will ultimately be what fits your budget. Decks are built using many types of building materials and structural elements that can affect your bottom-line cost. Be sure to explore the wide range of materials and factor into your budget any design elements; such as railings, stairs, landscaping, outdoor furniture, accessories and décor, etc.
When planning the scope of your project, determine the size and design of your deck – whether, it will be a single or multilevel-platform. A single deck platform is more cost-effective than a multilevel-platform. Raised decks require structural support and railings for safety.
When building in more remote locations, transportation of deck materials can be a challenge. It pays to research your best option by exploring the internet.
Start with a rough sketch:
You'll want to consider allocating room for the dome and any activities that you envision taking place through and around the area. Consider traffic flow, which tends to be larger outdoors.
How about apportioning room for outdoor furniture? How about creating a special secluded area for the ambiance of an outdoor spa? You can separate special areas visually and physically by using your favorite outdoor decor and by varying deck patterns.
Building Codes:
Even though domes are considered temporary structures, it's best to check your local zoning and building codes before beginning your deck project. Our engineered decks are easy to build but may require engineering for their foundation, depending on your situation. In many populated areas, you may need to provide deck plans and blueprints prior to getting started.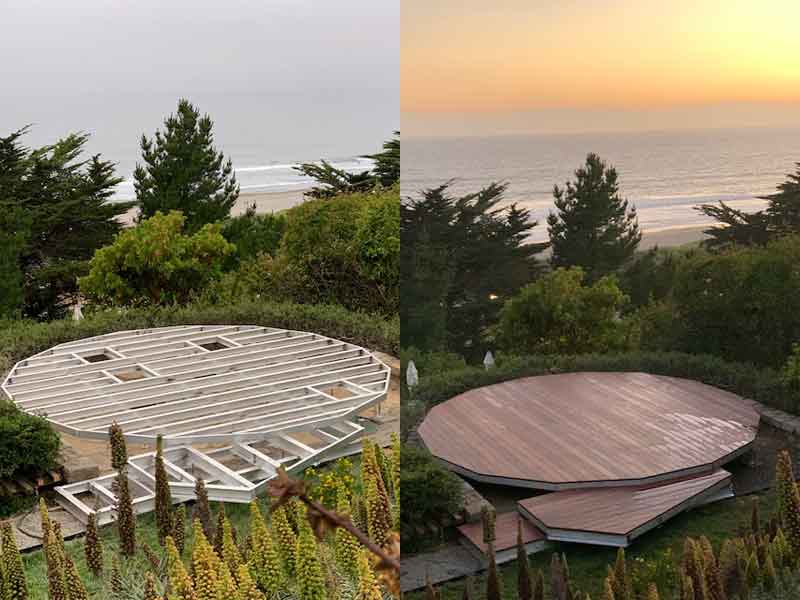 Bonus Pro Tip
When determining how much material you need, don't guesstimate, calculate. Know your deck dimensions and determine exactly how much decking material you need by using project calculators (available on the internet). Pacific Domes Customer Support Team is available to assist you along your journey to creating a well-planned deck.
Bonus Design Tip
Use your camera when planning the location of your deck. This will help you zero in on any angles or spots that you may have missed during the tour of your proposed building site.