---
An Event Planners Guide to Event Tent Styles, Uses, Pros and Cons – Pacific Domes
When sorting through the myriad choices of Event Tents available in today's marketplace, event planners are often bedazzled by the many event tent types, sizes and customizable shelter options. We hope this fair and neutral review will help you navigate confidently through the process of finding that perfect event tent for your venue.
Providing shelter from the elements, Event Tents appeal to those who enjoy the freedom that outdoor gatherings bring to a variety of event venues. That said, many of these tent structures can be used indoors, as well!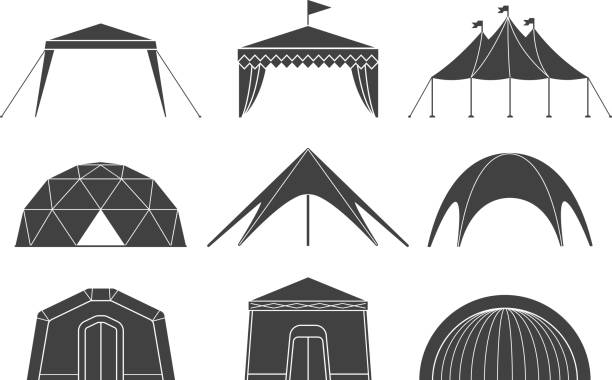 Pacific Domes invites you to explore some popular event shelter options.
You'll be better able to make an informed decision as to which event tent type will best serve your needs once you understand a few distinctions between some of the more popular shelter structures.
---
To name a few of the more popular tent styles in this category, you'll find frame tents (including walled tents), pole tents, pop-ups, inflatable tents, stretch fabric tents (temporary event structures) – and last, but not least, clear-span geodome tents. There are many standard sizes to choose from and most styles are customizable for just about any spec and size requirement.
What Do Event Tents Have in Common?
Regardless of their unique style or design, tents share several common features and characteristics that event planners love when designing their central theme. Additionally, what's not to love about quick set-ups and tear-downs – all while leaving a light eco-footprint behind.
Let's begin by weighing-in on some of the similarities between event tent types! Here's an overview of what these tents typically have in common:
1. Sturdy Framework: Event tents are constructed with a sturdy framework, often made of materials like aluminum or steel. This freestanding framework provides the structure's stability and ensures it can withstand the outdoor elements – including wind, rain and other weather extremes.
2. Durable Fabric Materials: The exterior covering or roof of these tents is typically made from durable canvas or specialty outdoor fabrics. Canvas is often chosen for its strength, durability, and ability to provide excellent insulation. It can keep the interior cool in hot weather and warm under cold conditions.
3. Removable Walls: One of the defining features of walled event tents is the versatility of removable interior and exterior walls. These walls can be easily attached or detached, allowing you to customize the tent's layout. Exterior walls are adaptable to different weather conditions. For example, you can detach or roll-up fabric walls (domes) on a sunny day to create an open-air atmosphere and remove or lower them to provide shade or protection from wind and rain.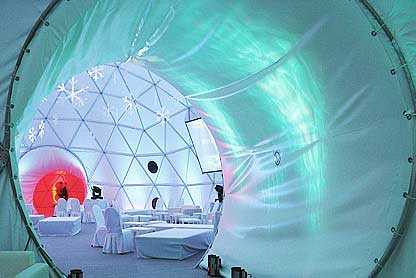 An alternative option to removable walls would be to use connecting tunnels. For Example: tunnels at strategically placed door openings can join two or more event structures.
---
4. Windows and Ventilation: Among the features of event tents is their removable windows that allow for ventilation and screening. Many walled tents include windows with clear or translucent panels. These windows not only allow natural light to permeate the tent's interior during the day, they also provide ventilation. You will want to consider proper ventilation in your design – proper ventilation is essential to prevent the interior from becoming stuffy, especially during warm weather.
5. Customizable Options: Event tents often come with any number of either standard or customizable options. Many manufacturers and suppliers are happy to work with clients to optimize the layout of an event venue by offering 3D renderings and customization options that will facilitate in the process of visualizing what an event tent might look like in your setting.
For example: different tent styles and sizes can include interior liners, decorative frills and color choices. These design elements allow you to match your tent's appearance to the theme or style of your event. Customization lends event planners freedom of expression to modify side walls, entries and windows – as well as, add upgrades and design features like flooring, lighting, heating, and cooling systems designed to create a comfortable and inviting environment for their guests.
6. Size Ranges: Event tents come in a range of sizes to accommodate different guest counts and event needs. Whether you're hosting a small gathering or a large event, you can be assured of finding a tent size suitable to your requirements.
7. Anchoring Systems: To ensure stability and safety, event tents are equipped with anchoring systems. These systems can include stakes, ropes, and other securing methods to keep the tent firmly in place during most weather conditions.
9. Ease of Installation: While the installation process can vary based on the size and complexity of the tent, most event tents are designed for relatively easy setup. Larger tent types are frequently installed by trained field crews because they might require specialized equipment.
Event Tent Styles: Prefab Construction, Uses, Pros and Cons
Now that we've explored some of the common event tent features and traits, let's take a deeper dive into the construction and uses for some of the more popular event tent styles – each type of tent structure has its own set of advantages and disadvantages. Exploring tent types should help you weigh the advantages and disadvantages of different tent structures when selecting the one that best suits your specific event requirements.
Frame Tents
Construction: Frame tents are constructed using a framework of metal or aluminum pipes. Tents are anchored to the ground with stakes and ropes. They do not require center poles for support and have a clear, unobstructed interior design potential.
Except for their fabric covered walls, frame tents much resemble a rectangular home with a peaked-roof and interior fabric dividers for any number of innovative uses of space.
Uses: Frame tents are versatile and suitable for a wide range of event venues, including weddings, corporate functions, trade shows, outdoor parties, art and music festivals and more.
Frame tents can be rented or purchased as a prefab tent kit ranging in sizes to accommodate anywhere from small to large groups.
Pros:
Versatility: Frame tents offer an unobstructed interior space, making them versatile for various seating arrangements and event types.
No Center Poles: They don't require center poles, providing more usable space inside.
Easy Installation: They are relatively easy to install, even on a variety of surfaces.
Stability: Frame tents are stable and capable of withstanding extreme weather and winds in excess of 40mph.
Cons:
Cost: Frame tents tend to be more expensive than some other types due to their framework.
Transportation: The frame components can be heavy, making transportation more challenging.
Event Planners need to consider that anchoring stakes and ropes take up extra space and require safety precautions.
Pole Tents
Construction: Pole tents use center poles to support their high peaks and sloping fabric roof. They are anchored with stakes and tensioned using guy lines.
Uses: Pole tents are often used for outdoor weddings, festivals, and larger gatherings. They are known for their elegant high peaks and sweeping, graceful lines, making them a popular choice for formal events.
Pros:
Elegance: Pole tents are known for their elegant high peaks and aesthetic appeal.
Cost-Effective: They are often more budget-friendly than frame or clear-span geodome tents.
Traditional Look: Ideal for events where a classic and traditional look is desired.
Cons:
Center Poles: Center poles can obstruct the interior space and limit layout options.
Installation Complexity: They may require more effort and time for installation due to the need for tensioning and anchoring – windy conditions are a contributing factor.
Event Planners need to consider that anchoring stakes and guy lines take up extra space and require safety precautions.
Pop-Up Tents
Construction: Pop-up tents have a collapsible frame that allows them to be set up quickly. They are typically made with lightweight materials like aluminum or steel.
Uses: Pop-up tents are perfect for small-scale outdoor events, including farmers' markets, fairs, picnics, and craft shows. They are easy to transport and assemble.
Pros:
Portability: Pop-up tents are highly portable and easy to transport.
Quick Setup: They can be set up quickly without the need for specialized tools.
Affordability: Pop-up tents are often budget-friendly.
Cons:
Limited Size: They are typically smaller and may not accommodate large gatherings.
Less Durability: Pop-up tents may be less durable in adverse weather conditions compared to other structures – covers can act as a sail if not properly weighted down and anchored.
Inflatable Tents
Construction: Inflatable tents use air pressure to create their structure. They are inflated using an air pump and typically have a unique, eye-catching design.
Uses: Inflatable tents are used for promotional events, brand activations, and outdoor marketing. They are known for their portability and visual impact.
Pros:
Eye-Catching: Inflatable tents are visually striking and grab attention.
Quick Setup: They can be inflated rapidly, reducing setup time.
Portability: They are relatively easy to transport due to their lightweight design.
Cons:
Limited Sizes: Inflatable tents may not be available in as many size options as traditional tents.
Durability: They can be prone to puncturing and may be less durable than other structures – especially, when exposed to harsher weather conditions.
Larger tents require constant electricity to run high-powered and less than quiet blowers.
Stretch Tents
Construction: Stretch tents use flexible, stretchable fabric that is tensioned to create various shapes and designs. They can adapt to different terrains and are often used as shade canopies, supported by anchor points. These event tent types vary in construction methods, offering different aesthetics, sizes, and functionalities to suit a wide range of event needs and preferences.
Uses: Stretch tents offer versatility and are suitable for a variety of events. They are popular for weddings, outdoor parties, and events where unique and artistic shapes are desired.
Pros:
Versatility: Offering design flexibility, stretch tents can attach to existing structures and work well in combination with other tent structures to provide additional shade.
Customization: They can be tailored to specific event needs.
Stability: They often maintain stability while minimizing obstructions.
Cons:
Cost: Depending on the design complexity, stretch tents may be more expensive than other options.
Installation Complexity: Custom designs may require more complicated installation procedures.
They are subject to moderate weather conditions as their main purpose is to provide aesthetic value to event themes.
Clear-Span Geodome Tents
Construction: Clear-span geodome tents are constructed with a rigid network of interconnected struts (poles) to create a spherical or dome-like structure. This framework eliminates the need for center poles or external support. Domes have a wide circular arena that lends ample space for interior design, exhibits, displays, and seating *Note: page-12: no obstructions to interfere with interior design.
The popularity of geodesic dome engineering has been gaining momentum since the sixties when they were first introduced by Buckminster Fuller. Touted as Nature's perfect structure, geodomes are known for their ability to weather nature's extremes.
Elevate your Event Venue to a whole new level!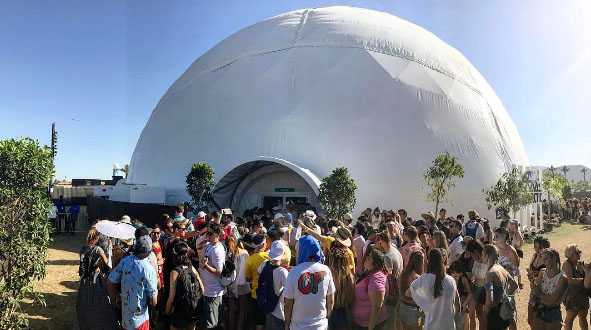 "Get ready to embark on a journey that will WOW your audience and be talked about for years to come!
---
Uses: With many sizes to choose from, clear-span geodome tents are ideal for all types of small to large-scale festive events where event planners want to elevate their event with that 'WOW' Factor.
Pros:
Spacious: Clear-span geodome tents offer a wide, open interior space without center poles or obstructions.
Customization: They can be customized with event flooring, lighting, and HVAC systems.
Weather Resistance: They are highly durable and excel in harsh weather conditions.
Cons:
Geodome tents are most often taken down after an event and stored; thus, incurring storage fees. They should be viewed as a long-term investment that can either be left up as permanent or semi-permanent structures, as well.
Cost: Clear-span geodome tents are typically more expensive than other options due to their advanced construction.
Installation: Pitched to be lightweight, portable and easy-to-set-up, applies to smaller event dome sizes (only). You'll need to be aware that larger event tents require planning and set-up time, as they can be more intricate and time-consuming, requiring skilled personnel..
Primary Considerations When Choosing an Event Tent
It goes without saying that there are some primary considerations when choosing an event tent. Guiding your choice, it's important to be clear as to what you will be using your Event Tent for. For Example:
1. Purpose and Duration: Determine the primary purpose of your event tent. Will it be used for hosting weddings, corporate events, trade shows, or outdoor parties? Understanding the intended use will help you select the right style, size and features.
Additionally, consider whether the tent will be a short-term solution for a single event, or will you need a more durable, long-term structure that can withstand multiple seasons or even years?
2. Event Budget and Ownership vs. Rental: Determine a working budget that encompasses ongoing event venue expenses in addition to the acquisition and maintenance of your tent – this may include, not only the initial purchase or rental cost, but customizable upgrades and accessories.
Decide whether you prefer to purchase or rent your event tent. Renting offers flexibility, while purchasing provides long-term ownership but requires a larger upfront investment and may accumulate long-term maintenance and storage fees in addition to set-up and tear-down.
3. Location and Conditions: Assess the geographical and environmental conditions of your event location. Determine if your tent will be placed on surfaces, such as earth, grass, asphalt, or concrete, as this will influence the choice of anchoring methods.
Consider factors such as wind, rain, temperature, and terrain. This information will help you select a tent with moderate to extreme weather resistance, stability and durability.
4. Capacity and Style: Estimate the number of guests you expect to host at your event. This will dictate the size of the tent, ensuring everyone has sufficient space and comfort.
Consider the style and aesthetics of the tent for your event venue. Do you prefer a traditional look and feel, a modern clear-span, or a unique, themed design that complements your event's atmosphere?
5. Mobility, Transportation and Set-up: If you plan to travel with your event tent, assess how far and by what means you'll transport it. Lightweight and easily transportable tents are ideal for frequent travelers, while larger structures may require special arrangements. Ensure that your tent can be efficiently packed, stored, and transported without causing damage or inconvenience.
By addressing these considerations in your event planning checklist, you'll be better equipped to choose the perfect event tent type that aligns with your specific needs and venue requirements. Remember that each event is unique, and tailoring your tent selection to suit your circumstances will lead to a more successful and memorable occasion.
In summary, Event Tents share common features such as sturdy prefab construction, removable walls, durable canvas or state-of-the-art materials, and the flexibility to adapt to different event requirements. Providing customizable shelter options for your guests to enjoy, Event tents are versatile and suitable for a wide range of venues.
---
We're Here to Help!
Our Goal is to transform your event venue into a memorable occasion that attendees will rave about for years to come!
Our Guarantee: Pacific Domes are manufactured in the USA from the highest quality materials. Our expert teams will walk with you each step of the way – from beginning to completion. Bringing 40+years of manufacturing expertise, we are considered industry leaders. Our teams are there to assist with your engineering needs, too!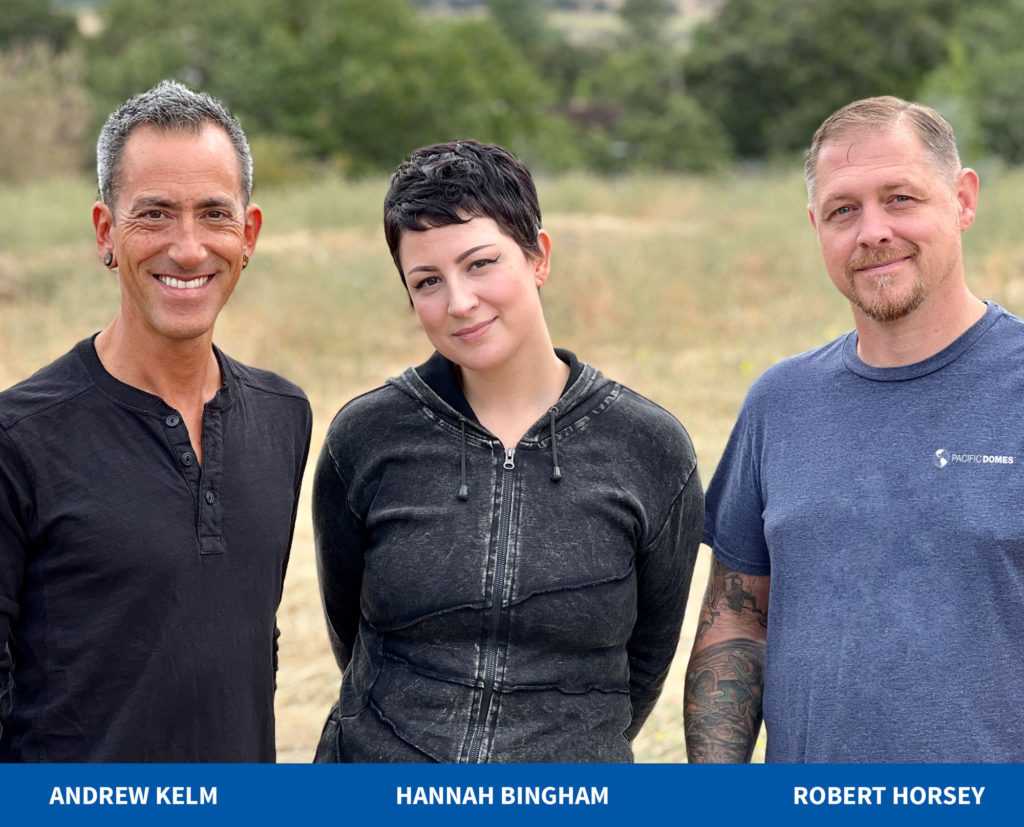 ---