Shelter Domes for Sale or Rent by Pacific Domes
"Wherever you may wander, there's no place like dome" ― Pacific Domes Inc.
In the world of alternative housing, geodesic dome shelters and shelter tents have proven to be the most efficient on the market. Dome studies have revealed a 30% heating-cooling efficiency, due to the sphere's unobstructed air and energy flow.
Employing the principles of geometry in construction, geodesic dome shelter tents are nature's perfect structure. GeoDome shelters have an inherent capacity to withstand nature's extreme forces, such as snow, high winds and earthquakes.
Dome shelter tents have been built all around the world. People are discovering that portable domes offer unique opportunities for creating innovative ecoliving spaces with multiple functional uses.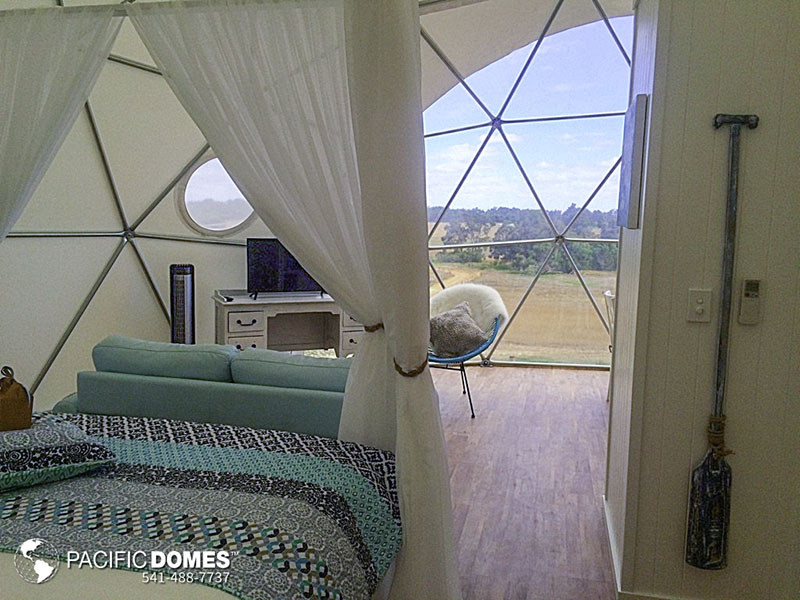 GeoDome Shelters Offer Economic and Environmental Solutions
GeoDome shelters solve many economic and environmental challenges traditional building materials and methods simply don't address. If you're looking for ways to save money on construction costs, prefab dome shelter prices hold an economical pricing edge in alternative home shelters.
Portable GeoDome eco-shelters are suited to all types of terrains. They are fully deployable and can be erected in hours with friends and a few simple hand tools. Considered temporary shelters, in that they can be taken down when no longer needed, potentially bypassing many local building codes altogether.
More Living Space
A GeoDome's circular design creates the largest volume of interior space with the least amount of surface area. When a dome's diameter is doubled, it quadruples its square footage and produces eight times its volume.
For those desiring creature comforts, technological advances, now, make it possible to take advantage of a fully responsive and dynamic living experience that can be customized to suit your needs. An array of sensors and digital controllers embedded around the dome is responsible for looking at all the variables, such as monitoring security, lighting, and opening-closing vents for optimal climate control.
Uses for GeoDome Shelters
• Glamping Resorts and Retreat Centers
• Alternative GeoDome Eco-Villages to end homelessness
• Portable Relief Dome Shelters
• Eco-Adventure Camps
• Eco-Villages for Sustainable Communities
So Why Aren't We Building GeoDome-Centric Communities?
The term 'Ekistic Relationship' is used to describe one's relationship with the natural world and how one views the resources within it. 'Ekistics,' the science of human settlements, is the legacy of Greek architect and town planner, Konstantinos Doxiadis. Walking in balance with natural law, GeoDome-centric communities follow the honeybees' master plan of building hexagonally rather than diagonally.
To quote a great visionary from the echoes of our past, "Those who are inspired by a model other than Nature, a mistress above all masters, are laboring in vain." ― Leonardo Da Vinci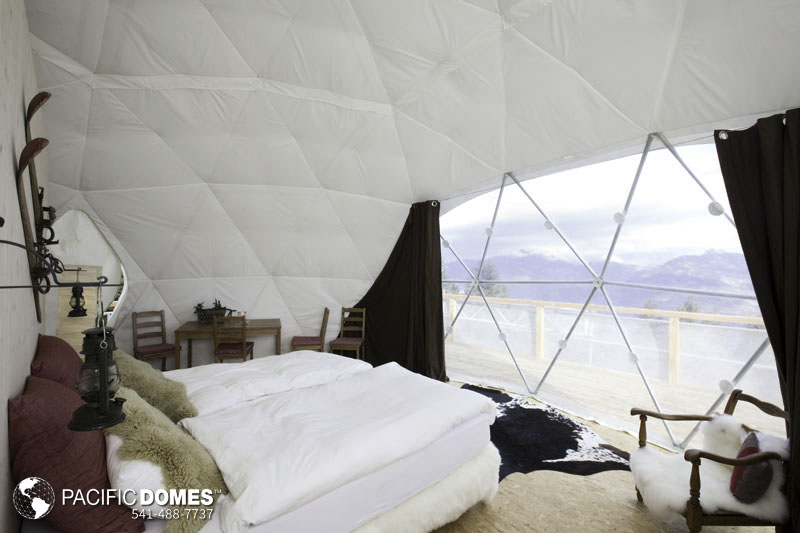 The geodesic dome was Buckminster Fuller's contribution to solving humanity's need for environmentally efficient shelters. Following 'Bucky' Fuller's legacy of geodesic design, Pacific Domes USA, has pioneered dome homes since 1980.
Browsing Pacific Domes gallery of ecoliving shelters for purchase or for rent is your first step towards exploring the benefits and versatility of geo-engineered domes as the strongest, portable structure known to man.