---
"Wherever you may wander, there's no place like dome" ― Pacific Domes
Prefab geodome shelters have been built all around the world creating a Zen-like ambiance in spectacular off-grid nature-scapes. Whether you're a commercial builder-contractor or a DIY homebuilder looking for ways to save money on construction costs, we invite you to consider joining the thousands of people who are making an urban exodus and discovering the best shelter domes in the alternative housing market.
For those seeking alternative living spaces while not so keen on forsaking those creature comforts we've all grown to love, hi-tech now makes it possible to take advantage of a fully responsive and dynamic off-grid living experience. An array of sensors and digital controllers responsible for looking at all the variables can be customized to suit your needs and placed strategically around your dome. Depending on your circumstance, monitoring devices can be as simple or complex as you like; and may include, remote lighting and indoor climate controllers for opening-closing vents – not to forget remote dome security monitoring devices.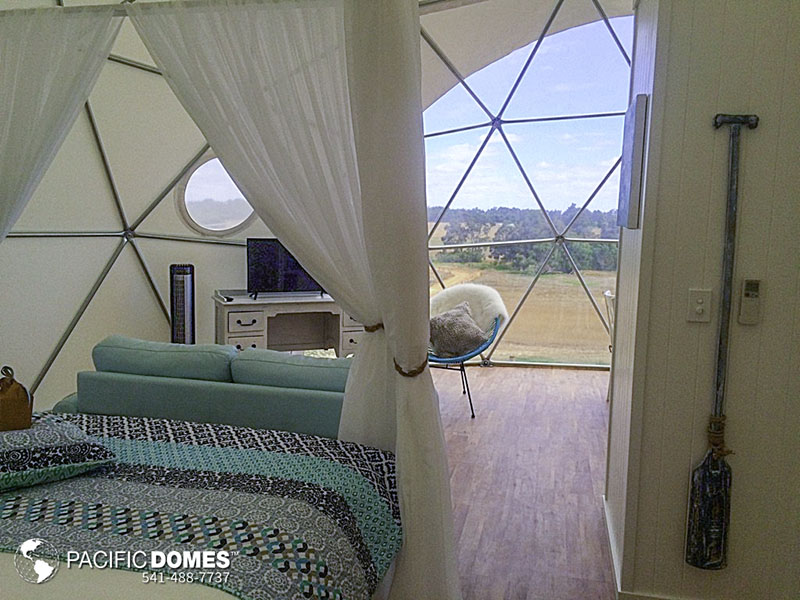 Why domes make the best off-grid shelters
Geodome shelters are structurally sound and have an inherent capacity to withstand nature's extremes such as, snow, high-winds and earthquakes. Dome studies, also, reveal a 30% uptick in energy efficiency over comparable size conventional homes. Prefab domes are suited to all types of terrains and fully deployable – and, they can be erected in hours with a couple of friends using universal tools.
When it comes to green-building construction, ecoliving geodome shelters solve a number of economic and environmental impact challenges that traditional building materials and methods simply can't address. Considered temporary shelters, meaning that they can be taken down when no longer needed, portable geodomes often simplify permitting or even bypass many local building codes altogether.
More Living Space
Geodome shelters enclose the largest volume of interior space with the least amount of surface area. When comparing similar alternative building structures, a geodome's expansive circular design lends additional head-room and breathing space – so, no one need suffer that claustrophobic feeling while being cooped up indoors due to inclement weather.
Uses for Geodome Shelters
Prefab dome home shelter building kits offer a variety of functional uses. Here's just a few suggested uses for you to explore:
So why aren't we building geodome-centric communities?
Tiny home construction makes sense in an economic landscape where remote work-from-anywhere communities are being formed. Walking in balance with natural law, geodome-centric communities follow the honeybees master plan of building hexagonally rather than diagonally.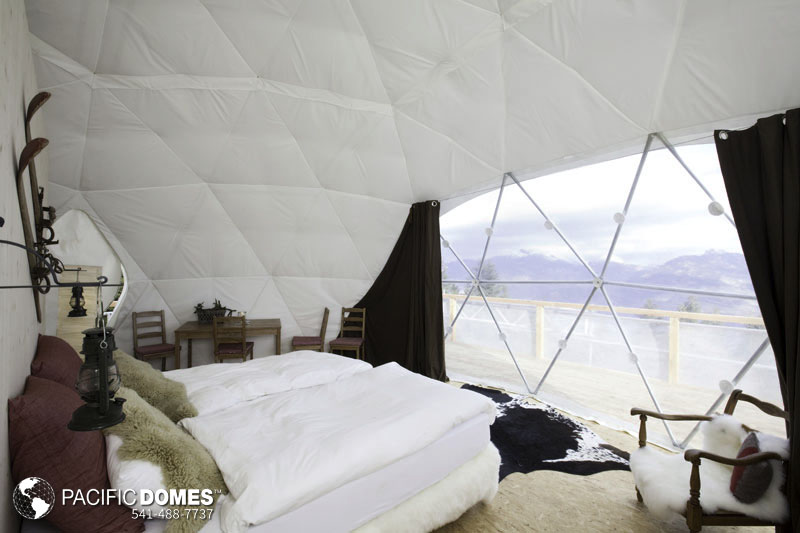 The geodesic dome was Buckminster Fuller's contribution to solving humanity's need for environmentally efficient shelters. Following 'Bucky' Fuller's legacy of geodesic design, Pacific Domes USA, has pioneered dome homes since 1980.
Unconventional off-grid living dome homes offer an opportunity for commercial builder-contractors and DIY homebuilders to create unique ecoliving spaces that are conducive to inner peace and harmony with nature. Ecoliving dome homes hold a pricing edge over the competition. We invite you to browse Pacific Domes online store for the best shelter domes to suit your needs.
---
---