Exploring green-building design for your outdoor retreat? Whether you're seeking some eco-friendly inspiration to transform your existing backyard oasis or designing a new outdoor living space from-the-ground-up, you'll be pleased to know  that you don't need to sacrifice functionality, aesthetics, or your personal style when you adopt steps to go-green. Plus, there's some beneficial side-effects to lowering your  outdoor retreat's environmental impact ‒ such as, reducing harmful toxins to which your family, guests and pets are exposed ‒ thus, saving you money, long-term.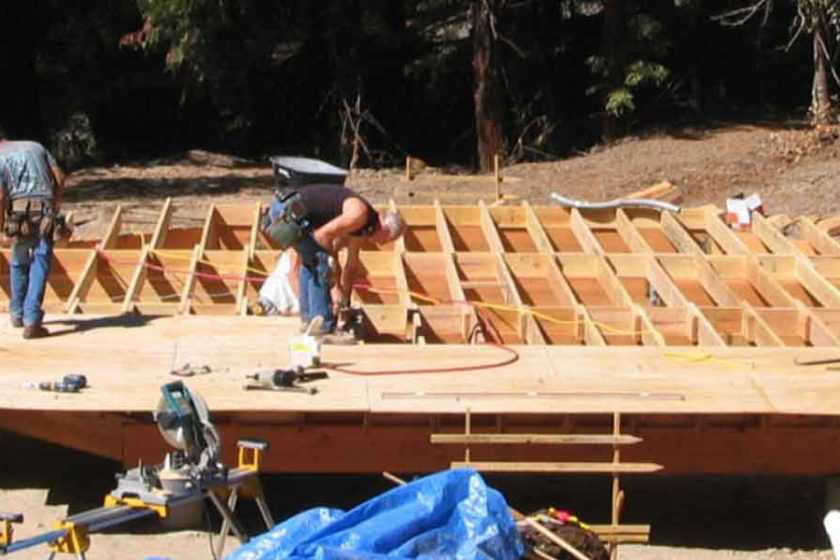 Fueled by the rising popularity of the Going-Green Building Movement, more and more conscious consumers are embracing the go-green lifestyle. It's relevant to building sustainably in a modern world that's increasingly impacted by finite resources and the far-reaching consequences of mismanaged earth-stewardship.
Initial Steps to Green-Building an Outdoor Retreat that You'll Love
Environmental Impact ‒ You're in Charge!
Your first step towards incorporating a green-building design for your outdoor retreat is considering your project's environmental impact. Not to worry, this doesn't mean that you'll need to install expensive equipment, rip-out and replace, or reduce your garden faucet to a bare trickle.
To name just a few, green building incorporates integrated design concepts, such as: solar orientation, appropriate footprint sizing, material durability, analyzing economic life-cycle, material reuse and salvage, natural material content, locally available materials and economic sustainability.
A sensible approach is to begin with a well-engineered and sustainable site design. This provides a framework from the onset of your project. Keep top-of-mind that you're in charge and that you can make gradual changes to suit your taste and budget ‒ after all, Rome wasn't built in a day.
That said, here's some helpful green-building tips to consider…
Modern building impacts the environment in the following areas:
1) Site selection, design and development should be considered
Minimizing site disturbance ‒ is your site selection respectful of sensitive natural areas, such as wetlands, wildlife corridors or critical habitats?
Contribute to greening your project ‒ consider site design that takes advantage of naturally occurring topography and other features. Don't overlook the functional benefits of proper landscape design.
Appropriate footprint sizing ‒ green building incorporates erosion control, dust and debris containment during construction.
Solar orientation ‒ the simple act of properly orienting your dome can create significant energy efficiency and savings. For example, you'll want to minimize east-west facing windows. You'll want to orient common use areas to maximize north-south exposure to daylight.  A general guideline to bear in mind, is that extreme climates warrant different practices, such as limiting openings with north exposure in cold climates.
Frequent reliance on fossil-fueled vehicles ‒  if it's in a remote location far from basic services, the outdoor retreat's overall carbon footprint may be compromised by transportation of people, goods and materials.
2) Materials and resources ‒ modern building materials often contain dangerous chemicals and off-gassing that slowly release toxic chemicals into the atmosphere. Using long-lasting natural building materials sourced from Mother Nature helps reduce the carbon footprint and saves money and landfill disposal.
3) Energy: traditional vs. alternatives ‒ consider renewable energy sourced from Nature; such as, solar, wind, water and biomass. These sources are freely available and don't require 'mining'.
4) Air pollution and indoor-outdoor quality ‒ green building incorporates adequate indoor ventilation to provide a fresh supply of outside air; including the A-thru-Z of managing everything from dust particles to unhealthy irritants.
5) Water: quality and usage ‒ manage surface water, such as, greywater, rain and storm runoff by simply diverting it to landscaping or capturing it for future irrigation.
It's truly empowering to realize that negative impacts can be reduced or eliminated through effective planning, design and construction. When deciding whether you want to tackle this as a DIY project, hire a professional  or use a combination of both.
Outdoor Glamping Retreat with video showing the stunning results!
Have you ever thought about building a different type of home? I'm here with the owner of Blue Ridge Glamping as he explains his mindset/process behind building 2 luxury geodesic domes!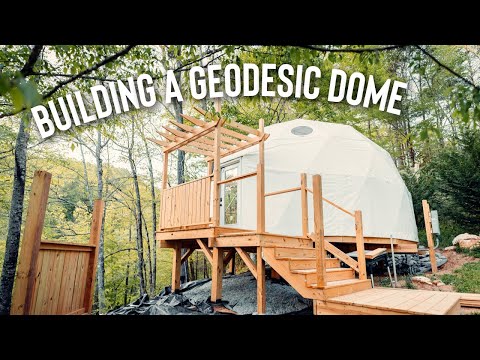 When considering green-building your outdoor retreat, we hope you'll explore the benefits and versatility of geodesic-engineered prefab dome kits. As the strongest, portable structure known to man, ecoliving domes have been time-tested and proven to be energy efficient, conserve resources, create healthier indoor environments and offer durable and beautiful spaces.