---
"Building Sustainable Ecoliving Communities Through Spontaneous Cooperation" — Pacific Domes, Inc.
Spontaneous cooperation among village communities is the oldest, most natural, and widespread form of cooperation. It's inconceivable that society would have progressed to this point without the deeply rooted essence of the village community spirit woven into the fabric of both family and personal relationships.
No matter what the size or scope of any neighborhood group or community project proposal, cooperation is essential to its success. Living In our complex, modern society, we discover that no one is self-sufficient. Therefore, developing a general spontaneous tendency to cooperate or not, determines the outcome of any community project.
It Takes a Village to End Homelessness
With homelessness at an all-time high, the voice of empowered activists has the potential of favorably impacting the homeless crisis to end homelessness forever. One such voice, Portland native, Mark Lakeman, has been in on the ground floor of many community village projects to transform neighborhoods into thriving villages by introducing common-sense solutions that work.
IMAGINE TINY HOUSE GEODOME ECO-VILLAGES TO END HOMELESSNESS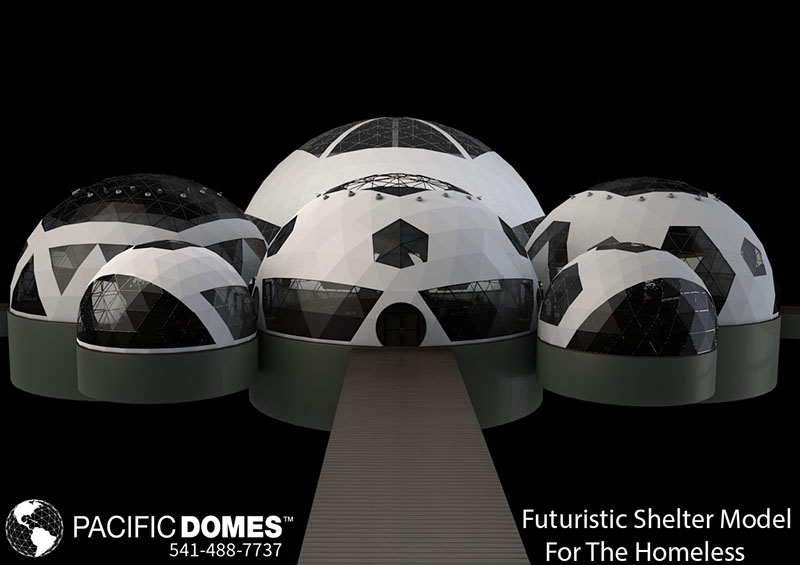 – FUTURISTIC PLAN OF DOME ECO-VILLAGE?
Scientific research supports that we, humans are hard-wired as social creatures – that we are all inseparably connected through the indivisible web of life. John Donne's classic "Meditation 17" poem against isolationism still rings as true today, as it did 400-years ago.
The verse "No man is an island", has since been immortalized by this one excerpt:
"No man is an island entire of itself; every man
is a piece of the continent, a part of the main;
if a clod be washed away by the sea, Europe
is the less, as well as if a promontory were, as
well as any manner of thy friends or of thine
own were; any man's death diminishes me,
because I am involved in mankind.
And therefore never send to know for whom
the bell tolls; it tolls for thee."

Why Geodome Eco-Villages
In the spirit of a place, not just a space, portable Geodome Eco-village Communities summon us to put an end to the stigma and shame associated with homelessness and poverty – a win-win for many economically stressed communities.
Most people do not choose homelessness… it just happens because they lose a job or some other extenuating circumstance. The difficult downward cycle begins once a person has lost a job, because finding employment without a home is a stigma that society judges harshly. The loss of a job and a home, often perpetuates the loss of self-esteem and leads to other serious physical, emotional and mental health issues that have long-term economic and social consequences.
With portable geodome shelters that can be easily deployed, constructed and later relocated as needed, enlisting public support for U.S. tax-payer funded vacant city lots and unused federal lands makes sense. Imagine building an entire Geodome Eco-village Community in just days, putting an end to forced living in sub-human conditions on public streets!
Portable geodome ecoliving shelters offer hope for displaced persons to reinvent themselves by removing them from the squalor of living in city streets and public spaces! At the heart of this movement to find solutions lies a respect for the ecology of the homeless community as being of potential value to society.
Portable Geodome Eco-Village Communities further the cause of empowering the homeless, in providing opportunities to create guild communities for the homeless, that produce agricultural products, textiles or other important products, where our homeless will have a place to begin a new life by contributing their unique gifts and talents. Living in a thriving community can spark a spirit of contributionism that becomes an asset within the collective framework of society.
Tiny House Ecoliving Geodome Shelters solve the increasing demand for adequate homeless shelters by offering a place, not just a space to remove displaced populations from forced living in sub-human conditions on public streets! In this climate of rising homelessness due to over-crowded and unsuitable shelter living conditions, it is imperative that access be preserved to productively re-purpose vacant city lots and unused federal lands for shelters.
U.S. Tax-Payer Funded Vacant City Lots & Unused Federal Lands
The National Law Center on Homelessness & Poverty believes that it is imperative that access to vacant city lots and unused federal lands be preserved to productively re-purpose them for adequate shelters. This critical need can be accomplished while preserving the federal government's ability to promptly dispose of additional surplus property in an efficient, effective manner.
To this end, TITLE V of the Mckinney-Vento Homeless Assistance Act will help the government attain the goal of ending homelessness, outlined in Opening Doors: Federal Strategic Plan to End Homelessness. The Law Center offers many solutions and their documented success stories demonstrate what can be accomplished when the federal government eliminated waste, and allowed local communities to convert something unused into something useful.
Solutions, Not Problems…
Overcrowded cities do not encourage solutions for their homeless because they don't want to attract additional displaced persons that create an economic burden for their communities. The flip side of ignoring the homeless, ultimately brings shame on the community that chooses to ignore its homeless population.
Acknowledging the importance of empowering the homeless to help themselves is a humanitarian solution. In the United States, Utah has reportedly reduced chronic homelessness by 91-percent over a ten-year period beginning in 2005, and the state now serves as the country's poster child for ending homelessness.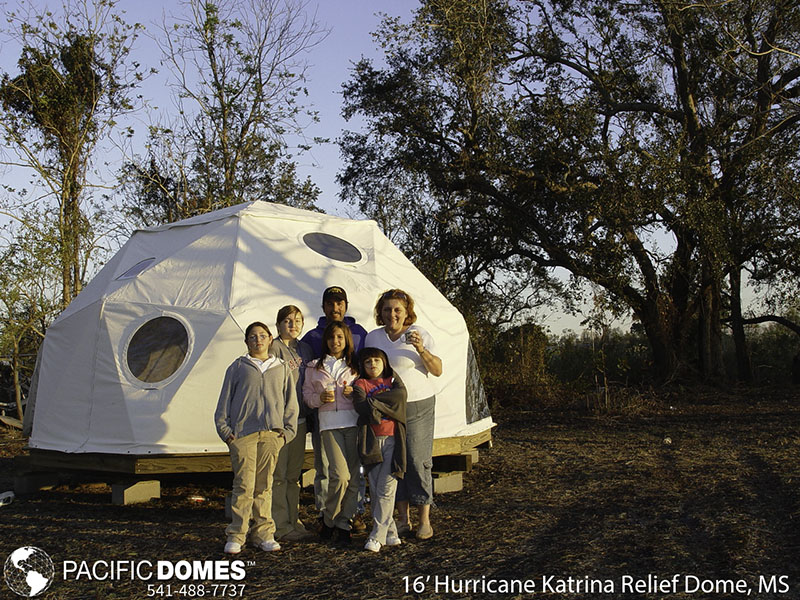 In Summary
IMAGINE! An End to Homelessness by Turning Taxpayer Funded Vacant Properties into Affordable Housing
Imagine that the Tiny House Revolution has gone viral across the Land of the Free by enlisting overwhelming public support for U.S. tax-payer funded vacant city lots and unused federal lands that can be temporarily or permanently re-purposed with attractive portable geodome eco-shelters to house the many displaced homeless persons living in squalor on city streets and public spaces!
---
This Land is Your Land… Imagine Portable Tiny-House Geodome Eco-Villages!
Expanding on the synergetic principles originated by R. Buckminster Fuller, Pacific Domes has been working on perfecting the function and beauty of their portable geodesic domes for more than 40-years in Ashland, Oregon. Pacific Domes has been pioneering sustainable living, personal and cultural transformation, and peaceful social evolution since 1980. This means… environmentally aware and sustainable.
Portable Geodesic Dome Shelters for Sale or Rent by Pacific Domes
Browsing Pacific Domes online store of geodesic shelters is your first step towards exploring the benefits and versatility of geodesic-engineered ecoliving domes as the strongest, portable structure known to man.
---