What is a Virtual Outdoor Classroom?
Virtual outdoor classrooms are fast becoming a popular public response to the needs of children and families during these unprecedented times of remote-learning classrooms. It makes sense that we would seek ways to expand learning spaces from indoors to outdoors ‒ and, now is an opportune time for parents and teachers to ensure that children take advantage of one of the safest learning spaces ‒ the outdoors.
Repurposing the outdoors by balancing virtual remote-learning classrooms with outdoor learning spaces, allows for much-needed periods of social interaction among ever active kids. Whenever possible, it's a way to get children outside and permit social distancing to occur naturally.
A number of recent studies suggest that outdoor activities pose lower health risks by providing the health-giving essentials of fresh air, sunshine and ventilation. Here's some additional benefits that studies have shown:
Outdoor classrooms provide the perfect setting to explore all subjects
Unstructured play outdoors promotes creativity and problem-solving skills
Better test scores and higher grade point averages
Decreased behavior problems
Reduced symptoms of ADHD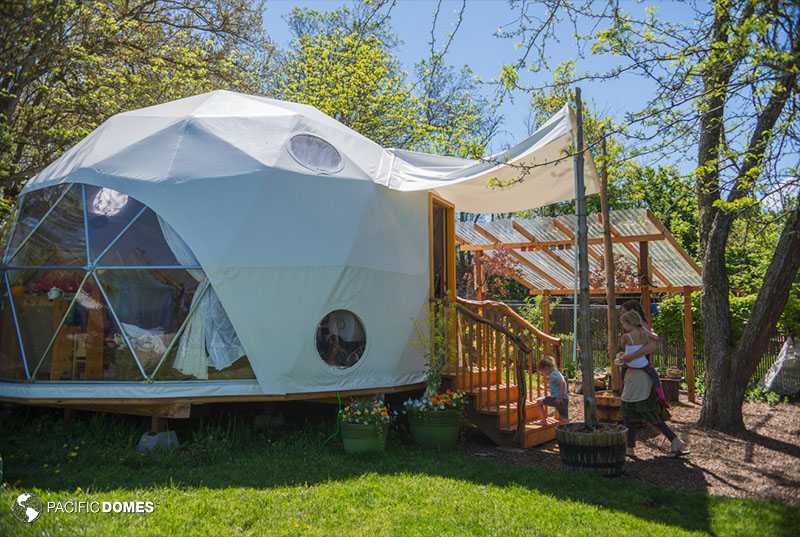 How Do You Conduct A Virtual Outdoor Classroom?
Children are naturally curious about the world, including their outdoor environment. Outdoor education experts, such as the Virtual Nature School (VNS) agree that there has never been a time when being outdoors was more important to a child.
With so many remote-learning tools available on the internet, educators are well-equipped to encourage students to take charge of much of their own exploratory learning in an outdoor setting. Teachers and homeschoolers can easily get students involved in a virtual outdoor classroom by sparking lively two-way conversations that motivate them to ask questions.
What is a Nature Smart Education Dome?
A basic concept of the Nature Smart Education Dome is to strengthen  and support a child's innate curiosity to learn about their environment, whether, alone or among peers. The outdoor classroom encourages kids of all ages to explore, imagine, try new things, and spend as much time as they want initiating their own activities.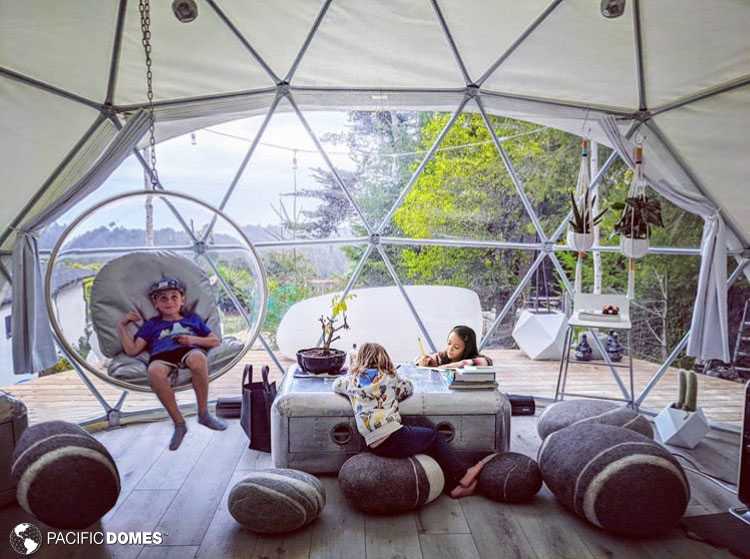 "The future will belong to the Nature-Smart ― those individuals, families, businesses and political leaders, who develop a deeper understanding of the transformative power of the natural world; and, who balance the virtual with the real. The more high-tech we become, the more nature we need." ― Richard Louv
Uses for Nature Smart Education Domes 
There are many innovative uses for portable Nature Smart Education Domes. Here's just a few ways that prefab domes are being used:
5 Educational Summer Camps & S.T.E.M. Programs
Outdoor Greenhouse Classroom at Lila School
Best Nature Smart Education: Domes at Coyote Trails School of Nature
Inspiring Playgrounds with Geodome Climbers
If you're in the market for play structures, you'll be pleased to know that Pacific Domes climbing domes and activity gyms are proudly manufactured in the USA from premium U.S. galvanized steel. Frames are custom color powder-coated, staying cool to the touch in full sun.  Your jungle gym becomes an all-weather play house with optional dome covers, that are available in an array of colors.
No matter whether you're creating a backyard playground for your family, a large community-size park project or a playground project for your school, church or day-care, you're sure to draw inspiration from previous projects that incorporated geodome climbers.
Pacific Domes playground dome provides hours of brain-building exercise and social interaction for students at Siskiyou School in Ashland, Oregon.
Climbing Domes − Pacific Domes (2:02 minutes)