---
Dome Home Kits Manufactured by Pacific Domes-USA
---
Wondering what dome life is like in a 30-ft. dome home? You've come to the right place to learn more about one of the more popular dome home sizes – the 30-ft. dome.
The spacious 30-ft. prefab dome home takes the meaning of tiny home alt-housing to a whole new level with plenty of ceiling space to spare. This size offers unlimited interior design possibilities – including, the addition of a 2-story upper level.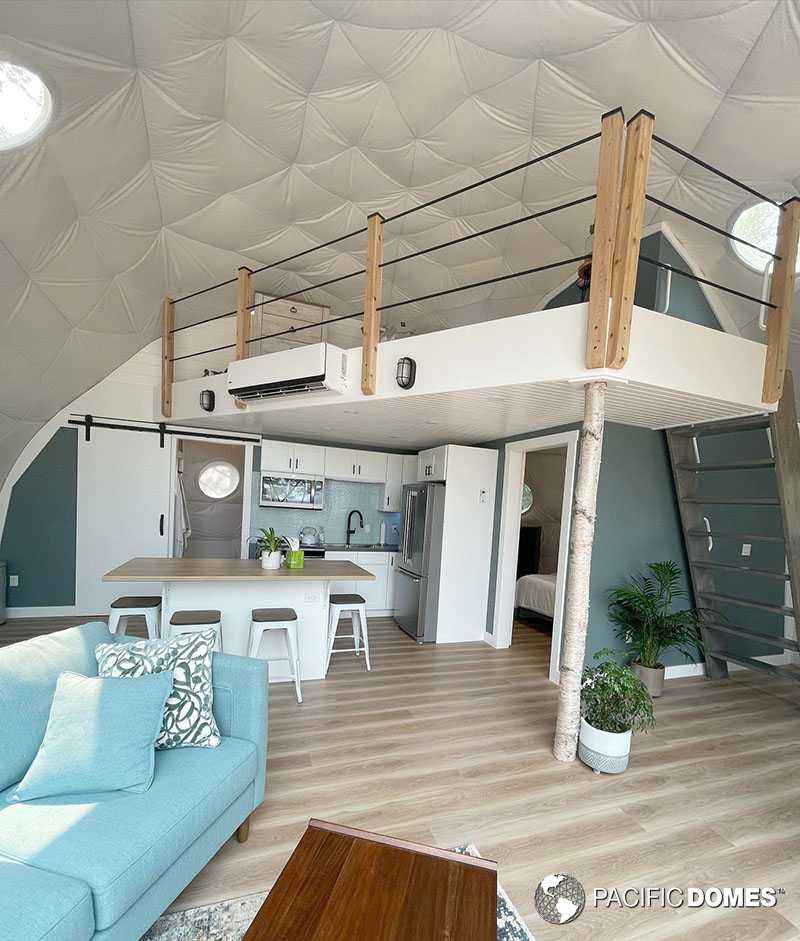 About Dome Life Design
First, let's begin by introducing you to the unique Zen-like qualities of dome life design. A dome's architecture is beneficial to one's overall sense of tranquility and wellness. Why is this? Because the harmonic architecture of domes is based on the ancient science of Sacred Geometry.
Exploring the energetic qualities of domes enables one to recognize that each dome size produces a resonant field that's unique to that structure. The resonant field of a 30-ft. dome home creates an environment that supports the balanced feminine qualities within the family unit – especially, when it comes to those nurturing attributes unique to women – meanwhile, supporting those energies in their male counterparts, as well.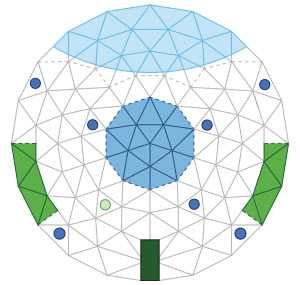 Specifications: 30-ft./ 9m
Floor Area: 695 sq. ft. / 64.5 sq. meters
Ceiling height: 15-ft. / 4.5 meters
Approx. dome weight: 1,454 lbs. / 660 kg.
Frame pkg: 66″x 29″x 36″ / 1.7x.7 x .9 meters
Cover package: 40″ x 40″ x 40″ / 1 x 1 x 1 meters
Bay Window: 8.5 ft. h x 20ft. w (2.6×6 meters)
Engineering
Frequency: 4 / No. of Struts: 250
Max Wind w/ No Snow: 150mph
Max Snow w/ Wind Load: 20lbs @130mph
Package Includes
Frame: 1.3″ galvanized steel
Cover: Shelter Cover w/removable bay window
8 Removeable round windows / Bay window
2-base ventilation roll-ups w/zipper
Weather-tight door or prehung door opening
Anchoring: Hardware for any type of surface Instructions: Dome care & assembly manual
Custom Options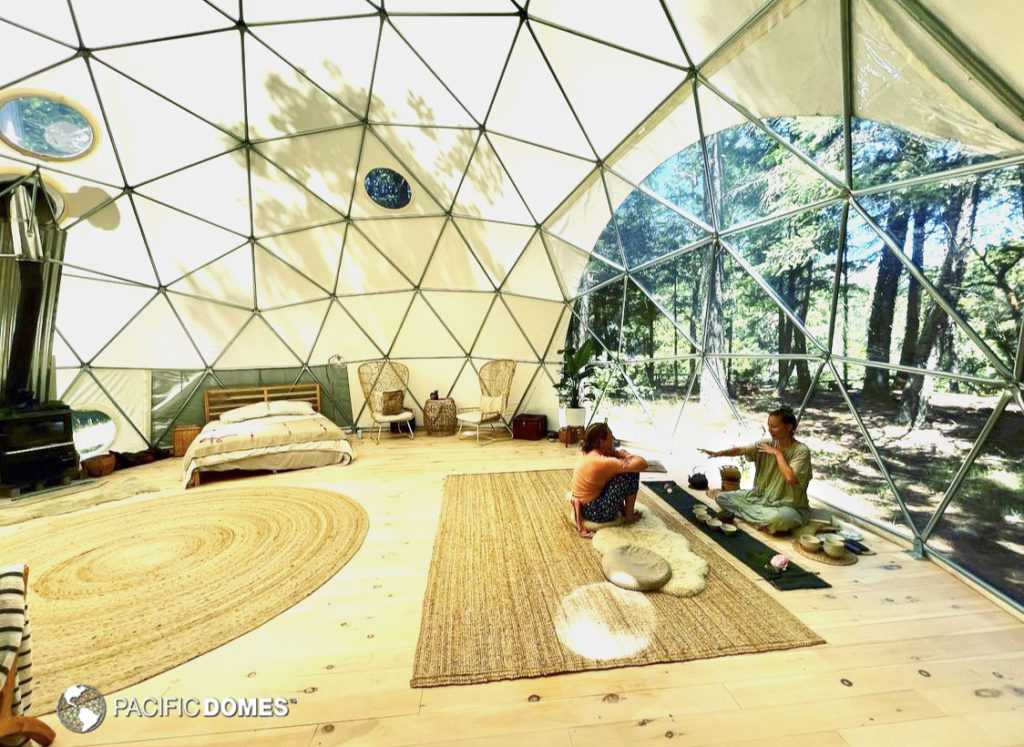 Dome Home Features, Benefits & Services
This part aims at providing you with the various features, benefits and services of ecoliving dome homes – as well as, helping you weigh-in on some of the general FAQ's and considerations, pros and cons of building with portable, prefab dome kits.
Pacific Domes geodesic-engineered domes are known for their portability and ease of set-up. Manufactured in the USA from high-strength galvanized steel,prefab dome home kits are the preferred choice when it comes to building in remote wilderness areas subject to high-winds, hot deserts or tropical climates – perfect for off-grid living.
Considered semi-permanent structures, they can be taken down or relocated at any time. Should you wish to create a permanent structure dome kits can be retrofitted, as well.
Geodome Design Advantages An important dome design advantage is their energy-efficiency and ability to withstand nature's extremes – including, winter snow loads. Geodesic domes have proven to be the only structure left standing in the aftermath of a hurricane or earthquake.
Building with Prefab Geodome Kits Ready to build with prefab geodome kit? Pacific Domes has put together a number of 'How to Guides' to facilitate with your construction project – even if you've never built anything before.
---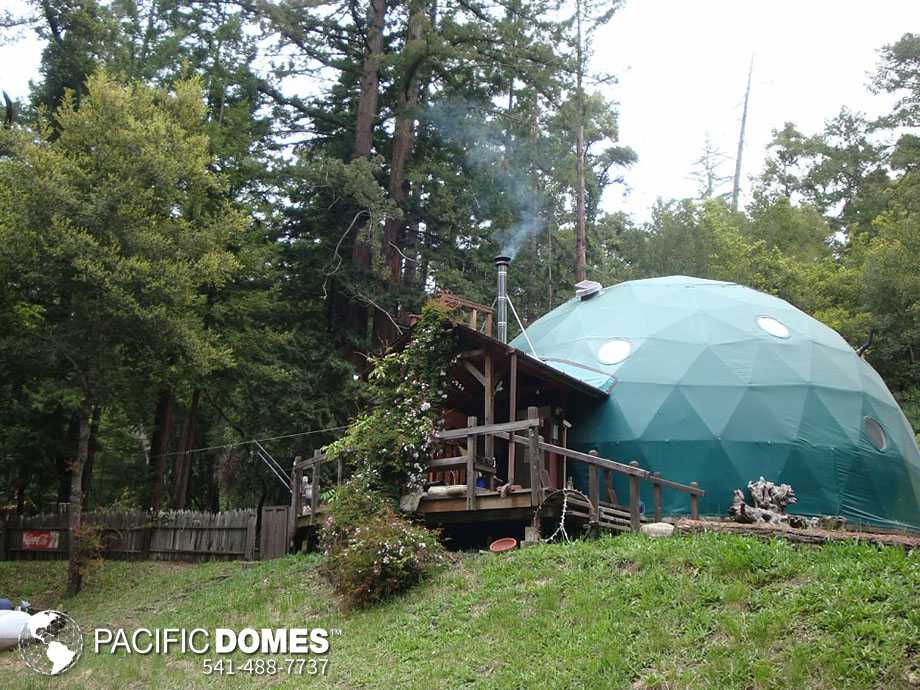 We hope you found this post helpful when considering whether a 30-ft. dome home will suit your needs. If you're interested in other prefabricated dome kit sizes, we invite you to visit our Dome Sizes and Specs.
---