---
During this 2021 Holiday Season, many innovative businesses are searching for ways to celebrate the most wonderful time of the year in non-traditional and socially-responsible ways. Hosting a Corporate Holiday Party in the comfort of a portable geodome event tent is an entertainment option that your guests will rave about for years to come.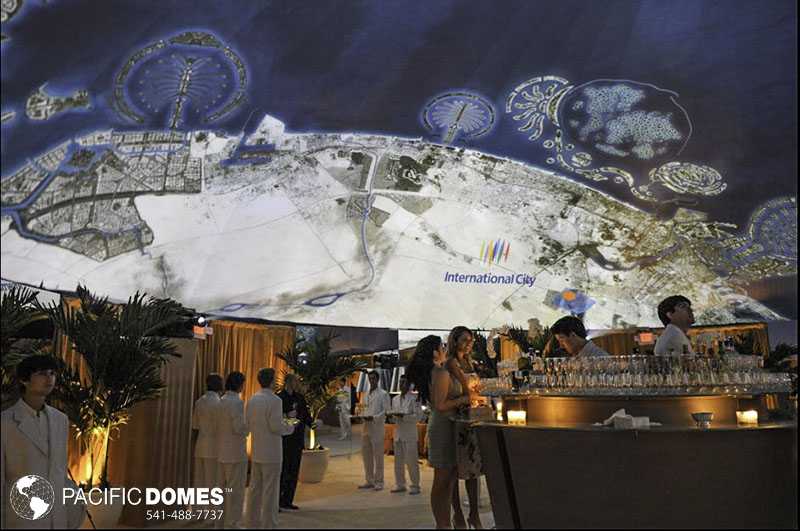 The circular arena provides an elegant stage for either small or large-scale corporate holiday events. When skillfully orchestrated, a micro-climate geodome tent creates a magical experience that truly lights up any corporate holiday venue – particularly, within the framework of 360° immersion.
Magic really does happen inside a highly immersive Geodome Event Tent!
Pacific Domes patented negative pressure liner seamlessly disappears the metal structure, forming an immersive projection screen to capture the audience experience. The overhanging truss system supports 360⁰ lighting and sound systems – and, accommodates suspended heating and cooling systems.
No need to worry if an outdoor setting isn't practical. A freestanding, prefab dome can be easily erected within the expanse of a large indoor setting – such as, a shopping mall. You can either assemble the dome yourself or have Pacific Domes field-team do the install-and-take-down for you.
It goes without saying that in today's current climate you want to consider your guest's social comfort levels. With plenty of breathing room to spread out, an open-span geodome event tent allows your guests the freedom and mobility of social interaction while respecting social-distancing norms on a personal level – on your guest's terms, so you and your guests can enjoy peace of mind.

Here's just a few creative Corporate Holiday Party suggestions for 2021:
Bubble Dome Dining Experience
Dine with a view! Within the protective ambiance and relaxed seating space of a see-thru Bubble Dome, guests are surrounded by outdoor landscaping and romantic evening views of starry night skies.
Roof-top Lounge Dome
Bring on the music and entertainment with a Roof Top Lounge Dome. Geodesic domes can handle roof top winds, while keeping your guests warm in a protected bubble.
Ice Bar Domes
Alchemy happens inside Ice-bar domes. Brilliantly decorated with ice-sculptures, they soon become the hub of any festive event! Although historically located in colder climates, Ice Bars can be erected anywhere one might wish to mimic the novelty and ambiance of the igloo-like dome design – even in the desert!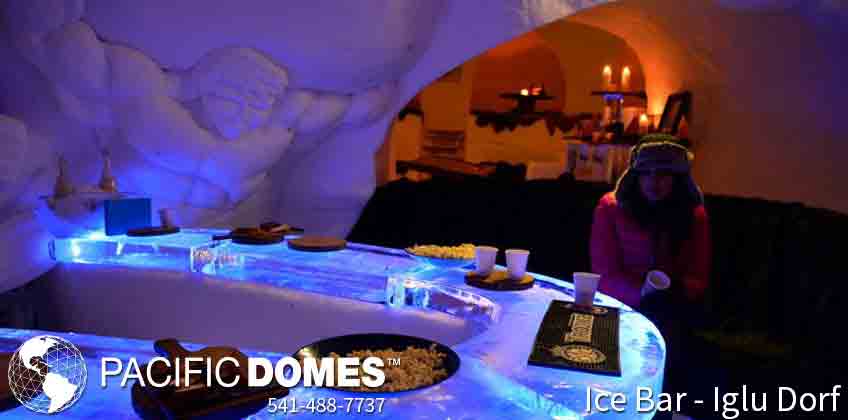 Branding Opportunities
Solving the challenge of showcasing graphics, the geodome frame serves to anchor tensile-strength custom imprinted covers and awnings. Image branding and printing is available both inside and out. Use vinyl appliqués and digital printed logos, brand graphics and original artwork to make your lasting impression.
Innovation and service and is at the core of everything we do in our day-to-day operations. As we strive to serve our client needs, there's no job that's too large or small.

Whether purchasing or renting your event dome, our teams are ready to walk with you each step of the way from concept to completion. Pacific Domes professional 3D renderings help you visualize your dome in its environment.
In Summary
Public spaces for collaborative event entertainment venues has increased in popularity during the last few years and geodome event tents have played a key role in the event industry. Whether hosting a corporate holiday party, live event, product launch or special promotion, you, too, will want to harness the power of Pacific Domes Event Tents to set the stage for your next corporate affair.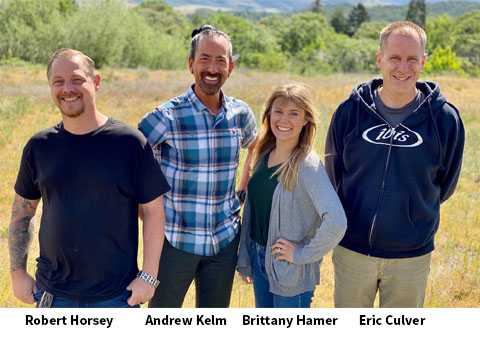 Your success is our success.
You've come to the right place when it comes to hosting your Holiday Event in style. Connect with one of our friendly Customer Support Reps to get started today!