What if you could provide an out-of-the-box portable dining solution to the social-distancing measures that have challenged many of our social norms this past year? It's an invitation to be brave and think outside the conventional bubble ‒ and, go inside the Bubble Dome!
---
Whether for commercial or individual use, a private dining dome can provide a safe social environment for hosts to entertain their guests. It becomes an interactive space for people's social bubble ‒ an opportunity to enjoy food, drinks and more.
Within the vibe of a see-thru Bubble Dome, guests are surrounded by daytime views of outdoor scenery and romantic evening views of starry night skies.
---
Bubble Dome Design
An important consideration in planning any successful indoor or outdoor dining experience is whether your establishment will leave a strong impression with your guests long after the event is over. You've likely heard the expression "Flash is Cash"?
---
Domes have a superior capacity for projection and lighting innovation. The round dome design naturally amplifies sound and the overhanging geodesic truss system becomes the perfect housing for 360⁰ lighting and sound to capture a fully immersive dining experience.
Why Geodesic Dining Domes?
---
The versatility and functionality of portable bubble domes offers limitless possibilities for creativity in dome design. The spherical design of a freestanding, geodesic-engineered dome encapsulates the largest volume of interior space with the least amount of surface area and is suited to all types of terrains.
Ensuring a light eco-footprint, when a dome's diameter is doubled it will quadruple its square footage and yield eight times its volume, thus saving on materials and cost. The fact that domes are considered temporary structures, means that they can be easily transported to your location, go up quickly with hand ratcheting tools; and, be just as easily taken down when they are no longer needed.
Fuller discovered that a half-sphere geodesic dome composed of inter-connected triangles could withstand pressure from all sides and lend it superior strength. Bucky Fuller is credited with demonstrating what's called, "the doing more with less" principle.
---
Bubble Dome Covers
Tensile-strength Bubble Dome outdoor covers are constructed from durable UV resistant, flame-proof and waterproof materials that naturally illuminate the spacious interior atmosphere. The tent-like covers are available in a clear Event-Vinyl or Event-Lite translucent fabric, which is first welded; and then, sewn together for long-term tensegrity. It's common to combine both materials for partial shade and privacy.
Another option is to place a large Bay Window with a hoop door entry in the middle. A typical bay window consists of 30-millimeter clear vinyl material, that's first welded together; and then, sewn into the rest of the dome.
Event-Lite is used for Illumination Domes that lend a warm Zen-like daytime ambiance and romantic candlelight dining, while lighting up evening skies. Event-Lite is 100% Coated Polyester (7 oz./sq. yard) fire retardant, water/mildew resistant. This fabric has a matte finish and is available in assorted colors.
Event-Lite is lightweight for ease of setup. This translucent fabric allows images to be seen both inside and outside the dome ‒ it's perfect for fun, artistic nighttime digital lighting displays.
Event-Vinyl is extremely durable and perfect for long-term outdoor events. Event Vinyl is available in clear or vinyl coated polyester (17 oz. /sq. yard) fire retardant, water proof, mildew/UV resistant.
Event-vinyl is available in assorted colors. Logos and branding can be applied with inkjet printing or removable appliques.
---
Bubble Dome Flooring
Various types of floorings may be installed in domes to provide a comfortable environment for every function. Pacific Domes offers a heavy-duty vinyl flooring that curves up the side wall in order to keep standing water out. For colder climates, we recommend an insulated floor, using Thinsulate* sandwiched between two layers of vinyl. Vinyl floors are available in many colors.
---
Wigloo
Canadian affiliate, Wigloo, demonstrates how easy it is to set up a freestanding bubble dome. (1:00)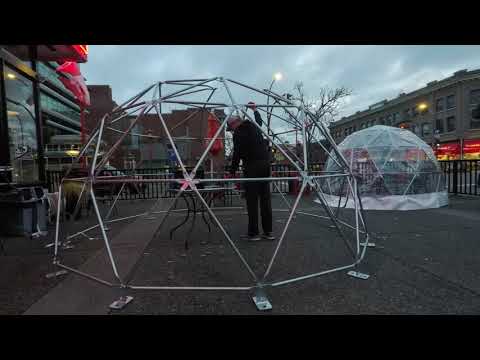 ---