Convert your Backyard from Boring to Simply Beautiful! — PACIFIC DOMES

"Nature makes the whole world kin". —  Shakespeare
Rediscover the outdoors in your own backyard by creating the perfect leisure and recreation hang-out for your family. When the weather is an invitation to be outdoors, you'll love how extending your living space to include a backyard garden dome will suddenly become a gathering hub for family activities.
Bringing outdoor pleasures to a whole new level of enjoyment, outdoor garden domes have become a creative way to expand family living spaces. From sleep-overs to outdoor parties, the open design of a garden dome creates a hospitable atmosphere that provides shelter and shade for year-round leisure. And, by combining a couple of hoop door entrances the dome becomes an inviting and  versatile entertainment oasis to host gatherings.
Backyard garden dome retreats infuse Nature with all of the comforts that we enjoy indoors. Creating perfect outdoor spaces for a relaxing get-away may include basic spaces for cooking and dining, plus, everything from sofas and beds to spas and meditation areas.
Garden Domes have a variety of uses…
A Child's Playard Garden Dome – An Eco-Classroom – Summer Camp
Cultivate Nature Smart Children by inviting a child's innate curiosity to explore and connect first-hand with earth's diverse eco-systems. Countering the effects of technology overload from the indoor classroom, a garden dome filters natural 360° sunlight – thus, promoting a healthy classroom learning environment.  
Greenhouse garden domes and playground domes bring together a fun-filled hub for hands-on learning. Born naturalists, children are more apt to engage in a garden dome classroom, eager to explore earth's unique inhabitants, discover nutritious foods from seed to table and learn healthy connections through playground activities. If you are seeking ways to cultivate Nature Smart children by infusing a little magic through an outdoor garden playard, greenhouse eco-classroom or summer camp learn how easy it is to implement a greenhouse garden dome in your backyard.
Tree House Garden Dome
Create a magical garden space with your very own 16-ft. tree house garden dome that's sure to delight the young at heart.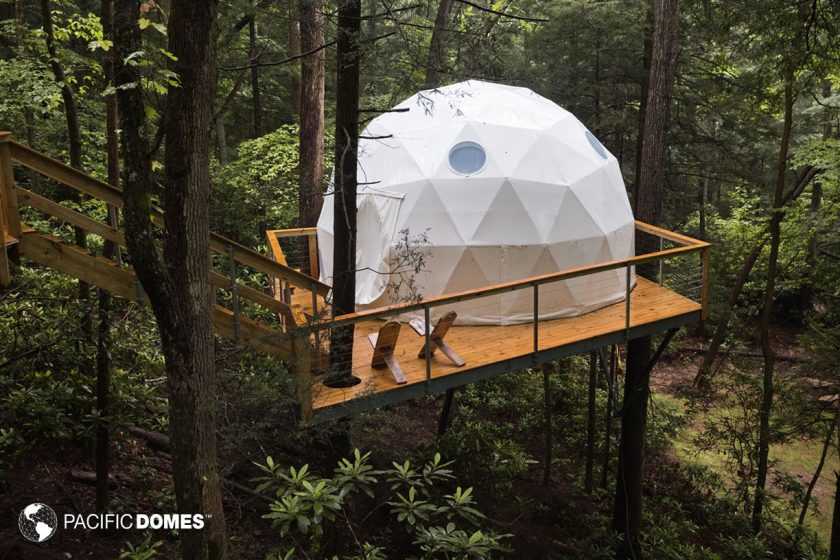 Backyard Studio
Give your imagination wings with a garden dome studio by providing a unique space to nurture your body, mind and spirit. If you're among those dreamers who imagine life, not just as it is, but how it can be, you'll love spending hours in your dome studio.
Garden dome studios are an out-of-the-ordinary place to work and play. There's a science behind the dome's design that traces its origins to the Sacred Geometry of ancient Vedic architecture. 
Join the growing trend towards creative home employment or create a multi-function garden retreat to entertain your guests.  Here's just a few suggestions: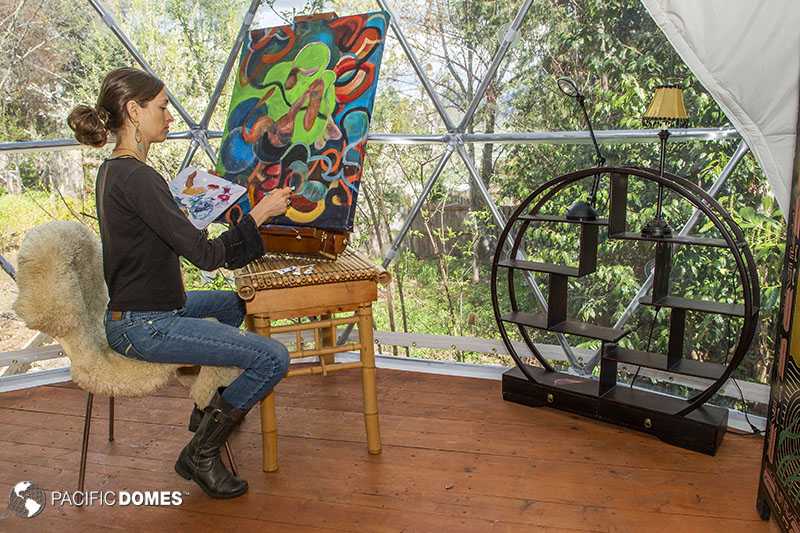 Glamping Business
With a glamping business you can create the same ambiance found in quality hotels. No need to reinvent the wheel, prefab dome kits go up quickly, so you can focus on more important things, like the interior use and design for your glamping retreat (glamorous camping).  Your spacious ecoliving studio has many functional opportunities for ingenuity.  Add some ambiance to your favorite outdoor décor with resort-style amenities by exploring our dome kit options, features and accessories.
Alternative Housing Structures for the Tiny Home Movement
Katja lives in a tiny dome home built in her garden. Free from distractions, she can be secluded in her own thoughts. She lives in harmony with nature, experiencing the sights and sounds, while being protected from the elements. In the winter she fires up her stove and uses a duvet to keep her warm at night.
"Early in the morning I can see the sun rising and listen to the calling ravens and buzzards, I hear the wind whispering with the leaves of the apple tree living next to me. I put on a fire in the wooden stove when it is cold and the crackling wood makes me feel warm and cozy. At night I can see the stars sparkling and I can follow the moon wandering along for hours when I don't fall asleep on its way.
I love to be in here! The round form lets me feel surrounded by good energy. Looking around feels like dancing. There are no edges or corners to get stuck in."
–Katja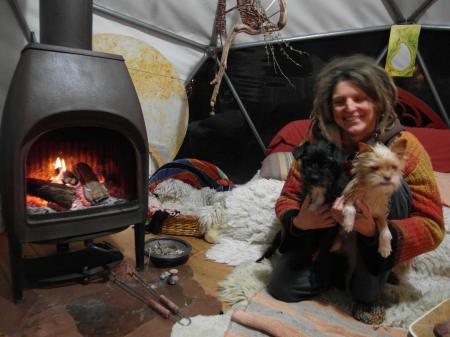 ---
"Innovation and service and is at the core of everything we do" ― Pacific Domes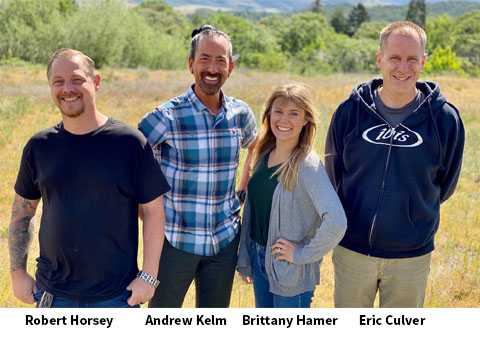 ---