"You'll love how your at-home dome office studio will boost your creativity!" — Pacific Domes
The 2020 global pandemic has given people an unprecedented opportunity to skip the daily commute to their formal office hub and create a work-at-home office space. Who wouldn't enjoy the freedom of working remotely from their home office?
The reality is that we humans like breathing room and tend to get claustrophobic when confined to small home spaces for prolonged periods of time. If you're among those looking for an at-home office studio that inspires creativity, you've come to the right place. Without further ado, let us introduce you to one of the most affordable and spacious ecoliving home office setups ‒ your backyard at-home dome office.
Watch your creativity, efficiency and productivity spiral to new heights inside your dome office.
Why a Dome Office?
Studies have revealed that domes have at least a 30% more heating and cooling efficiency compared to standard housing. Designed for optimal ventilation, domes are naturally more energy efficient due to unobstructed circulation of ambient heating and cooling.
Nothing compares to natural lighting. Offering a unique experience with a warm, Zen-like ambiance, energy-efficient domes illuminate your interior surroundings.
You want your at-home dome office to be away from normal household distractions ‒ it's about getting things done. It's a place where you can be surrounded by Nature in a quiet backyard setting, yet, be footsteps from the main house.
With a bit of pre-planning and a few DIY skills, you'll be amazed at how fast a portable prefab dome kit goes up to quickly transform your outdoor space into a functional office studio.
When exploring your home office options, here are some helpful points to consider:
Portable prefab dome shelter kits are easily transported to your location and set up on site. Domes are suited to all types of terrains; are fully deployable and can be erected in hours with simple hand ratcheting tools.
The spacious dome interior offers limitless possibilities for creativity. The circular design encloses the largest volume of interior space with the least amount of surface area – more eco living space.
For those desiring creature comforts, technological advances now make it possible to set up an array of sensors around the dome. Embedded sensors are responsible for looking at all the variables, such as monitoring security, lighting, and opening-closing vents for optimal climate control.
Because they are considered temporary shelters, meaning that they can be taken down when no longer needed, you may simplify or bypass many building codes, altogether.
Geodesic-engineered domes withstand the forces of nature. Domes are often the only structures standing in the aftermath of hurricanes, tornadoes and earthquakes.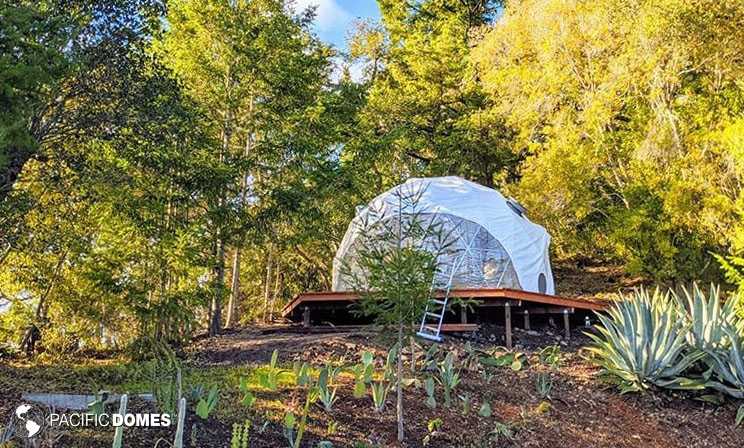 Buckminster Fuller understood the principles of geodesic design that lends the inter-connected triangles of the dome its unsurpassed strength. The American Institute of Architects has called the geodesic dome, "the strongest, lightest and most efficient means of enclosing space known to man".
Virtual Meetings from Your Dome Office
Author, Jay Golden, story-telling coach and keynote speaker on the power of storytelling in branding, has been successfully working out of his backyard dome office studio for a number of years. It's where Jay, a skilled presenter, has created some of his most memorable stories and delivered virtual coaching and trainings to well-recognized industry brand leaders.
Jay Golden shares how leaders find their most essential stories and use them as a guide for audiences large and small.
Storytelling Keynote Speaker and Story Coach of Retellable (2:49 minutes)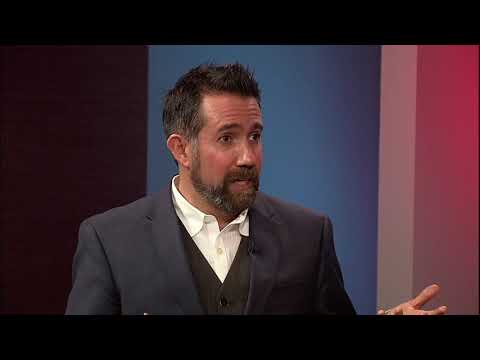 Help Pacific Domes Celebrate its 40th Anniversary
This year, Pacific Domes proudly celebrated its 40th Anniversary since the geodesic dome manufacturing company first began its operations in Ashland, Oregon, USA by offering Domes On-Sale. Recognized worldwide as the original dome manufacturing company, Pacific Domes has steadfastly pioneered the evolution of prefab geodesic domes and explored its multiple uses since 1980 ‒ to name just a few, geodesic dome alt-shelters, event domes, greenhouses and playground dome kits.
Pacific Domes founder, Asha Deliverance has held to the high standards set by R. Buckminster Fuller's lifelong dedication to finding structural shelter solutions that work for all of humanity. Today, thousands of clients have testified to a dome's geodesic-engineered strength ‒ while thousands more trust Pacific Domes to deliver dome shelters capable of withstanding Nature's extremes.
Pacific Domes offers a variety of free-standing alt-shelter dwellings, that are used for personal as well as, eco-hospitality glamping and disaster relief shelters. Ranging in size from 16 ft. to 120 ft, geodesic Event Domes are among the crowning engineering and manufacturing achievements ‒ the iconic Projection Dome is worth mentioning, here.