---
Driven by consumer demand for economical housing, the trend towards alternative housing and prefab eco home construction, offers an affordable solution to skyrocketing building costs and mortgage payments. One question that people exploring dome homes as an alternative housing solution ask, "What's the best way to go, a site-built dome home or a prefab dome home building kit?"
Simply put, what sets these two building options apart is that a prefab dome home kit is constructed from a factory template. This simplifies building decisions and saves you money on materials and construction. A site-built home can take many months to build, while a prefab dome kit goes up quickly and easily. In most cases, once you've laid the ground work, a prefab dome can be erected in less than a day.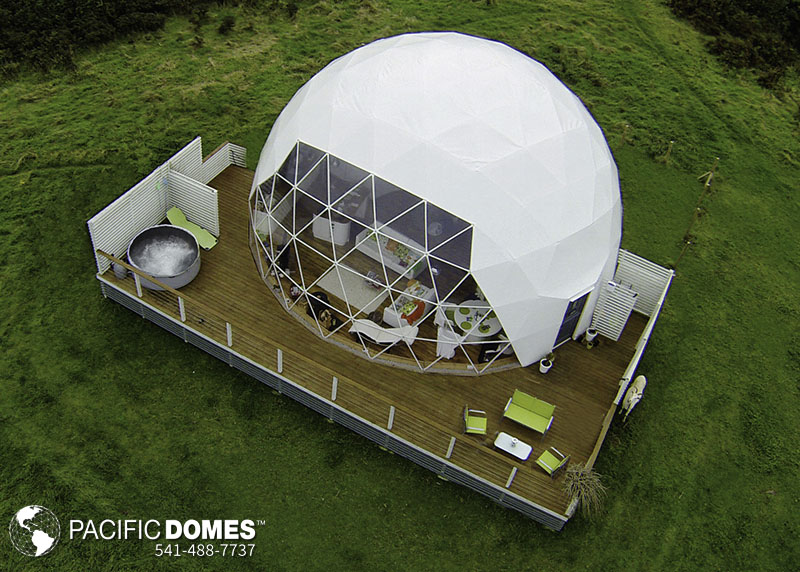 Saving on materials and cost
Dome home kits utilize Buckminster Fuller's 'doing more with less' principle; in that, they enclose the largest volume of interior space with the least amount of surface area. By design, when a dome's diameter is doubled, it quadruples its square footage, producing eight times its volume. If this excites you, then read on and learn why a prefab dome home kit may be just what you've been looking for.
Naturally energy efficient
Due to unobstructed interior and exterior air flow, ecoliving domes are naturally more energy efficient, when compared to standard housing. Domes can keep your shelter warm in the winter and cool during hot summer days by maximizing ventilation from prevailing breezes and optimizing exposure to the sun.
Whether you're looking for a temporary shelter or a more permanent eco home building solution, you'll want to get started on your journey by exploring some innovative uses. While you're at it, feel free to explore Pacific Domes' Knowledge Base of  'How to Guides' and How to Build a Dome video playlist.
To further spark your imagination, here's 5 eco home uses for prefab dome kits:
Building with a prefab dome home kit… even if you've never built anything before!
Prefab Eco Home Kits – The Basic Prefab Dome Kit includes a frame, cover with bay window, round windows, weather-tight zipper door or pre-hung door opening, zippered base roll-up flaps for ventilation, steel anchor plates. *Frames may be purchased separately.
Your kit includes, dome assembly instructions, a dome care manual and deck plans. Choose from several sizes and customized options.
Pre-bundled and labeled dome kits arrive at your site and can go up in less than a day with a few friends, some ratcheting tools and ladders.
To help with planning your future building project, here's some construction basics for you to consider:
Eco Home Building: Site Selection and Foundation Basics – The first step of your DIY project begins with site selection and foundation basics. Although, Pacific Domes DIY kits are free-standing and can be erected anywhere, in any terrain, they come with pre-engineered deck plans – adding to a significant cost savings, should you opt for a deck.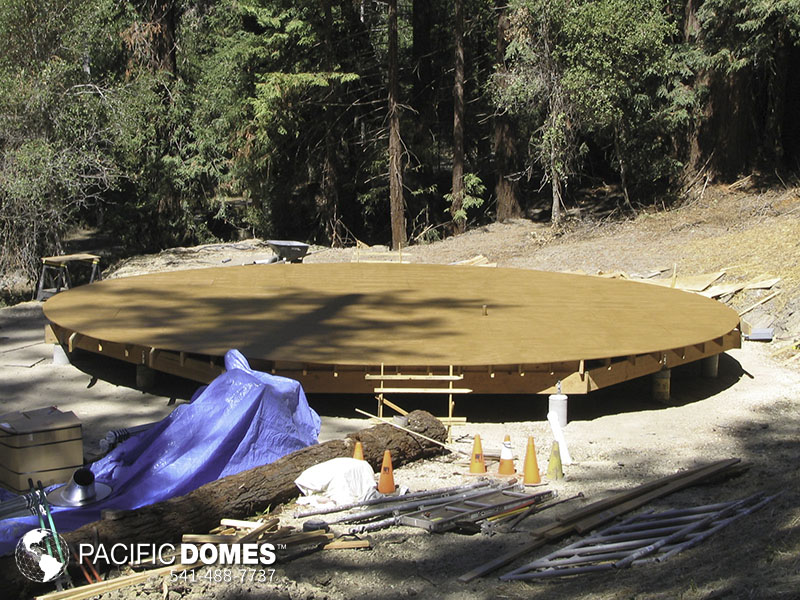 Eco Home Building: Electric & Plumbing – If you have access to utilities, running electric and plumbing below the floor board or decking is accomplished by drilling a suitable hole wherever you wish to bring in your electrical conduit or plumbing. When building a stem wall or sub-level (below-ground) Kiva room, you can run all your electrical and plumbing underneath the dome. Outlets can be placed on any wall, partition or flooring.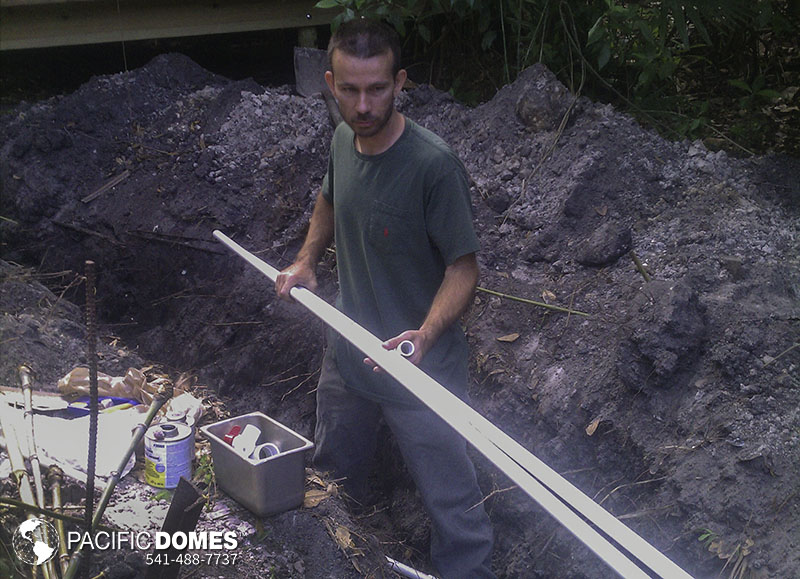 Eco Home Building: Interior Designs – If you plan on spending any length of time in your dome, going completely rustic may not suit your ideal lifestyle. The open floor plan and vaulted ceilings of a dome offers a warm, sunlit space and ample possibilities for your unique interior design. You can choose to elevate the dome by building a perimiter stemwall – add depth and functionality by including a sunken-floor or a loft.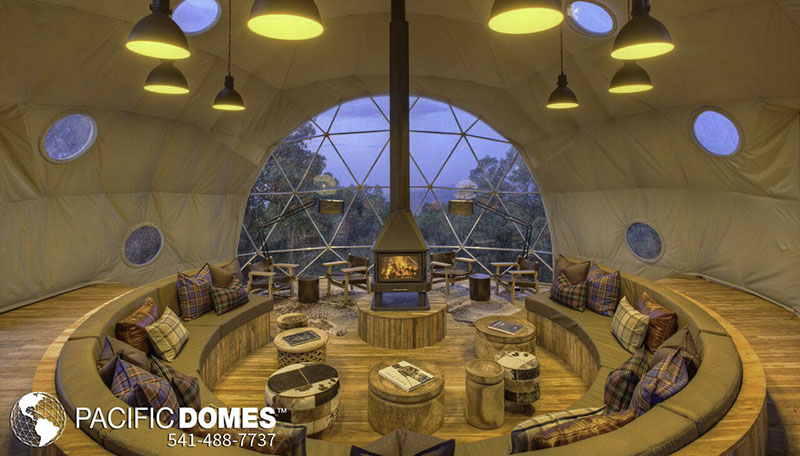 Depending on your usage, you might decide to work with an open space or add interior walls to separate living spaces. Yes, interior design can include freestanding walls to partition rooms, such as living room, bedroom, kitchen and bathroom.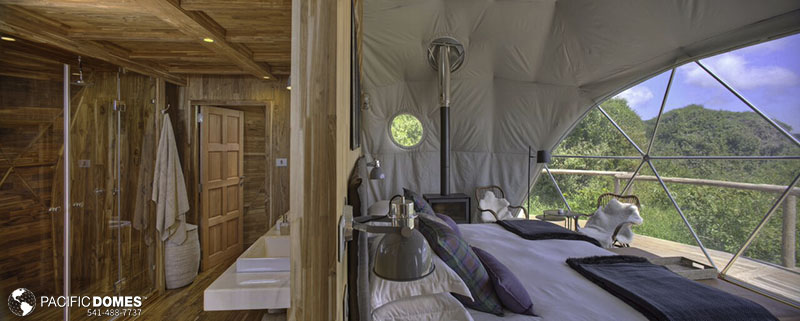 Partition walls can become the structural support for your loft. By installing kitchen and bathroom on opposite sides of a shared partition, framed walls offer a way to consolidate plumbing and electrical wiring.
In Summary
Why consider Eco Home Building Kits? On the forefront of eco home building, prefab dome home kits offer cost-effective and easy to erect shelter designs  for those desiring an expansive, yet simpler, nature-inspired organic lifestyle. Yet, that's not the only reason to choose a dome home! During times of extremes, the geodesic dome has been heralded as 'Nature's perfect structure' – able to withstand hurricane force winds, earthquakes and other weather extremes.
As one of the early pioneers in the sustainability, eco-building movement, Pacific Domes has been inspiring responsible earth stewardship and ecoliving shelter projects worldwide since 1980. Prefab eco home kits are powering-up and fueling one of the hottest industry trends, glamorous camping, aka glamping. Biosphere Responsible Tourism, awaits nature smart entrepreneurs with limitless opportunities to innovate a rewarding business in eco-tourism.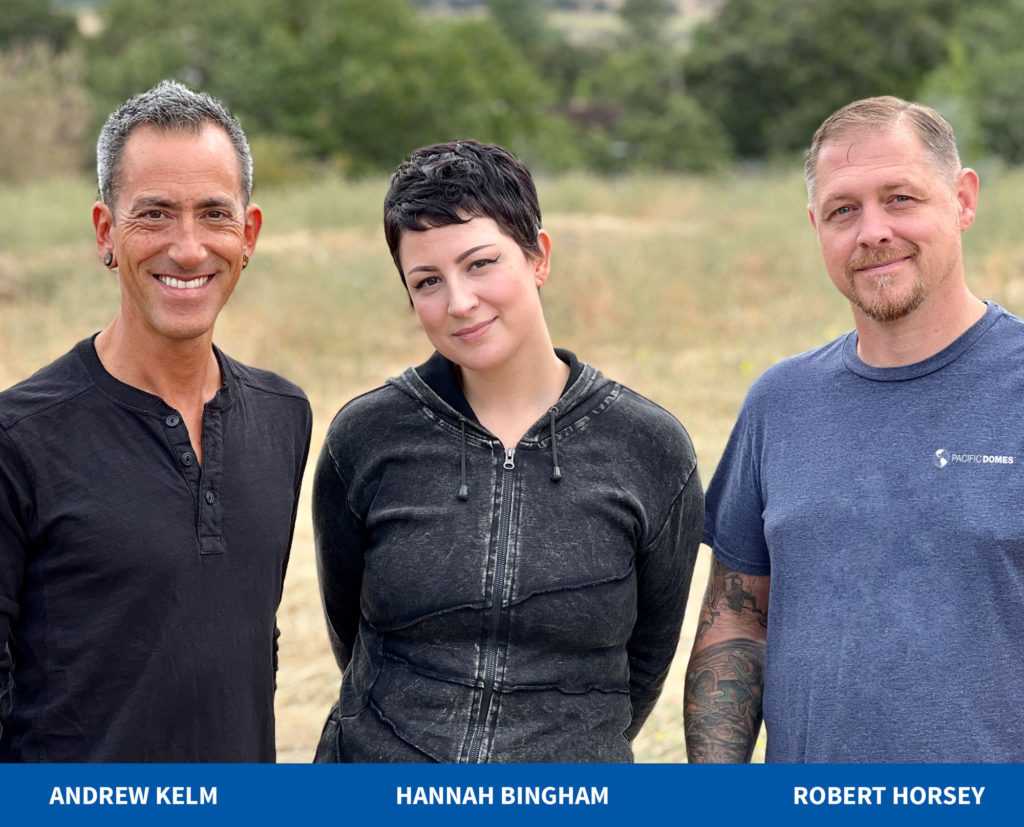 ---