Tiny House Dome in Colorado
I purchased my existing dome when I lived in the high mountains of Colorado near Aspen. That was in the mid 1990s, probably '94 or '95. The dome's first foray into the wild was a year spent on a remote property in the Rockies, where I discovered that I loved living in a dome. I set it directly on the ground with grass mats as a floor. Apparently it was placed right in the middle of a game trail because there were large tooth punctures in the bay window the next day.
Fortunately, I wasn't in the dome when the bear came by and checked out what had strangely appeared in the middle of its regularly traveled path. Thus a glorious spring, summer and fall began with a newly bear-christened and patched-up dome. The camp kitchen was nestled under and inside the branches of a huge Colorado Blue Spruce with steel dry food storage containers chained to a nearby tree to secure the food from the critters. We also had a small fresh food storage platform strung between two trees with a pulley-lowering device. After the snow fell, I moved back to town and the dome snuggly persevered the winter snows until spring.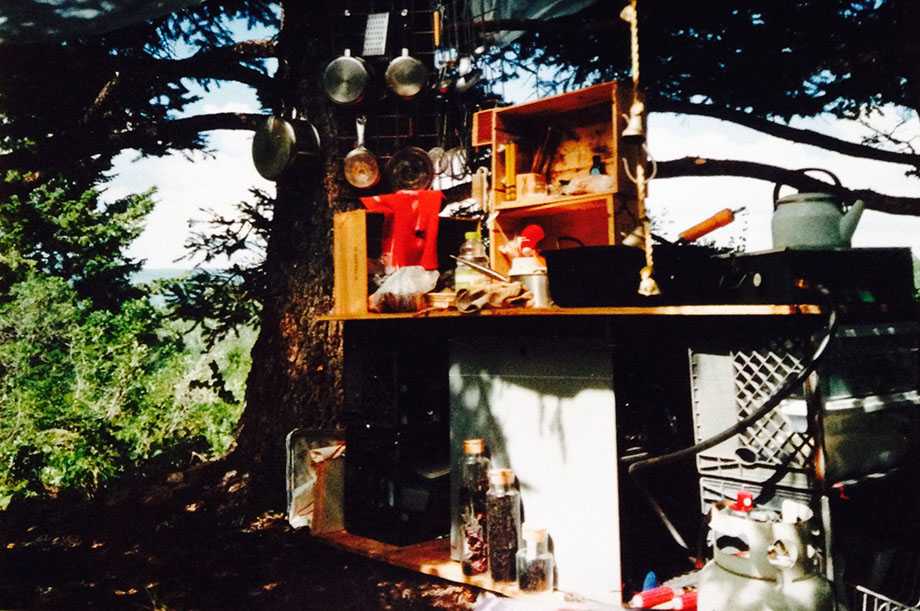 [/caption]
Dome In Oregon
In 1999, I moved my dwelling prefab home to Ashland, OR. With the help of two strong, young men, I built a wooden platform and erected the dome on a piece of land on the edge of town. This time it had a Woodstock soapstone/cast iron stove instead of the original light sheet steel model.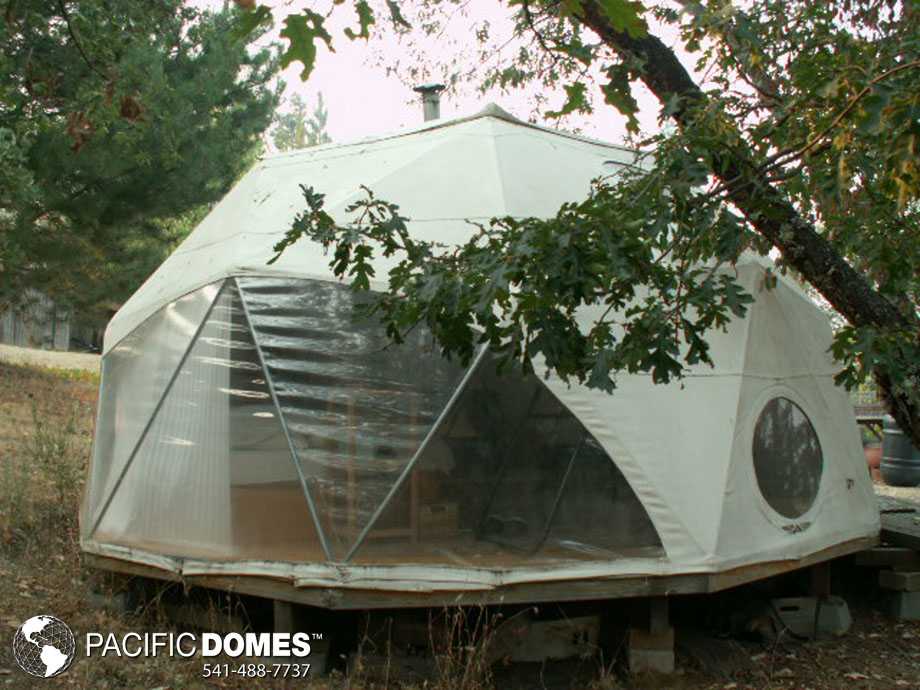 Over the years, I learned to preserve the canvas cover by washing it and applying a silicone product Pacific Domes supplied me with.
Later, when the canvas began to have weak areas, they were replaced with new fabric and at the same time the damaged bay window was refurbished. Next, I cleaned and painted it with the Thermo-Shield coating to extend its life. With yearly pressure washings and one additional Thermo-Shield coat, the dome has been providing shelter for a long time. This is why I call it Miracle Dome. It is almost 25 years old and the original cotton canvas cover is still intact.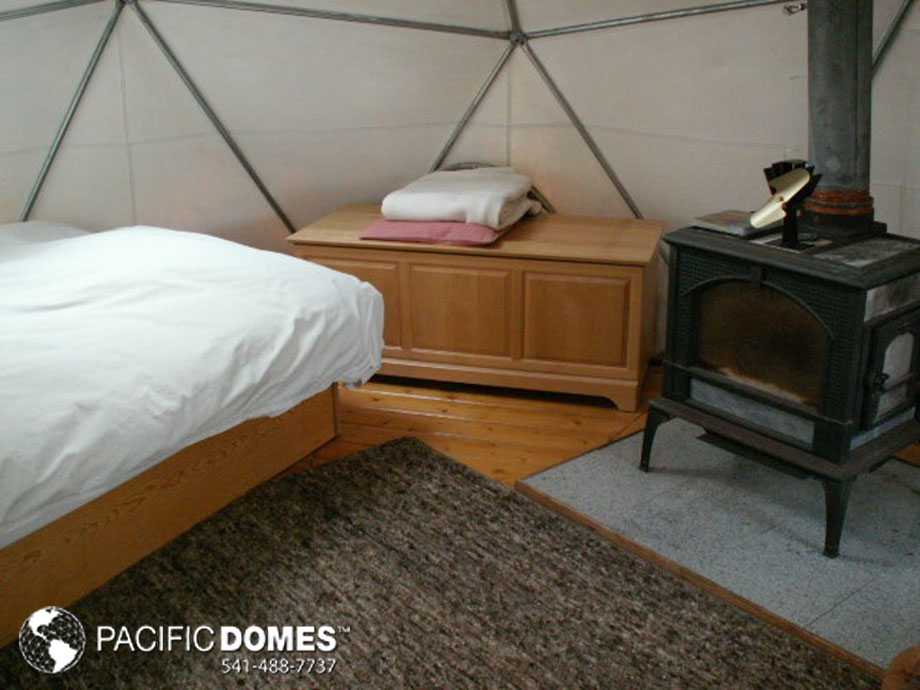 It has been, by far, the most wonderful space to live in, and I am grateful and appreciative for the many peaceful hours that I have slept and relaxed in it. To be comfortably protected and yet so connected to the bird song, the wind and rain and especially the beautiful light, is a true blessing. Thank you, Pacific Domes, and especially Asha, for realizing the vision of life-giving spaces.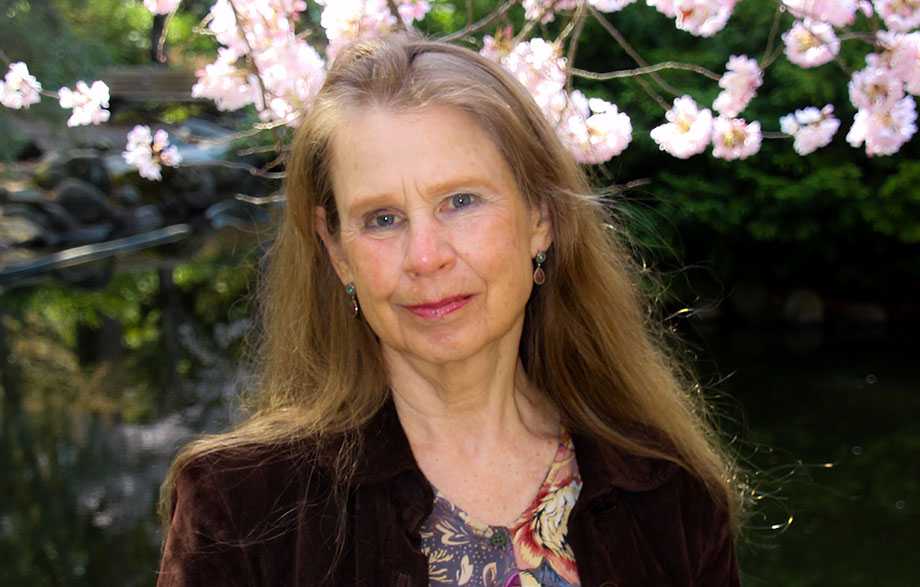 From Pacific Domes
We love stories like this from our long time customers, especially since we see how, with determination and creative planning, a dome can be moved to several locations and serve a variety of purposes. This dome is currently on its way to Michigan where it will be reassembled to create a new space.
Our canvas dome covers have been upgraded to vinyl covers for our dome homes. Vinyl covers have welded seams, are water tight, and mold & mildew resistant. Washing your dome yearly will help preserve the integrity of the dome. Thermo-shield coating is an elastomeric paint designed by NASA for rockets re-entering the atmosphere. When applied to the outside of the dome, this paint has an R value of 22 and can potentially save significantly on heating and cooling costs. Click here to learn more about Thermo-shield.