Paradise on Earth: A New Reality
"Replacing the Unsustainable Culture of Control with the Nurture of Nature" ― Pacific Domes
Have you always wanted to live a peaceful, simple life and feel connected to nature? To create a sustainable dwelling and future for yourself and your loved ones, re-thinking what it means to live an ecologically friendly lifestyle is a must. Even if you can afford a mansion, you might discover living simply in a Dome Home is so much more satisfying. It offers a fulfilling, sustainable and self-sufficient solution to simple living; designed to thrive with nature, rather than just survive the unhealthy day-to-day stresses of a chaotic way of being.
Here's what one Dome Dweller owner had to say:
"Sixteen years ago, I started the process of shedding my 4000 square foot home and have worked towards exchanging it for my current 280 square foot dome home. In doing so I have become free. I have become free of worry, free from being a part of the madness called consumerism; and, free from the "system".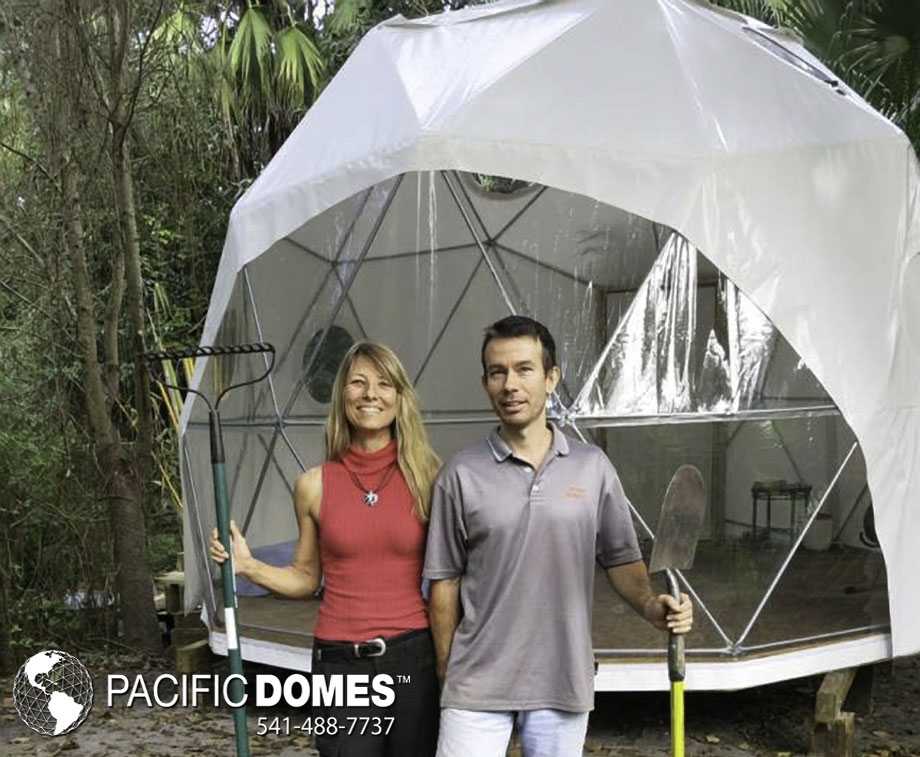 When you live in a small space it frees your pocketbook from being emptied on a monthly, weekly, daily and sometimes spontaneous basis. When you don't have the space to store all the old items, you start thinking more clearly about what are the things that you truly need in your life. You have the time and resources to now think on the important things in life." ― Scott Black
Why Are People Happier in a Dome Home?
Research has found that, much like a finely tuned musical instrument, the harmonic frequencies created by a dome's sacred geometrical patterns, resonate with unseen, soothing fields of energy that nourish the soul. To learn more about the energetic qualities of various domes sizes, click here.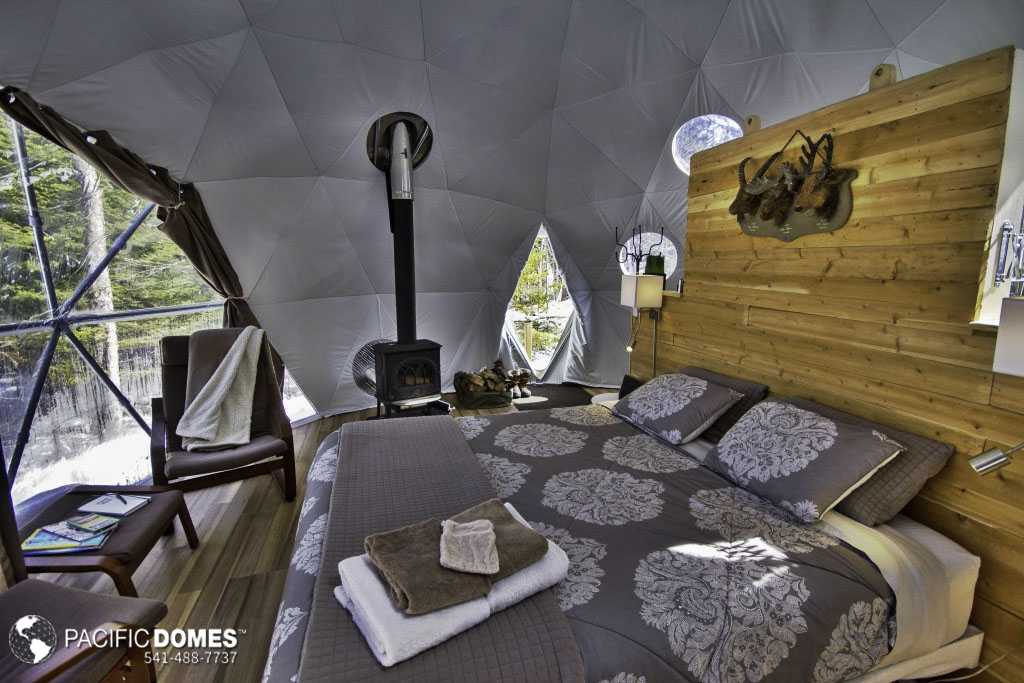 You'll love spending time doing what inspires, empowers and invigorates your Spirit. It doesn't seem like work when you're doing what you love to do.
Designing Your Perfect Sustainable Dwelling (Part 1): Some Dome Home Faq's
Will my dome take me through Nature's extremes?
The American Institute of Architects calls the geodesic dome "the strongest, lightest and most efficient means of enclosing space known to man." Referencing this quote, and obtaining a good set of engineering calculations, are convincing evidence to provide permitting authorities in order to get your dome plans approve.
You will want to invest in tensile-strength architectural dome cover that is UV resistant, flame-retardant and resistant to mold and mildew. Durable covers come in a variety of colors to choose from. Due to their smooth surface, covers are easy-to-clean.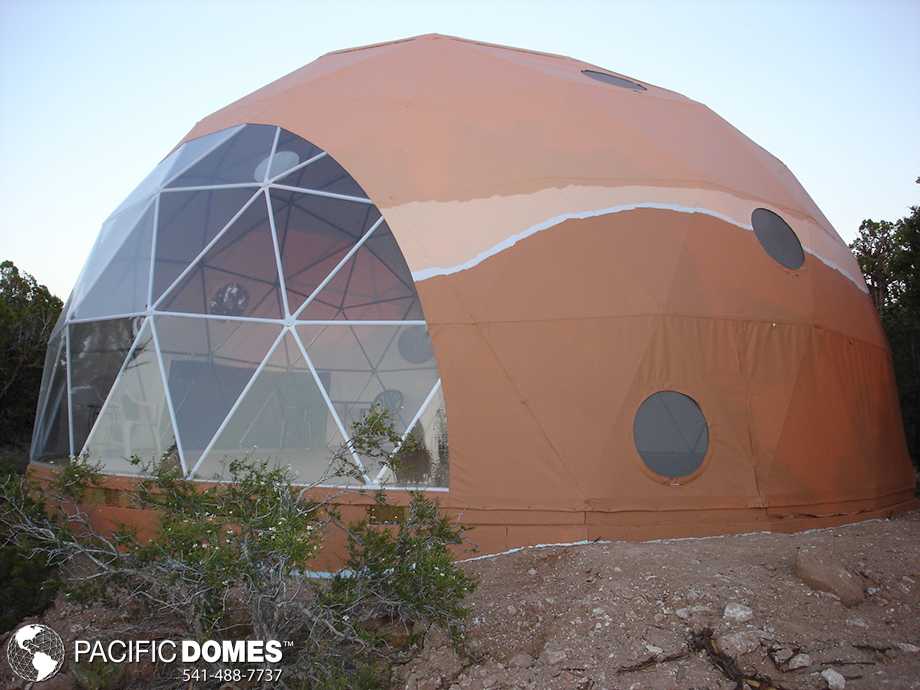 There are two options for increasing the efficiency of the domes. The first option works well for both cold and warm climates. It's an elastometric paint called Thermo-shield and when applied to the outside of the dome it has an R value of 22 and can potentially save significantly on heating and cooling costs. It is applied and maintained similar to household paint. One bonus to using Thermo-shield is it comes with a wide range of colors. This could be used to assist in blending the dome to its surroundings or make a bold statement. The Thermo-shield company has been tried and tested by our clients for many years and remains a trusted partner of Pacific Domes. For more info you can visit their website.
Although it is considered a synthetic acrylic resin, Thermo-shield is unsurpassed in its ability to outlast natural fabrics.
The second option is a Thinsulate Winter Liner, which is a type of interior insulation with an R value 3. The liner is constructed of three layers of material, 2 layers of Oxford Nylon sandwich an inner layer of Thinsulate material that provide mildew/mold and water resistant surface that can be cleaned easily. It is what our clients in cold weather climates use.
Pacific Domes has just introduced a new product for our cold weather dome dwellers, it's called Cold crack Clear Vinyl and is used for windows. It can withstand temperatures as low as -34 degrees Celsius and is highly recommended for extremely cold environments.
A Conscious-Honoring Relationship with Nature, Self and Others
No matter what part of the world you live in, portable Dome Homes are a widely popular eco-living, alt-housing option. Prefab kits go up quickly in just about any terrain, climate or condition with simple easy to use tools.
Due to their portability, economical building costs and sustainability, Dome Homes solve many ecologic and economic challenges that traditional building methods, materials don't address.
If you are looking to transition from a temporary to a more permanent dwelling, there are many experts in the DIY sustainable, off-grid, regenerative community to help you get started. Many communities offer online webinars as well as hands-on workshops to help you start your journey in sustainable Dome Dwelling.
Dome Homes are gaining international popularity in non-traditional housing markets. An early pioneer in the sustainable building movement, Pacific Domes has since 1980 and continues to lead the way in responsible stewardship worldwide.
"Our Dome Homes are dedicated to Building Sustainable Communities Thru Spontaneous Co-operation." — Pacific Domes Inc.