The uplifting energy of the sacred geometry will enhance the spiritual nature of your practice. Yoga studios and retreat centers are rising to meet the many challenges of living in a modern society. Offering a contrasting paradigm, yoga and meditation practices are fueling a flourishing yoga industry. You might be among those who feel called to create a brighter reality! If you're excited about this prospect, then you've come to the right place to learn about prefab geodesic dome building systems for your Yoga studio or retreat center.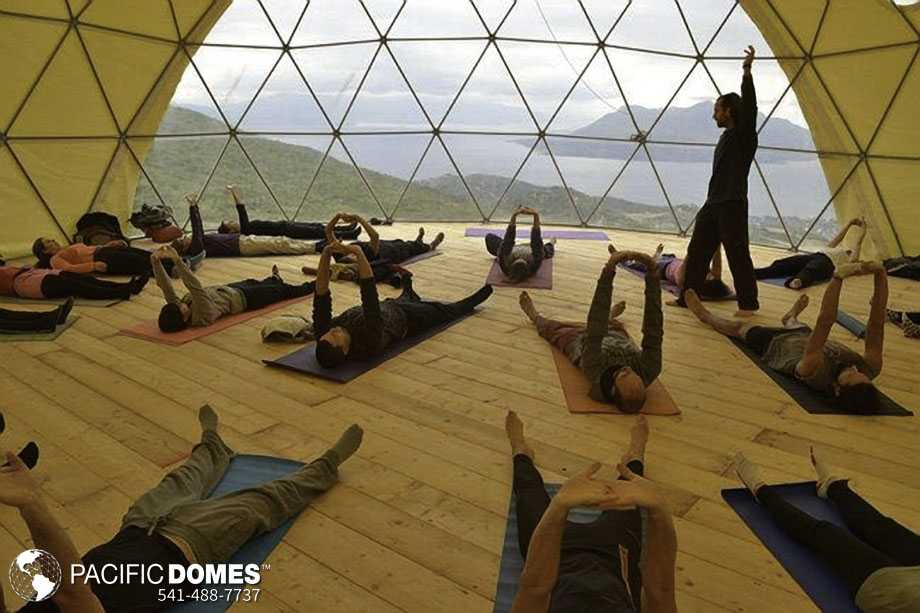 When planning your Yoga studio or retreat center you want it to be unique, functional and affordable. No matter the size or scope of your project, freestanding Yoga Domes create amazing spaces capable of accommodating whatever you can imagine and create ‒ from home-based yoga studios to Yoga retreats and larger-scale ventures that provide eco-retreat lodging.
About Geodesic Yoga Domes
Ecoliving Yoga Domes are suited to all types of terrains and can be found in many remote locations throughout the planet. Yoga practitioners especially, love the freestanding dome's energetic qualities ‒ as well as, custom dome features ‒ its light-weight portability and ease-of-set up.
Architecturally engineered as the world's strongest and safest structure, Geodesic Dome Building Systems have you covered whenever Mother Nature unleashes her extremes. Domes have proven to be safe in high winds, heavy snows, and earthquakes. From Michigan winters to Arizona summers, people stay comfortable in their leakproof and energy-efficient yoga dome.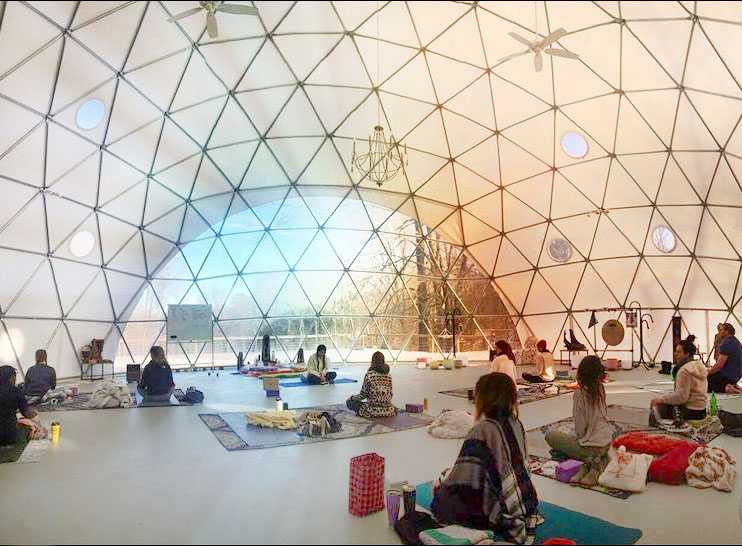 Clear-span Yoga Domes not only look awesome, but they also blend the sacred geometry of R. Buckminster Fuller with the geodesic-engineering strength of steel frames to:
handle extreme wind and snow loads
accommodate heating and cooling systems
support lighting and sound equipment and more.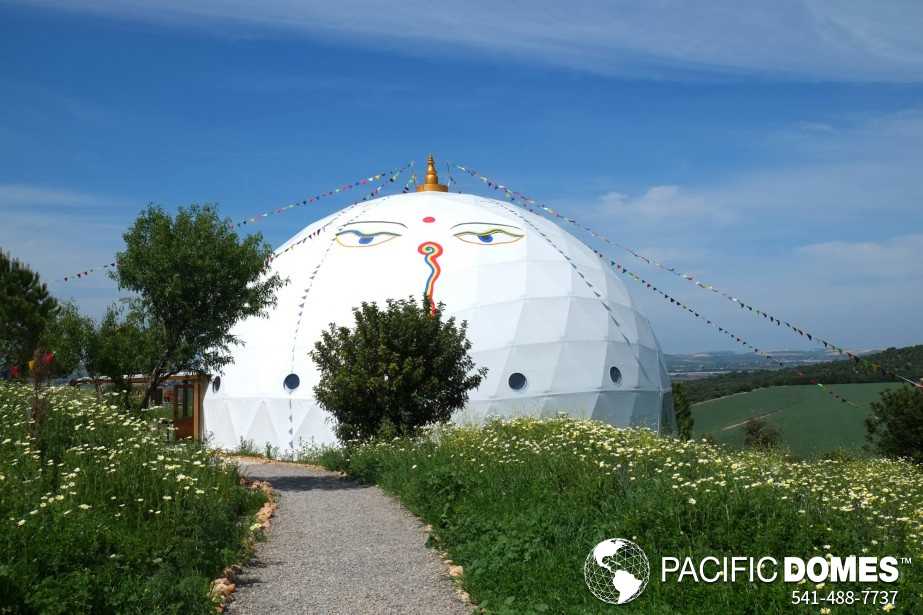 Relax, Rebalance and Rejuvenate in your Vaastu inspired Yoga Dome. Feel a part of the land in a structure that synchronizes with the harmonics of Nature and bonds you with the cycles of your surrounding ecosystem.
"Our Yoga Domes resonate with the harmonics of the universe " — Pacific Domes
---
About Vaastu Yoga Domes – A Healing Place to Learn, Grow & Create
Vaastu Yoga Domes illuminate with natural light. A Vaastu dome generates a conscious field that supports the evolution of your mind-body-spirit connection i.e. your soul.
From Playful Events to deep healing practices, domes and swings are perfect playmates in so many environments. Using ancient Vedic physics, each dome is scaled to specific measurements, creating harmonics that support your body and soul.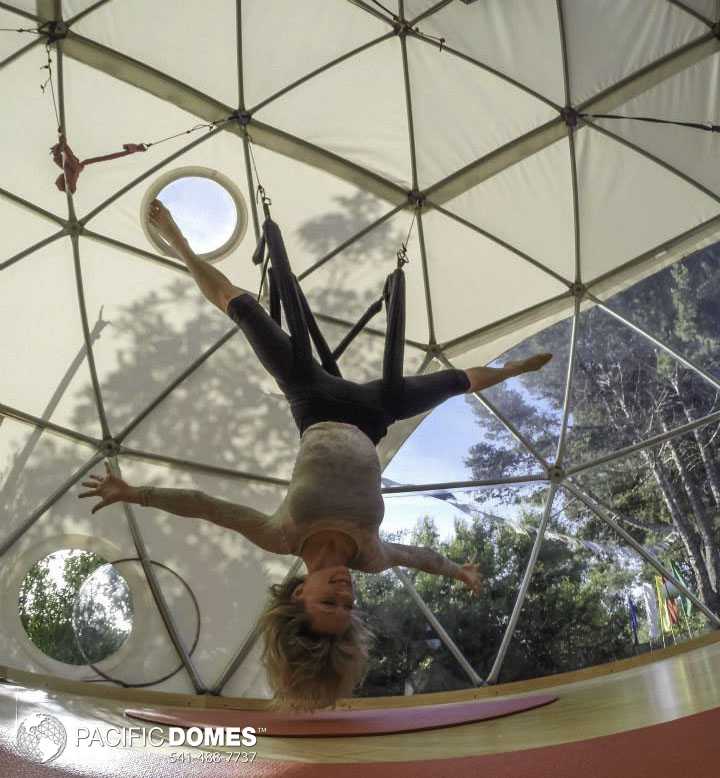 Create a Unique Yoga Studio or Eco-Retreat
Pacific Domes offers 3D renderings to help you visualize your dome in its ideal environment. With so many options to choose from, you'll love creating your own customized retreat space with features such as, bay windows, skylight roofs, connecting tunnels and rounded event doors ‒ as well as, other functional accessories.
Dome Covers & Floorings
Dome covers come in an assortment of fabrics and are available in a variety of colors. The naturally illuminated beauty and tensile strength of long-lasting UV resistant, flame-proof and waterproof covers give Yoga Domes a warm Zen-like ambiance. Lightweight fabrics such as, Illumination Dome covers are commonly used at yoga festivals, allowing images to be seen both inside and outside the dome. You'll be pleased to know that Pacific Domes offers custom imprinted artwork and logos for your branding.
Various types of floorings can be installed in Yoga Domes to provide a comfortable and aesthetically pleasing unique environment for every function. Multiple Yoga Domes may even be connected to create a whole dome complex.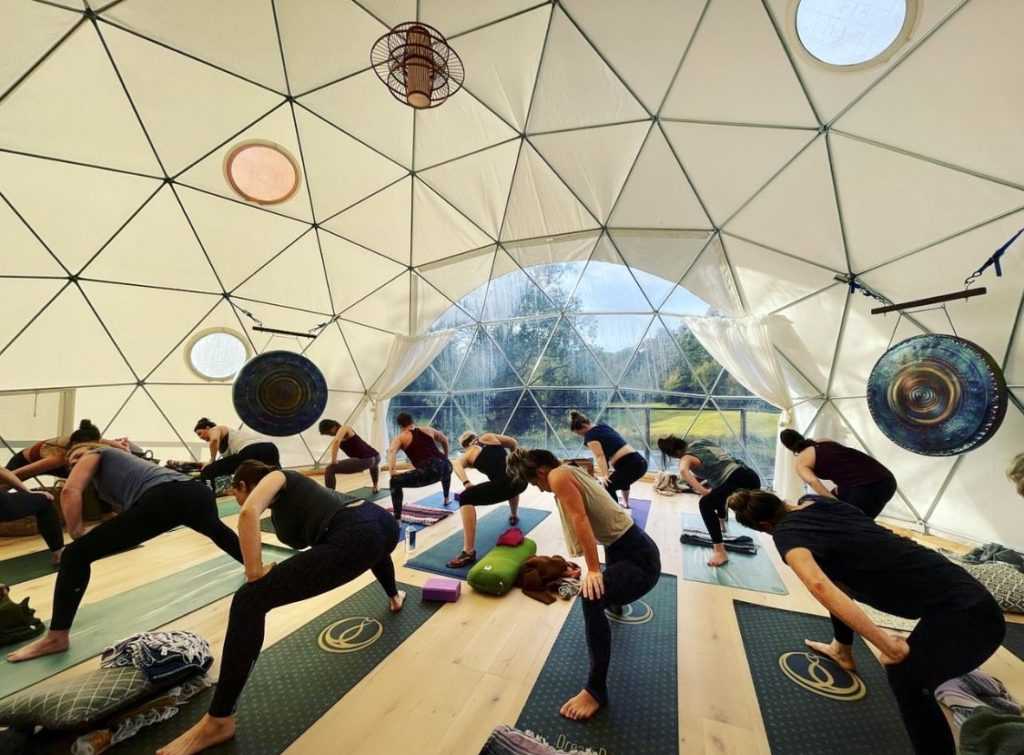 Here's a few suggested Uses:
For your inspiration… Situated in picturesque Bowen Island in Vancouver, Canada, Nectar Yoga Bed and Breakfast has created the perfect space to connect with nature and your true self.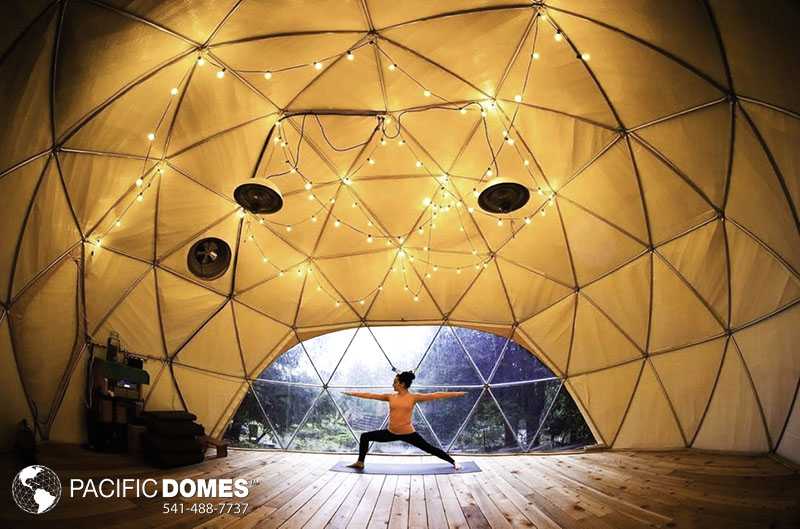 Nectar Yoga offers guests a yoga retreat experience which includes yoga classes, meditation, guided relaxation and nutritious breakfasts. The Pacific Domes yoga dome features a large bay window and round windows that provide shelter from the elements while offering a natural connection to the gorgeous surroundings of Bowen island.
---
The Pacific Domes vision is to create a sustainable and beautiful future for our planet. If you're exploring opportunities to create your own private yoga studio or retreat center be sure to visit Pacific Domes Gallery for inspiration. For additional information on Prefab Yoga Dome Building Systems visit with one of our friendly Customer Support Representatives today.