"Sunbathing in our Sun Dome boosts your body's immune system." — Pacific Domes
Modern research supports the abundant health benefits of sunbathing and spending time in the sun. Recent studies by the National Institute of Allergy and Infectious Diseases found that light, not only provides protection against diseases, it also, kills coronavirus ‒ natural sunlight destroys Covid-19!
Offering hope that sunlight may ease the spread of the pandemic, William Bryan, science and technology advisor to the U.S. Department of Homeland Security secretary, told reporters at the White House (4-24-20) that government scientists had discovered ultraviolet rays had a potent impact on the pathogen.
---
In this technological age, it's estimated that Vitamin D deficiency has reached a worldwide crunch due to people spending more time indoors than outdoors. Scientists suggest that the health benefits of moderate sun exposure outweigh the risks. Exposure to sunlight is responsible for:
Vitamin D production and boosting the immune system
Fighting illness and skin disorders
Lowered blood pressure
Improved brain function and lowered risk of Alzheimer's
Strengthening bones ‒ improved growth and bone health in children and adults
Enhancing moods ‒ eases depression and improves sleep quality
Prenatal care ‒ protects against pre-term labor and infections associated with pregnancy
---
Creative Sun Dome Uses
Now more than ever, people are looking for things to do and ways to get outdoors and put an end to months of self-isolation. Working together in unity, creating sacred space around a specific focus to birth a shared reality that benefits everyone, many of us are looking forward to welcoming a renewed sense of communal gatherings and social spaces without the need for screens or masks. Here's a few suggestions for sun dome uses:
Sunbathing and tanning benefits ‒ Sunbathing is a great way for your body to reap the sun's beneficial rays and there's no better place to get a tan than under natural sunlight. Sunbathing helps your body produce Vitamin D naturally, along with all the health benefits listed above.
That said, it goes without saying that you should choose your sunbathing time wisely. People with sensitive skin know that you shouldn't stay outside longer than your skin can create melanin, the pigment responsible for tanning.
Yoga and Stretching Exercises ‒ Sun Domes provide practitioners a place to gather safely and maintain physical, mental and emotional health during these unprecedented times of social distancing. It's an opportunity to have a collective experience by performing group stretching and fitness exercises.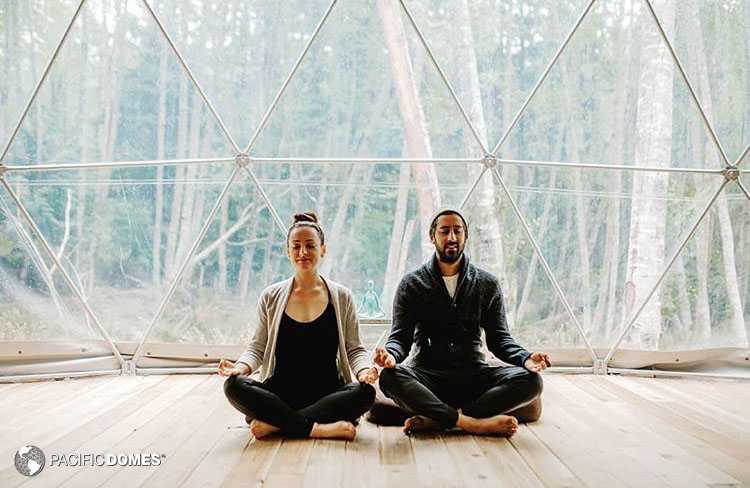 The dome offers an outdoor sanctuary where certain restrictions may apply.
Meditation and Mindfulness Practices ‒ Aided by any number of methodologies and tools; such as, meditation, rituals, dream induction, modern light-sound technologies and sacred architecture etc., we can become as aware and conscious when dreaming as we are during our waking moments.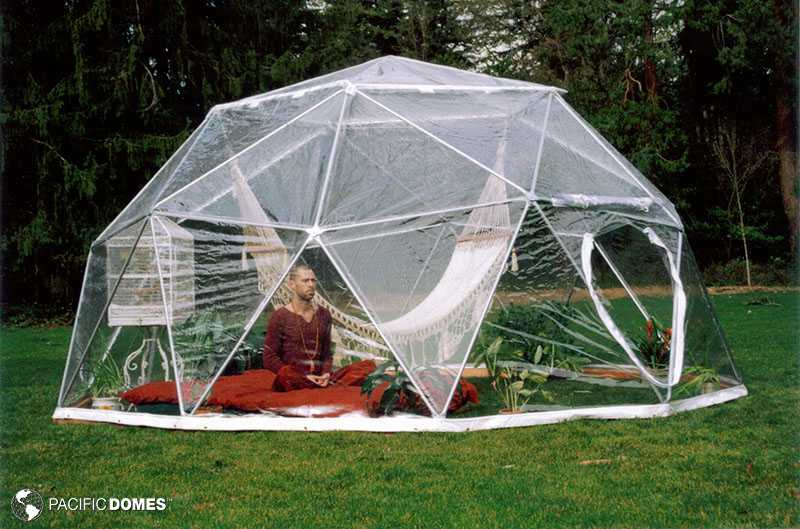 Meditation and Mindfulness practices are helping us evolve into a higher sense of purpose and direction.
---
Health Benefits of Domes
Studies by a team of architects and neuroscientists, suggests that geodesic domes have measurable effects in promoting positive mental states. Also, scientific data derived from the field of unified quantum physics, demonstrates that harmonic architecture beneficially affects human brain pattern frequencies.
Geodesic-engineered frames support both internal and external weight loads. Frames are freestanding with no center poles to obstruct fluid movement or design.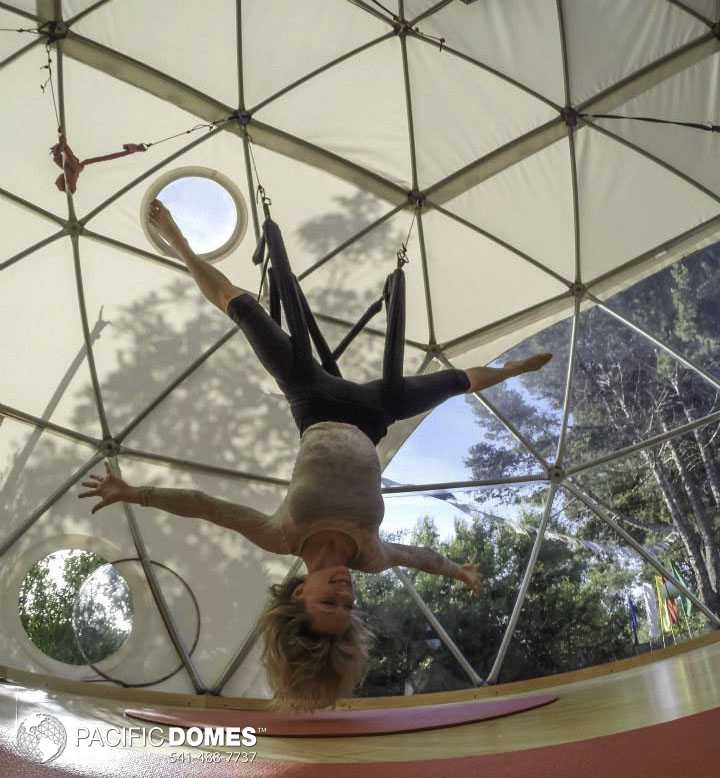 They support suspended aerial exercise gear, as well as, lighting and sound equipment.
---
Sun Dome Clear or Transparent Covers
Sun Domes come with your choice of clear or transparent covers. With various sizes and features to accommodate your needs, you will find that you can create a private backyard Sun Dome or host small, medium or large events.
Removable round windows are included with each dome. Interchangeable screens can be purchased separately. Consider a combination of both clear or transparent covers ‒ sewn, formed and zipped into a monolithic dome skin.
Clear, UV resistant marine-grade vinyl covers are extremely durable. Marine-grade vinyl withstands extreme temperatures, moisture and constant exposure to direct sunlight. Additionally, this fully waterproof fabric is stain-resistant and easy to clean.
SunShield fabric is highly luminous and transparent, allowing the interior of the dome to be flooded with natural lighting. A protective film increases UV resistance. The smooth surface is easy to clean. Options to replace the roof or bay window of any size dome in combination with clear, marine-grade vinyl, allows for abundant sunlight to subtly permeate the dome creating a Zen-like ambiance.
Visit Pacific Domes to learn more about how our award-winning company has been serving our clients worldwide for over 40-years.