Are you looking for an affordable Geodesic Dome House?
"Cheap to build, heat, cool and maintain, the geodesic dome just may be the log cabin of the 21st Century." ― Mother Earth News
If you've always wanted to build your own geodesic dome house, but wish to avoid the headaches of starting completely from scratch, why not build with a portable Prefab Geodesic Dome House Building System by Pacific Domes, instead?
Building your Pacific Domes Geodesic Dome House can save you time, energy and money… and with its DIY-friendly design, there won't be a need to pay a contractor.
Build a Hurricane-resistant & Earthquake-proof Geodesic Dome House
"Domes are the strongest, lightest and most efficient means of enclosing space yet known to man." — R. Buckminster Fuller
Building a Geodesic Dome House is an insurance policy in itself! There are ongoing reports of the geodesic dome being the only structure left standing in the aftermath of Nature's extremes, such as hurricanes, fires and earthquakes.
Geodesic domes are composed of inter-connected triangles that lend superior structural strength. Father of the modern geodesic dome, Buckminster 'Bucky' Fuller, demonstrated the difference in strength between rectangles and triangles by applying pressure to both structures… the triangle proved to be twice as strong and remained rigid, while the unstable rectangle collapsed.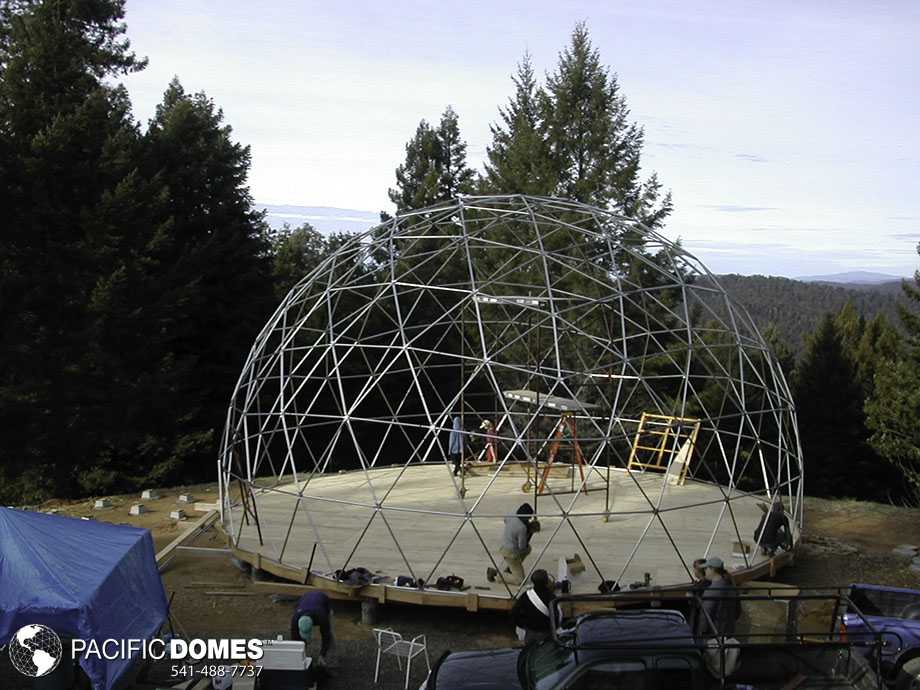 Buckminster Fuller won an award from the American Architectural Society for inventing the strongest structure known to man. Citing this well-documented information, accompanied by a good set of engineering blueprints, will facilitate in getting your plans approved by building departments.
Build Your Own Off-Grid Geodesic Dome House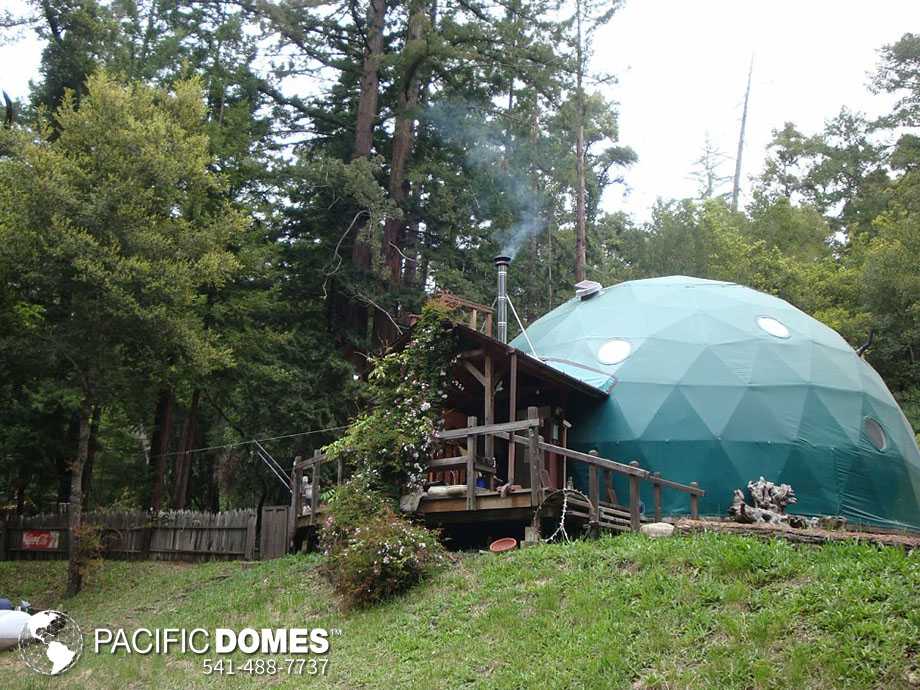 "We're dedicated to Building Sustainable Communities Through Spontaneous Co-operation." — Pacific Domes, Inc.
With Geodesic Dome Homes by Pacific Domes, you'll have peace of mind knowing that they've been serving people just like you since 1980. Pacific Domes meets the strictest engineering standards and provides unwavering customer support every step of the way, so you won't have to go through the trial and error process of figuring out what works and doesn't work.
Are you done with the endless cycle of high mortgage payments and those annual insurance and property tax bills that could be so much lower if only you made different lifestyle choices? Are you tired of escalating energy bills related to heating and cooling your home? Living in a dome can be the game changer you are looking for.
Affordable & Sustainable… DIY Dome Homes by Pacific Domes offer many addition benefits. To receive more information and inspiration, view our Dome Homes Brochure.
Are you ready to build your own Geodesic Dome House? Be sure to visit the Design Your Dome page.