"Bring Your Events to Life with Our Immersive 360° Event Domes" — Pacific Domes Inc.
In the market for Large Event Tents? You've come to the right place at Pacific Domes USA.
Using public spaces as venues for collaborative entertainment events has seen a significant rise in popularity during the last few years, so it's easy to see why large prefab geodome event tents have become the latest turnkey solution for savvy event planners. Starting with basic geodesic construction, portable Geodome structures look bold, elegant and unique. They are extremely sturdy and offer unlimited design opportunities to create the perfect immersive environment for your event.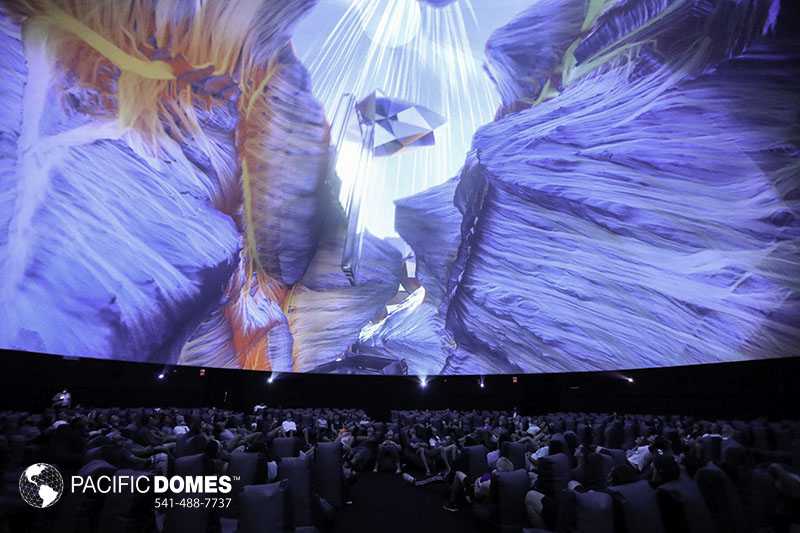 Free-standing geo-engineered domes have proven to be virtually disaster-proof during inclement weather, high winds, hurricanes and earthquakes. Award-winning Pacific Domes, in partnership with the world's best 360° digital multimedia companies, creates an unparalleled immersive display environment, so spectators enjoy the show and event planners enjoy a hassle free success.
We're Here to Help with Years of Industry Expertise
Innovation and service and are at the core of everything we do in our day-to-day operations. There's no job too large or small, as we strive to meet our client needs.
Solving the challenge of showcasing graphics, the geodome frame serves to anchor tensile-strength custom imprinted covers and awnings. Pacific Domes manufactures large format projected and printed prefab geodesic domes for:
Projection Spheres, Planetariums, Theaters, Amphitheaters
Corporate Events & Parties, Tradeshows, Product Launches & Promotions
All kinds of Festivals, Special Occasions & Private Parties
Weddings and Sporting Events
Staging immersive corporate events in the circular arena provides the perfect event hosting platform for small to large-scale events. Creating a sense of space, the geodome tent invites social interaction on a personal level within your festive events and programs.
With no center beams to interfere with presentations, the dome's open floor plan affords freedom to your design team. The overhanging truss system supports 360⁰ lighting and sound systems, and accommodates heating and cooling systems as well.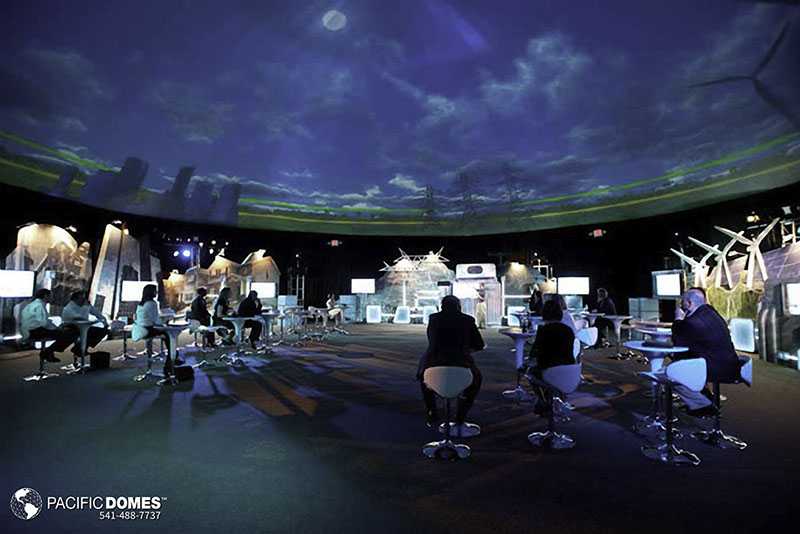 Pacific Domes' patented negative pressure liner seamlessly disappears the metal structure, forming an immersive projection screen to capture the audience experience.
Advancing the future of the Event Marketing Industry, 360° immersive geodome event tents are on the leading edge of Event hosting. Whether hosting a live event, corporate convention, holiday party, product launch or special promotion, you, too, will want to harness the immersive power of a geodome tent to set the stage for your next spectacular event.
About Pacific Domes' Services
Pacific Domes' professional 3-D renderings help you visualize your dome in its intended environment. Whether purchasing or renting your event dome, our multi-talented teams are there to walk with you each step of the way from concept to finish.
The dome can be custom designed to best utilize your event site. Round windows can be situated to fit your surroundings and your door can be strategically placed.
With a light eco-footprint, the spherical design of the geodome event tent shelter encapsulates the largest volume of interior space with the least amount of surface area, thus saving on materials and costs. You can either assemble the dome yourself or have Pacific Domes' trained team perform installation & take down for you.
Image branding is available both inside and out. Use vinyl appliqués and digital printed logos, brand graphics and original artwork to make a lasting impression.
Immersive 360° Dome Theater Multi-Media Projection Technology
Through the magic of immersive 360° dome theater environments, your event can deliver your powerful message to impact your audience. This large event tent, immersive dome theater environment, offers you the opportunity tell your story in a big way. Invite audience participation and empathy, influencing your target audience to see things in new ways that help build the collective dream for a better world.
In concert with multi-media partner Obscura Digital, Pacific Domes has been positively impacting the event industry and wowing audiences with immersive dome environments for decades. Take the Antarctic Dome Tour:
The Antarctic Dome at Coachella 2017