Adventure Travel, Eco Resort and Eco-tourism companies favor our Geodesic Glamping Domes and Portable Dome Style Shelters for adventure activities on the road!
"Everyone who comes into the dome is blown away and loves the vibes in there."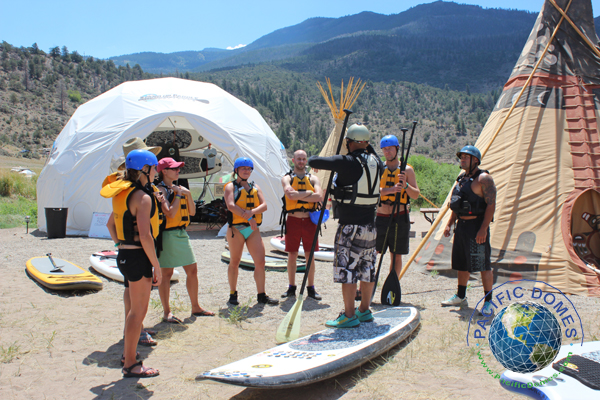 One of the best parts of this business is hearing customer reviews. This review is from Javier, the owner of Stand Up Paddle Board Colorado.
"I have been looking at your domes since the late 90's. I have thought of them as a remote living structure I could live in when I eventually had my pocket of paradise nestled in some remote beautiful place off grid. At the end of last season, I had time to reflect and make some choices on how we could make the SUPCO experience and operation more niche, appealing and brand-able. The Dome was on the top of the list. Niels (Sales Rep) was a great help. We went with the 24 ft dome this year and we are basing our whole SUP operation out of it. We are a SUP focused river outfitter that offers tours on the Colorado River. Our rafting hub is based out of State Bridge, a historic live music venue that has been everything from a hunting lodge, brothel, speakeasy and biker bar. The original lodge burnt down in 2007 and last year they reopened creating one of the best outdoor music amphitheaters and venues in Colorado.
Everyone who comes into the dome is blown away and loves the vibes in there. We have everything from classic reggae to Cuban music playing in there all the time and the butterflies and hummingbirds are constantly flying in and out. It has endured with no problems the 80+ mile per hour wind gusts we get out here. It is out in the Colorado sun all day and has exceeded our expectations. We see the dome as a as a structure that is aligned with our values and principals as a business. We educate and recreate in the outdoors and believe in being stewards of the environment. When we tell people to find us at the dome, there is no other structure like it around. It has really helped brand and distinguish ourselves from the multitude of outdoor operations around the Vail, Sreamboat, Winter Park and Summit County area."
Regards,
Javier Placer