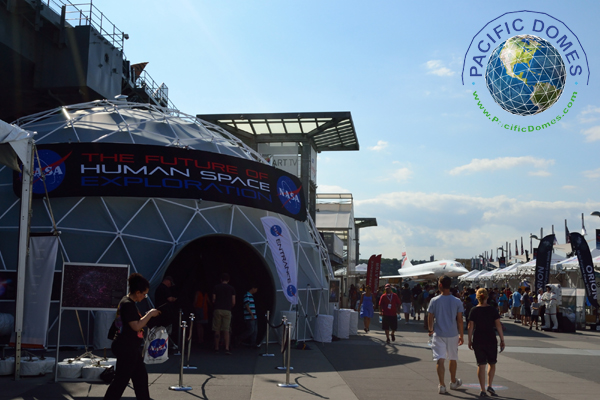 Pacific Domes of Oregon, leading builders of the worlds best Geodesic Event Structures, Immersive Dome Theaters, Virtual Reality Tents, and Geodesic Domes for Corporate Events, built this Event Dome for Samsung Inc. 
SpaceFest displayed the Space Shuttle Pavilion with an up close look at the Enterprise Wednesday, July 18 in New York along with live concerts by Soundwave on the flight deck of the Intrepid.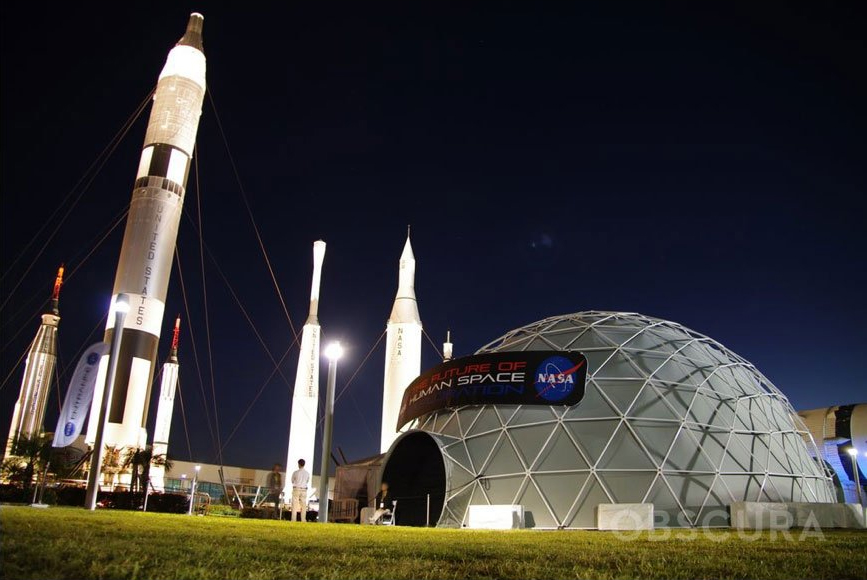 Explore the Samsung Space Station
For an up-close encounter with the thrill of space exploration, Samsung SpaceFest visitors will not want to miss the Samsung Space Station (50ft Event Dome), located on the Pier and open throughout the festival. At the Station's Command Center, an immersive, multi-screen viewing experience will take guests on a soaring journey through the past, present and future of space flight, all brought to life by Samsung Smart TV technology.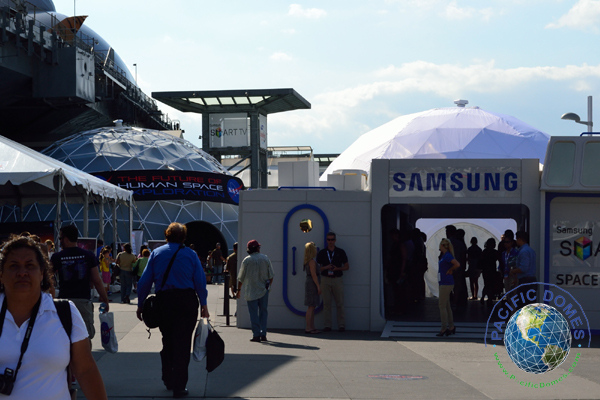 For pricing on our Projection Domes get a free quote or contact our Sales Team.
Pacific Domes was recently featured in In Tents Magazine, "Out-of-this-world Projection":
While space enthusiasts spent the summer of 2012 remembering Neil Armstrong's walk on the moon and following Curiosity's exploration of Mars, Pacific Domes helped to bring a glimpse of space exploration closer to earth. The geodesic dome manufacturer based in Ashland, Ore., and its sister company, Obscura Digital, provided a 50-foot dome with 360-degree projection technology that highlighted human space exploration for the Samsung SpaceFest at Pier 86 in Manhattan, New York, N.Y.
Pacific Domes supplied its end-client, NASA, with a dome that featured an external frame, a black out projection liner, a hoop door entrance, powder-coated frame, HVAC and flooring. The 360-degree projection technology solved the issue of avoiding seams or "breaks" in projection and brought the event to life with educational video of advances in space exploration, from low-Earth orbit to the frontiers of deep space. The five-day festival celebrated the opening of the Intrepid Sea, Air & Space Museum's Space Shuttle Pavilion, and its newly acquired Space Shuttle Enterprise.