Harness the Power of the Activity Dome Climbing Jungle Gym
The value of exercise is now widely recognized and what better time to take advantage of sheltering in place than during the recent stay-at-home pandemic? Freestanding activity dome climbers become a fun-filled attraction for energetic toddlers, school-age children and adolescents to build muscles, develop critical life skills and gain self-confidence. There are numerous health benefits attributed to outdoor play! With the many versatile uses that contribute to children's all-around health, creativity and development, activity dome climbing gyms offer limitless options to boost indoor-outdoor playground exercise.
Indoor-Outdoor Jungle Gym Activity Domes & Ropes Courses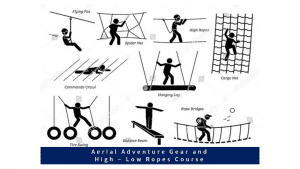 Activity dome climbers make great floor to ceiling playgrounds and jungle gyms for kids of all ages –from toddlers to adolescents.
Only limited by one's imagination, activity dome climbers are a magnet for children. Delight and attract children of all ages by creating a basic ropes course within and around your activity dome.
Build Outdoor Skills and Develop Confidence 
There's ample evidence to support the benefits of outdoor play. Early childhood development experts attribute many health benefits to exercise in playground settings. Playgrounds are particularly beneficial in early childhood development, offering the opportunity to socialize and make new friends.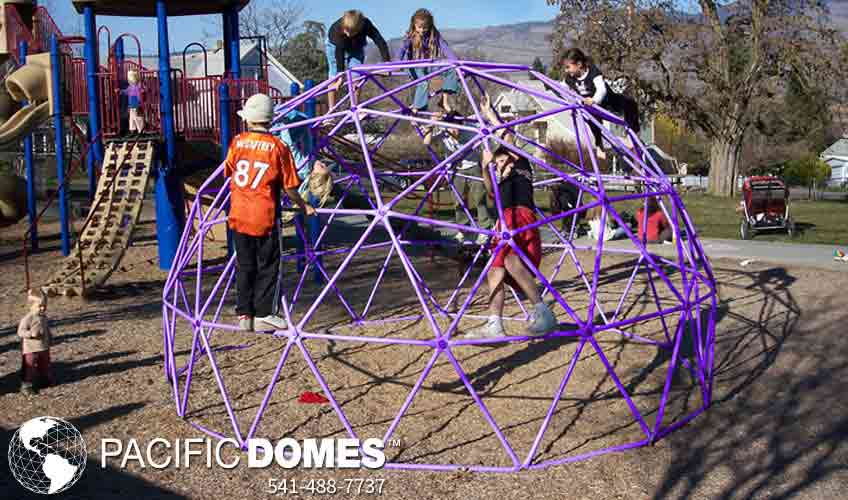 "We recommend increasing children's opportunities for self-directed outdoor play in all settings − at home, at school, in child-care, the community in nature." ― NCBI
A 'consensus report' by an international group of experts studying the value of exercise in school-age children states, "Physical activity before, during and after school can boost brain function, cognition and scholastic performance." The same experts agreed that the benefits, also, extend to the psychological and social realm.  "Exercise will clear their heads, help them make friends, and help them feel more confident around their peers, coaches and other adults."
Safety First
At Pacific Domes we have your child's safety in mind. Playgrounds can be safe and fun zones for outdoor play and exercise. This begins by installing field-tested playground equipment along with proper planning and playground safety training. When it comes to safety, the structurally superior geodesic dome climbing gym is a safer alternative to traditional monkey-bars. Commercial-grade activity dome climbers exceed industry standards and are built to withstand the test of time. Formed by inter-connected triangles, dome climbers remain rigid and stable under the challenge of constant use and abuse.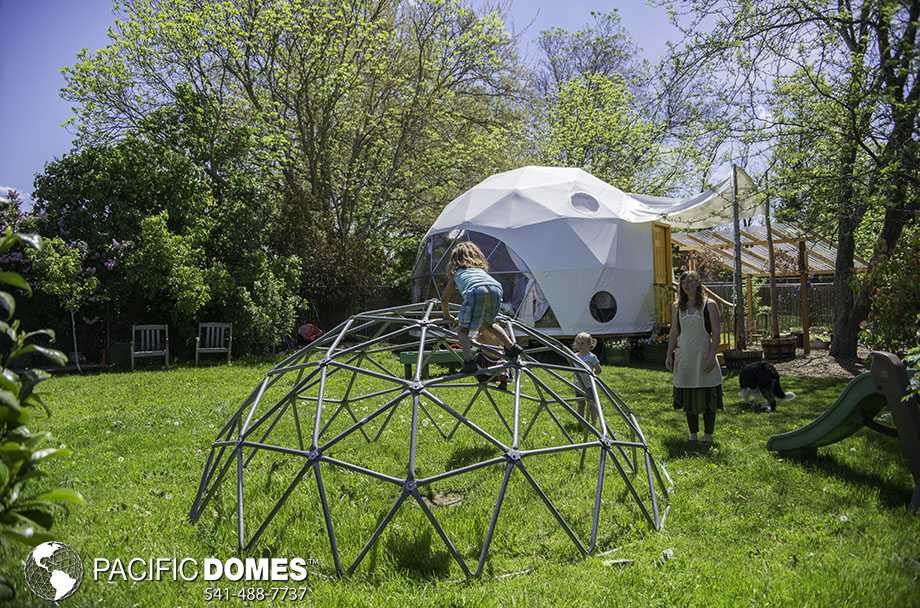 Uses for Activity Domes
Pacific Domes freestanding activity dome climbers are the preferred equipment of choice for community development projects and recreational indoor-outdoor programs. They are highly enjoyed in parks, schoolyards, child-care programs, churches and youth camps, to name just a few.
There are many innovative uses for freestanding activity domes. Here are just a few ways prefabricated activity domes are being used:
Pre-Schools & Schools • Outdoor Camps & Learning Programs • Nature Centers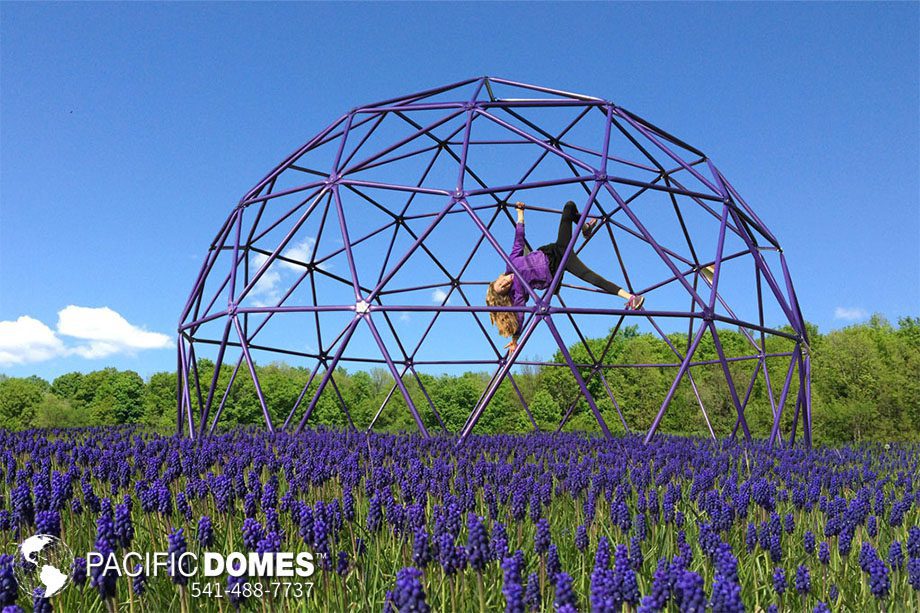 Match your dome to your favorite color with a custom order of powder coating on your climbing dome
If you're in the market for play structures, you'll be pleased to know that Pacific Domes climbing dome activity gyms are proudly manufactured in the USA from premium U.S. galvanized steel. Frames are custom color powder-coated, staying cool to the touch in full sun.  Your jungle gym becomes an all-weather play house with optional dome covers, that are available in an array of colors.
Several Activity Dome Sizes to Choose From Looking for a Climbing Jungle Gym to add to your playground fun? Activity domes come in a range of sizes, suiting everyone from toddlers to teens and providing hours of beneficial exercise and playtime for all ages!
There are three standard activity dome sizes to choose from, available in a variety of color options:
Pre-school Dome– 8′ diameter (4′ tall) frame
Kinder Dome– 11′ diameter (6′ tall) Climbing frame Optional multi-colored cover
Grade School – 15' diameter (8'tall) Optional multi-colored cover
The Big Kid Playground – Custom sizes for ropes course activity domes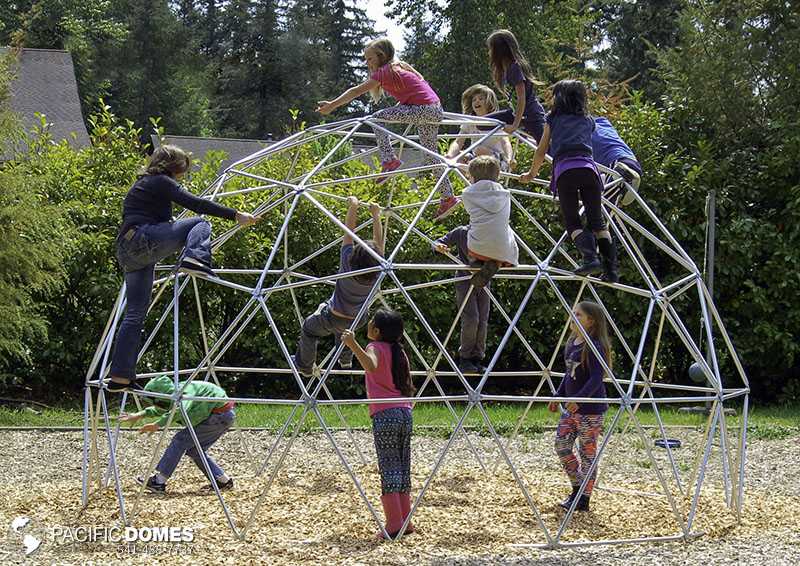 Young minds enjoy inspiration from the outdoors all year round! Young energetic children build muscles, develop critical life skills and gain self-confidence thru jungle-gym climbing, swinging and upside-down acrobatics. Toddlers love being able to play peekaboo thru the dome's open bars, too.
Inspiring Playgrounds with Geodome Climbers
No matter whether you're creating a large community-size park project or a playground project for your school, church or day-care, you're sure to draw inspiration from these previous projects.
The Paul Smith Children's Village in Cheyenne, WY: The primary theme of the Children's Village is to teach concepts of sustainability from the past, present and future. In accordance with their commitment to sustainability, the Children's Village received the LEED Platinum award.
The Peace Garden Playground Climbing Dome in Ashland, Oregon: Drawing inspiration from Nature and imparting a healthy respect for Mother Earth, the Peace Garden Preschool & Kindergarten at Havurah Shir Haddash is a Waldorf learning approach to the indoor-outdoor classroom. Home to creative play and countless art projects, the Peace Garden Preschool & Kindergarten at Havurah Shir Haddash opens onto a spacious patio-lawn playground that boasts a geodome climber and sandbox where Ashland's children enjoy outdoor play all year-round.
The 'Children's Workshop Oakland Pre-school' in Oakland, CA: This schoolyard geodesic climbing dome has served a dual purpose and become home to countless art projects, car races, jam sessions, music and dance parties and tons of all around fun!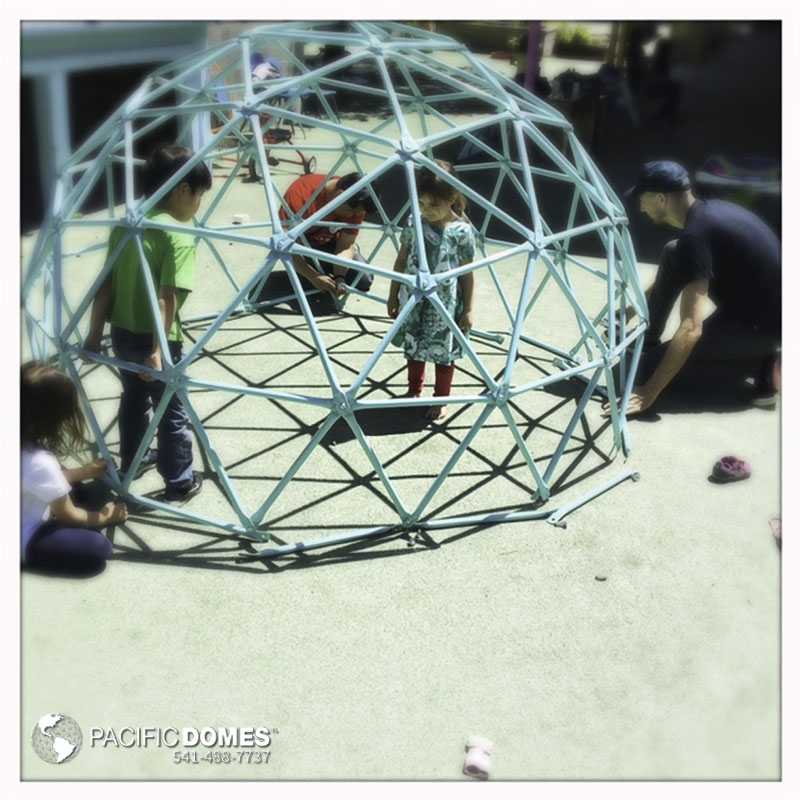 The Nature Smart Education Dome: The Nature Smart Education Dome at Coyote Trails School of Nature in Medford, Oregon, provides experiential nature education to all age groups. The open floor plan and vaulted ceilings of their dome provides a warm sunlit learning environment.
"The future will belong to the Nature-Smart ― those individuals, families, businesses and political leaders, who develop a deeper understanding of the transformative power of the natural world; and, who balance the virtual with the real. The more high-tech we become, the more nature we need." ― Richard Louv
Go Outside and Play with Richard Louv (3:01 min.)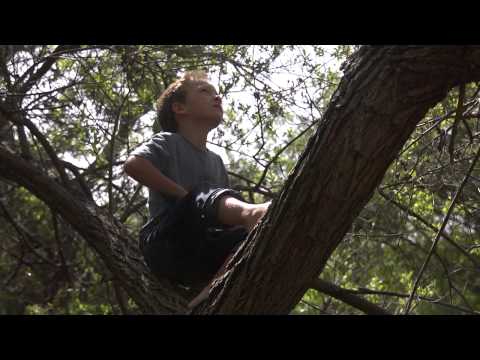 About Playground Geodome Climbers
Pacific Domes manufactures top-of-the-line Geodesic Dome Climbers and is proud to build the best geodesic-engineered play structures in the world. Manufactured in the U.S. from USA galvanized steel, Pacific Domes engineering blueprints exceed strict building codes for strength & safety.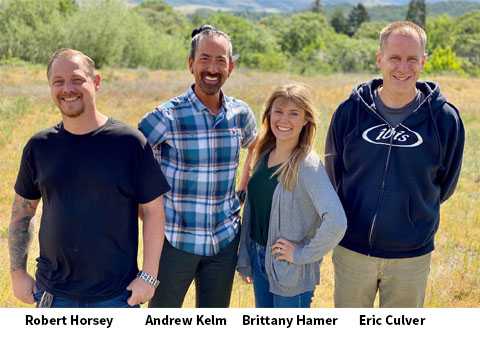 We're here to help!
Need help planning your playground project?  Pacific Domes in-house staff is equipped to assist you with envisioning your project each step of the way! We're here to inspire your playground creation with customized 3-D renderings that come to life right before your eyes. Finding creative solutions to satisfy your needs and requirements is what we love to do best! If you liked this post and would like more information on portable geodesic-engineered building systems, Pacific Domes friendly and helpful
Customer Support
is happy to discuss your needs, so you have the best experience possible.