---
Looking for a modern Climbing Gym to add to your playground fun? Geodome Climbers come in a range of sizes from preschoolers to teens – providing hours of beneficial exercise and play time for kids of all ages!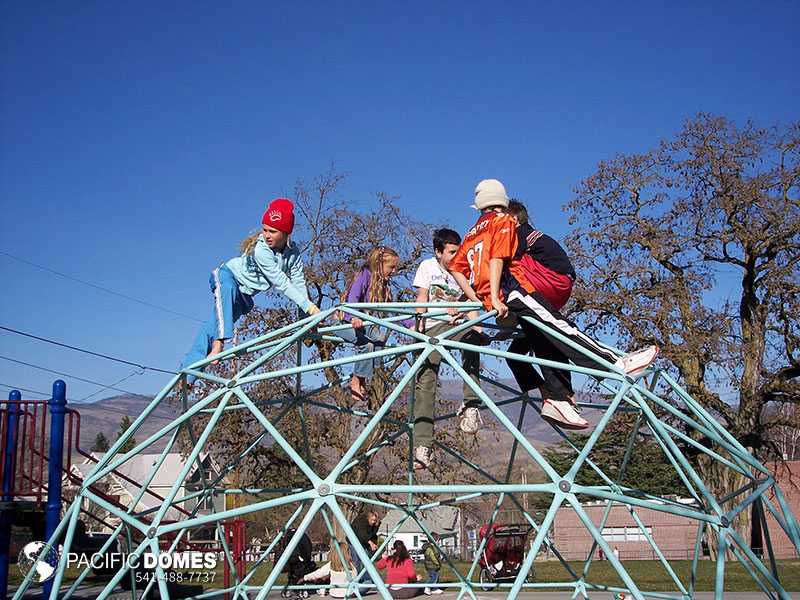 Why Geodome Climbers?
Children love geodome climbers! The geodome climber at Siskiyou School became a social interactive hub for young energetic children to build muscles, develop critical life skills and gain self-confidence thru jungle-gym climbing, swinging and upside-down acrobatics.
Geodesic climbing domes are nature's perfect round structure. Geodome climbers become a social interactive hub for young energetic children to build muscles, develop critical life skills and gain self-confidence thru jungle-gym climbing, swinging and upside-down acrobatics.
In addition to nurturing the spirit of childhood by encouraging outdoor play, geodome climbers build social and communication skills. Climbing domes elicit children's joyful laughter in a safe, spacious and connected environment.
There are many benefits to playground exercise! A 'consensus report' by an international group of experts studying the value of exercise in school-age children states that "physical activity before, during and after school can boost brain function, cognition and scholastic performance."
Experts agree that the benefits also extend to the psychological and social realm. "Exercise will clear their heads, help them make friends, and help them feel more confident around their peers, coaches and other adults."
Inspiring Playgrounds with Geodome Climbers
No matter whether you're creating a large community-size park project or a playground project for your school, church or day-care, you're sure to draw inspiration from these projects.
The Children's Village teaches concepts of sustainability from the past, present & future. In honor of their commitment to sustainability, the Children's Village received the LEED Platinum award.
The Peace Garden Playground Dome in Ashland, Oregon
Drawing inspiration from Nature and imparting a healthy respect for Mother Earth, the Peace Garden Preschool & Kindergarten at Havurah Shir Haddash is a Waldorf learning approach to the indoor-outdoor classroom.
The 'Children's Workshop Oakland Pre-school' in Oakland, CA
This schoolyard geodesic climbing dome has served a dual purpose and become home to countless art projects, car races, jam sessions, music and dance parties and tons of all around fun!
Jessica Spencian, in a recent testimonial says, "We care for children, ages two to five years old. The 16 ft. tall geodome climber from Pacific Domes has been so instrumental in our school's ability to expand its 'Reggio Emilia' inspired learning program.
About Geodome Climbers
Manufactured in the USA from U.S. galvanized steel, Pacific Domes' engineering blueprints exceed strict building codes for strength & safety. Additionally, play structures can be powder-coated in a variety of vibrant colors that remain cool to the touch in full sun.
That said, we recommend checking your state and local regulations for flooring installation safety prerequisites prior to installing a dome. The thickness of the flooring is determined by law in each state, given the height of the dome. In general, a 6-ft. climbing dome should have 2 1/2″ mat flooring, and an 8-ft. tall dome should have 3 1/2″ of padding under the dome.
Pacific Domes is proud to build the best geodesic-engineered play structures in the world. At Pacific Domes, we have your child's safety in mind – be assured that safety is our utmost concern.
Children love being able to play peekaboo thru the dome's open bars. Harnessing the power-of-play, children enjoy inspiration from the outdoors all year round in a geodome climber!
We're here to help!
Need help planning your playground project? Finding creative solutions to satisfy your needs and requirements is what we love to do best!
In addition to manufacturing the best geodesic-engineered structures in the world, Pacific Domes' in-house staff is equipped to assist you with envisioning your playground project from start to finish.
Allow us to inspire your playground creation with customized 3-D renderings that come to life right before your eyes. We invite you to visit with one of our Customer Support Representatives today!