"There's no place like Dome" — Pacific Domes
If you're looking for an energy-efficient dwelling that won't drain your pocket book or trap you into a 30-year mortgage, a dome kit might just be the perfect fit for you. Not only are geodesic domes spacious when compared to other shelters, they're also all – season dwellings that are indestructible when put to the test by Nature's extremes.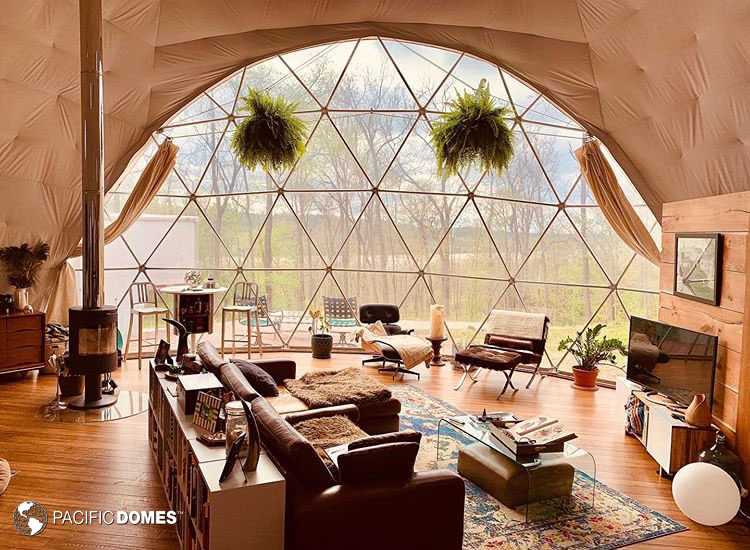 Modern-day architect and inventor of the geodesic dome, R. Buckminster Fuller, received a gold-medal from the American Institute of Architects for inventing the "strongest, lightest and most efficient means of enclosing space, yet known to man".
A Dwelling for All-Seasons: Dome Features
Geodesic design can be found everywhere in Nature, but why and when should you consider using dome architecture vs. conventional building methods? Starting with the basic structure, did you know that geodesic domes are 5 times stronger than a rectangular house?
Fuller discovered that a half-sphere geodesic dome composed of inter-connected triangles could withstand pressure from all sides and lend it superior strength. Bucky Fuller is credited with demonstrating what's called, "the doing more with less" principle. This means that a dome encloses the largest volume of interior space with the least amount of surface area, thus saving on materials and cost ‒ thus, rendering it an earth-friendly, ecoliving structure.
A 1980 study proved that a geodesic dome is unmatched in energy-efficiency when compared with traditional shelters. What's noteworthy is, that as a result of this study, dome homes qualified for increased financing under the Federal Home Loan Mortgage regulations. So, why aren't we building more dome homes?
Specifically, a dome is energy efficient for the following reasons:
Its decreased surface area requires less building materials
Exposure to cold in winter and heat in summer is decreased, due to less surface area per unit of volume.
The concave interior creates a natural airflow allowing hot or cool air to flow evenly throughout the dome with the help of return air ducts.
Extreme wind turbulence is lessened because winds contributing to heat loss flow evenly around the dome.
It acts like a giant downward reflector that concentrates interior heat, preventing radiant heat loss.
Dome studies, comparing same-size traditional homes, have shown a 30% energy savings.
The best news is that geodesic dome features get even better! Here's some convincing reasons why you might want to consider making a dome ‒ YOUR dwelling for all-seasons!
Portable prefab dome kits are transported and delivered right to your building site.
Available in several sizes from 16-feet to 120-feet, several sizes fit in the trunk of your car for ease of set-up and tear-down.
Easy to assemble
Kits come with an easy-to-follow assembly manual. All you need are a few hand-tools and a step-ladder. Portable Dome kits are regarded as temporary structures, meaning that they can be erected, taken down when no longer needed and reassembled at your convenience.
Domes are built to highest industry standards
Engineered for both internal and external weight loads. Supports electrical, lighting and sound equipment.
Extremely high strength-to-weight ratio
Go anyplace on earth with your choice of Standard, Heavy Duty or Extreme Weight load frames. Engineered to handle all types of terrains and withstand Nature's extreme conditions – heavy snow-loads, hurricanes and earthquakes.
Waterproof UV & fire-resistant covers with custom fabric and color choices.
Sunshield fabric covers allow natural sunlight to create a warm, Zen-like ambiance. Covers have a long life expectancy and have been known to last more than 20-years with proper care. They are Waterproof, UV and Fire-resistant.
Door and Window options
The various prefab kit sizes come with standard or custom door and window options.
Ventilation and Insulation
Energy-efficient options for ventilation and insulation depending on your location and lifestyle choice. Learn about EMF protection by installing a Reflectix® liner.
Winter Wood-Stove
Safe and efficient, a cozy, compact wood-stove works great in any size dome.
Accessories
Customize your dome with these popular accessories.
Great Customer Support
We're here to help. Design the dome of your dreams. No job is too large or too small for our experienced Customer Support Team.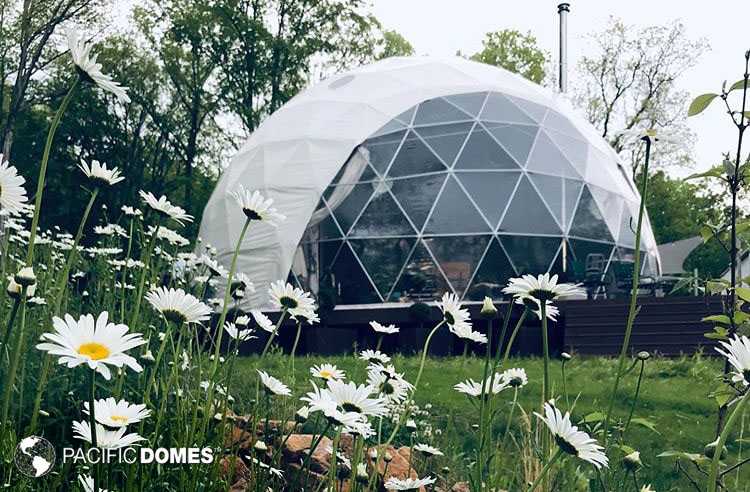 Dome Dwelling
Simplify-simplify-simplify! It's about a freedom lifestyle with less time indoors – more time outdoors.
Take tiny house living to the living grand in a dome mode… What do domes have that tiny homes don't? For starters, lots of head room. Even with a loft addition, domes still offer that uncompromised open spacious feeling that you just can't find in a rectilinear shelter.
Interior Decorating options are endless. Take advantage of natural lighting, bay windows and skylights.
For comfort and privacy, you can create closet and storage dividers for bedroom, bathroom-shower combos.
Do you like to prepare elaborate meals? Then, a full-kitchen might be the way to go.
More time to explore and do the outdoor things you love to do… If you're an outdoor enthusiast, there's nothing like coming home to your dome at the end of a long day of hiking, skiing or adventuring to you enjoy a comfy couch and cozy fireside chat.
Creative Ways to use your backyard dome
Glamping Retreat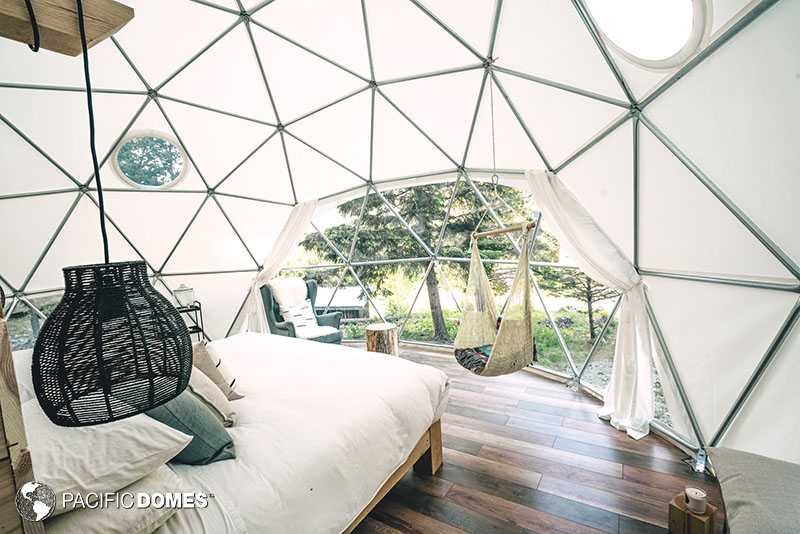 How about a Back-to-Nature Retreat? Remember that serene colors create a calming environment. It's about blending all-natural and organic materials and adding some decorative finishes with plants and greenery.
Backyard Office
Create a distinction between your living and work space. A backyard home office studio means more time for work-life balance.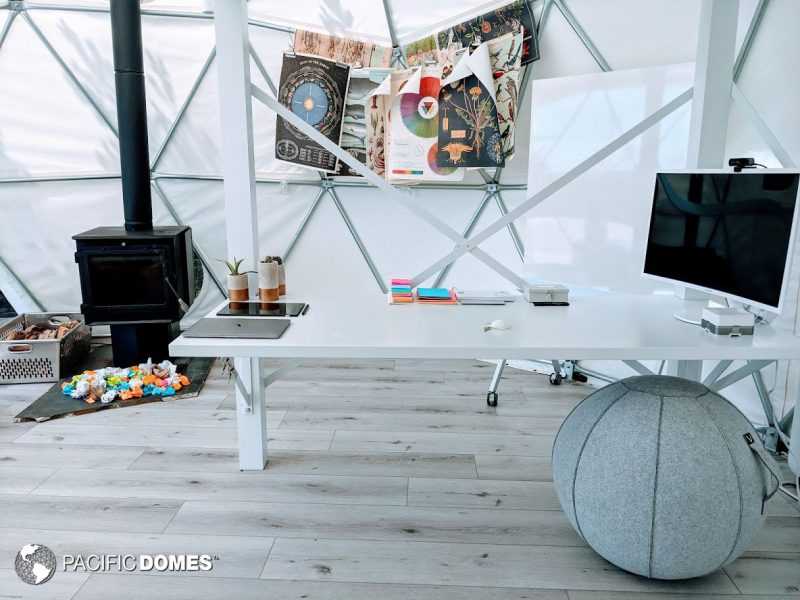 Position your desk right next to the bay window. Get as geeky as you want in your Zen Studio by add the latest high-tech such as, security, your favorite sound system, a digital lockless door key, USB receptacles, touch-activated storage and much more.
Artist Studio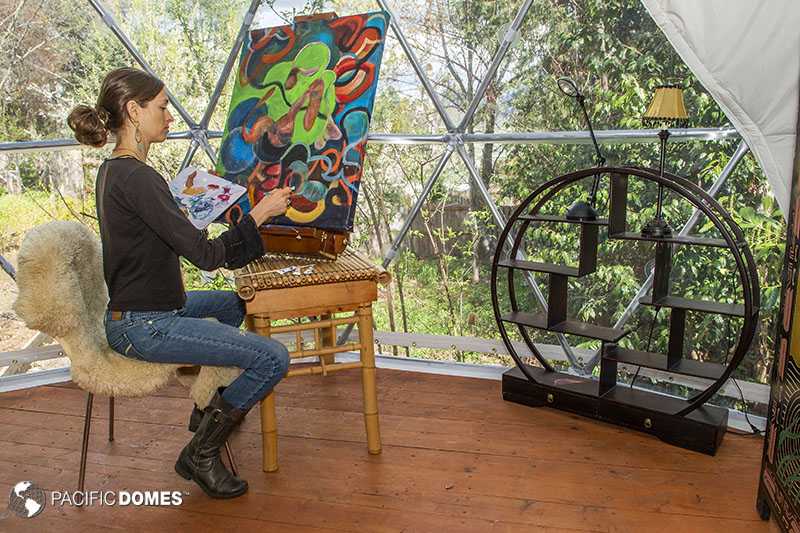 Let your retreat be a work of art. An Artists Retreat can be an innovative yet, functional space where you give your imagination wings to wander and dream. It's a place to draw, write, sing and create to your heart's content.
Schoolroom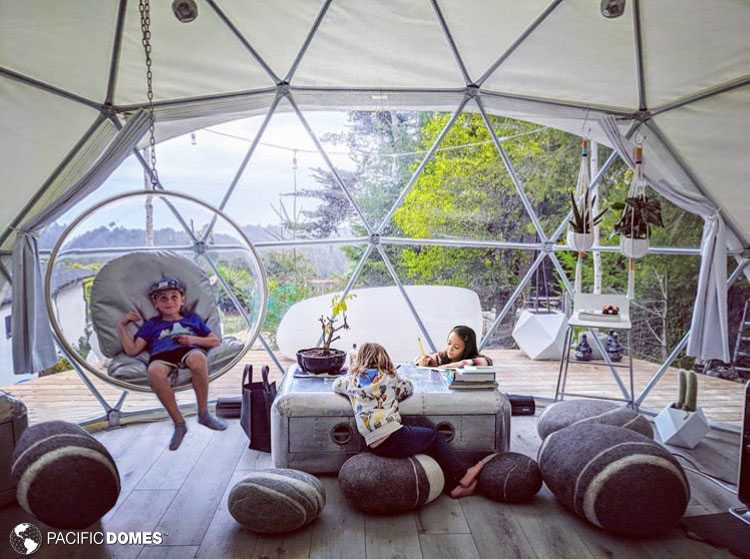 Virtual outdoor classrooms are fast becoming a popular public response to the needs of children and families during these unprecedented times of remote-learning classrooms. One of the safest learning spaces is an outdoor schoolroom.
Guest House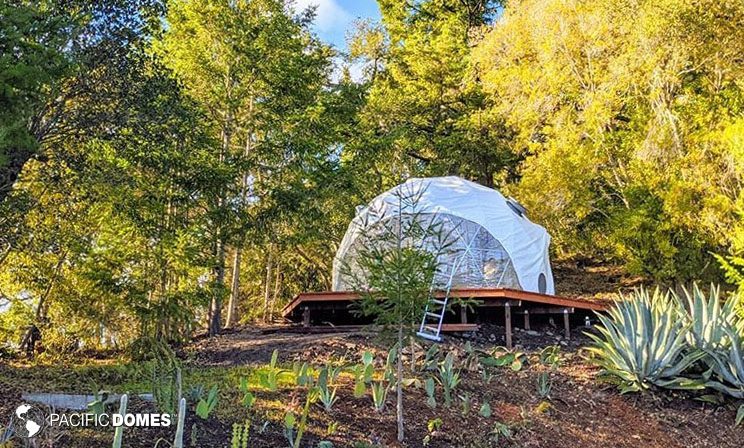 Need room for entertaining guests or gettin' your teenager out of the house? Extend your living space outdoors with a guest house and create room for entertaining family and friends without having them underfoot. How about a Murphy bed to add extra sleeping whenever needed?
Greenhouse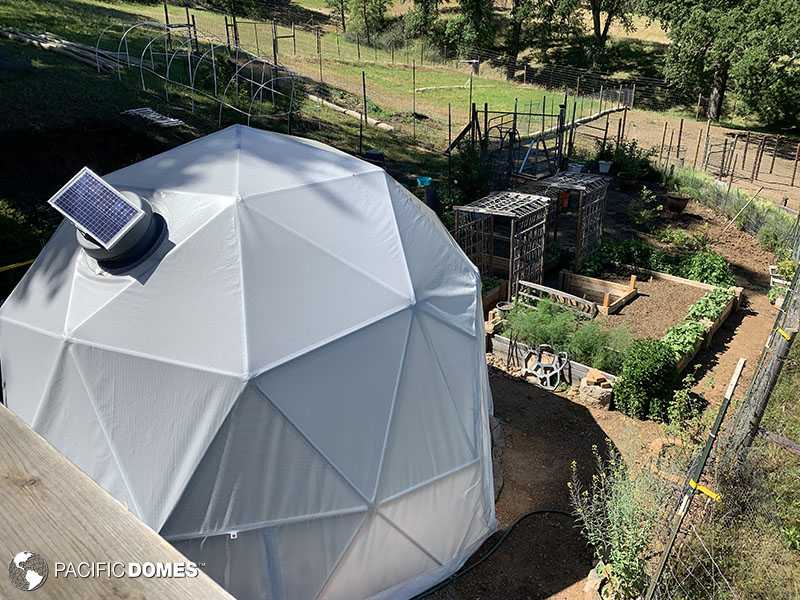 Affordable, state of the art Geodesic Greenhouses and Geodesic Grow Dome kits for the both the industrial grower and the DIY home gardener offer many advantages over contemporary models, such as, energy-efficiency and air-circulation. Explore more benefits here.
A Word about Maintenance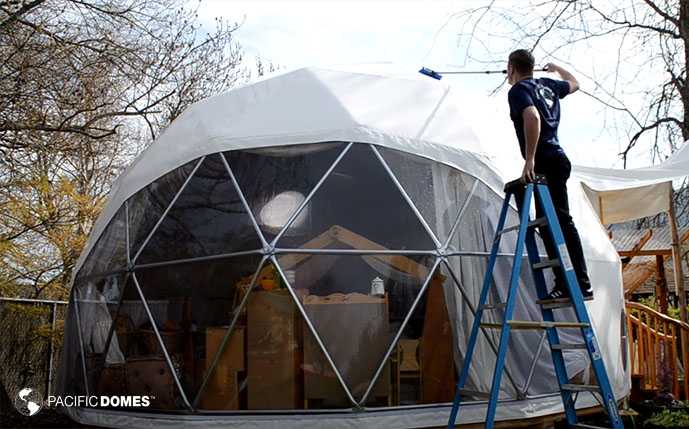 We hope you've enjoyed this blog and found it helpful. Remember, just like any shelter, domes require periodic maintenance.  Watch this video on how to easily clean your dome.