Insulated, Weather-Resistant Shelter Domes For Year-Round Living
For excursions into extreme weather, our domes go where no shelter has gone before because they are the only structure designed to withstand the impact of polar elements. Featuring insulated liners, insulated floors, and a wood stove with stove cap and flashing, the Shelter Domes that Pacific Domes provided to our high-end clients at the Amazing Escapes Eco Resort kept their guests very comfortable, despite the high-winds and sub zero temperatures of the Bolivian Mountains at an elevation of 14,000. Thanks to the aerodynamic and energy-efficient shape of the geodesic dome, the winds posed little threat, and the frigid air was sealed out. Hurricane-proof, and able to shed and sustain heavy snow loads, Shelter Domes offer a resilient and strong shelter for all ages to make a stand.
---
Heating & Insulation
Each dome comes with an optional stove vent flashing and cap for wood stove installation. Additionally, our insulative liner is made of water resistant, easy to clean, fire retardant oxford nylon backed with a thinsulate liner that is naturally mildew and mold resistant. Easy to install and to attach on the inside of your frame, your dome shelter will stay cozy and comfortable while snow storms flurry outside. For colder climates, we recommend an insulated floor consisting of thinsulate sandwiched between two layers of vinyl.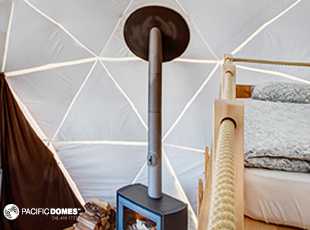 ---
Protection From The Elements
Our eco-living shelter domes are architecturally designed using patterns found in nature. They are safe in high winds, heavy snows, and earthquakes, making them a durable and reliable dwelling. The dome frames are made of USA galvanized steel and are engineered for both internal and external weight loads, able to support heavy snow loads. We offer an in-house structural analysis upon request.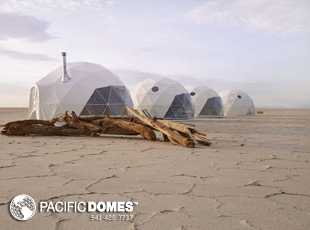 ---
Energy & Spatially Efficient
The ambient airflow circulation inside the dome is continuous with no stagnant corners and requires 30% less energy to maintain even temperatures than a conventional building. The high volume-to-surface-area ratio requires less building materials to enclose more space, doing more with less, by doubling the diameter eight times the volume is enclosed. Geodesic Domes are the strongest, lightest and most efficient means of enclosing space known to man.