"I deeply believe that spaces influence how we think and feel. So if you want to have a space that helps you to recharge, to connect with yourself and nature, a space to learn and be creative, I think you can envision and build those spaces, right? Geodesic domes are probably one of those spaces that can really influence how we think and feel about the future – our future. " Frederik G. Pferdt
In a phone interview with Frederik G. Pferdt, Pacific Domes has a look into how one family in the Santa Cruz mountains of California introduces a backyard dome into not only their life.
Frederik and his wife Angela are originally from Germany. They were drawn to the Santa Cruz mountains in the hopes of eventually living off-grid and closer to nature.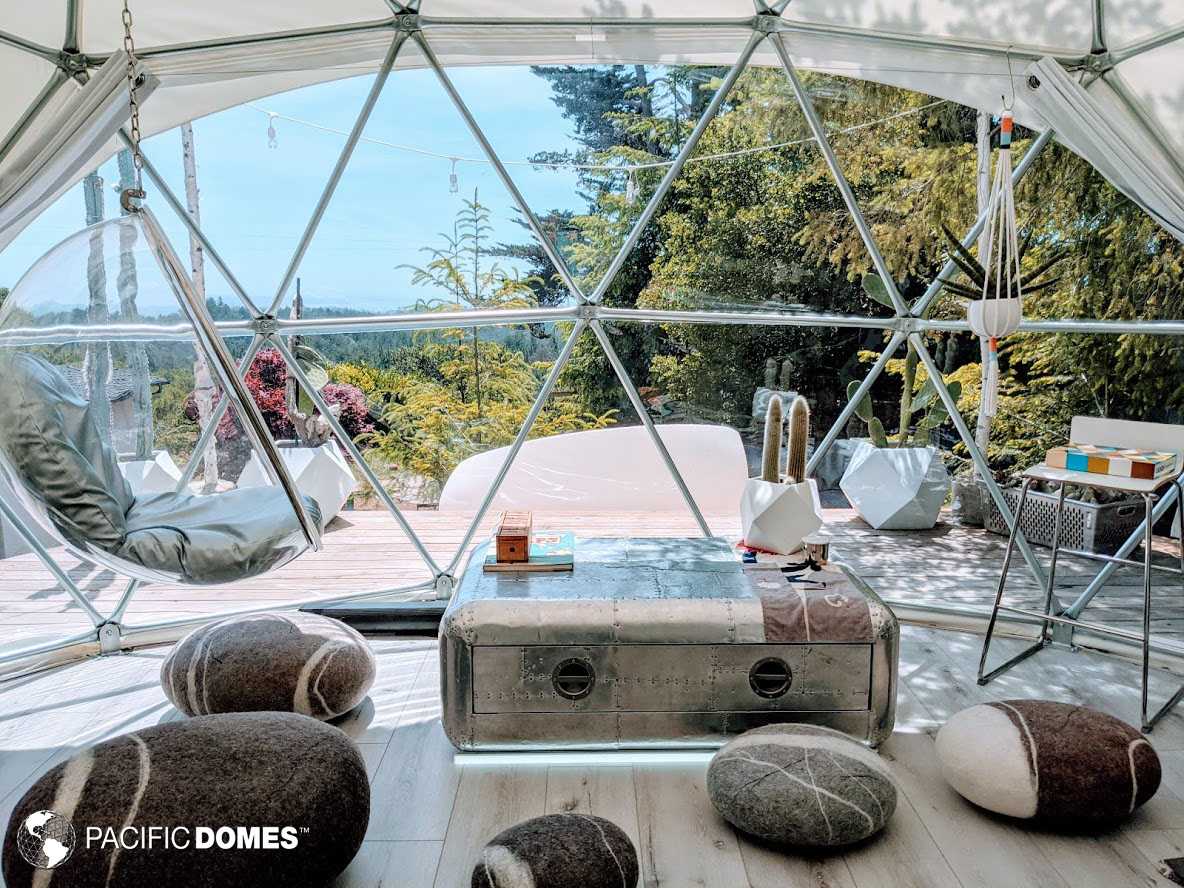 Pacific Domes (PD): How did you first hear about GeoDesic Domes?
Frederik: I would call myself a space enthusiast, I am passionate about spaces in general. I helped create the Google Garage, which is a hacker maker and designer space in our headquarters in Mountain View and I work at Stanford in our Design School. We have over two and a half acres of land and a view of the ocean. I wondered about doing an experiment with a space where we could invite friends, like a guest house, but also a place to play with the kids and to work from. I am also curious about the tiny house movement and I looked into various options including container houses. At Stanford University, where I spent a significant amount of time, I came across the historic Buckminster Fuller Collection, as an architect, designer and engineering visionary on things like three-wheeled aerodynamic cars or Dymaxion Houses and Geodesic Domes, a rounded form composed of interlocking triangles that was later found to be the same structure underlying protein molecules. Northern California was the place where his work took root and therefore it gave me the opportunity to do something local. Our family found out about the greenhouse domes at the University of Santa Cruz campus and went to visit them to learn how they work. The kids were excited to have our own geodesic dome in our backyard and Pacific Domes is one of the best dome companies.
PD: How did you hear about Pacific Domes?
Frederik: We found Pacific Domes when we did some Google searches. We also talked to a couple of our friends who are architects and designers and we felt that all the information that you provided (booklets and promotional materials) were really well put together. I gave it a shot and went with Pacific Domes. I felt very supported throughout the whole process. The Pacific Domes team was very kind to help me by finding the right size, assembly, and design. I wasn't sure what kind of door I wanted, which direction the door should face, if I wanted a solar fan, and if I needed a wood burning stove. I had a lot of questions and my friends helped me figure out what was right for me and the specific vision I wanted to create. So now I spend a lot of time in my dome every day. But it was actually originally set up for a very different purpose.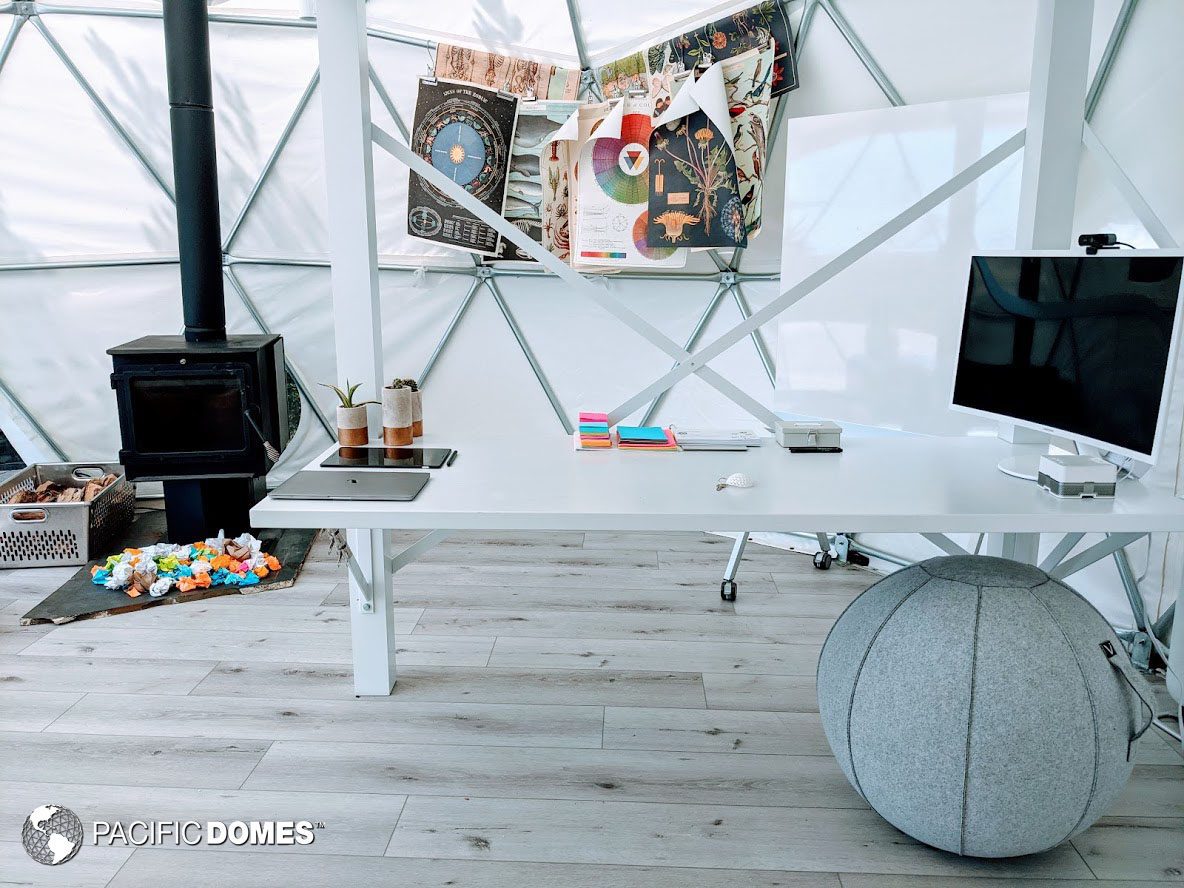 PD: Once the deck was built, how long did it take to assemble the dome and who was on your
assembly team?
Frederik: That's a great question. The deck was one of the first decisions that we made; where to put it and what surface to put the dome on. We looked at options in our backyard and we figured out that a deck would be the best thing to build because we are surrounded by the redwoods in the forest and we wanted to position it, leveraging the ocean view. We built a deck and gathered the assembly team which included a couple of friends, all German coincidentally. These are talented friends that work at Apple, SAP, Siemens and Google and so forth. I set up a group to help me, everybody was super excited even though no one had any experience to set up a dome. I sent them a photo of the plans along with the dome kit and we worked on finding a date that worked for everyone. The day we began building ended up being one of the worst days this winter. It was cold, raining and windy, but we got started anyway – with a great team spirit. We erected the dome quite quickly, it took us two days to build the frame and install the cover. We made a couple of mistakes, but overall we were proud to put it together ourselves. We celebrated inside the dome that evening in December.
PD: What did you plan to use the dome for?
Frederik: I wanted to try something new and radically different, you don't see a lot of domes around, specifically not in the Santa Cruz mountains, much less in the Silicon Valley. So I thought I would give it a shot and see what I could learn from building my own geodesic dome. And here I am, sitting in our dome as I talk to you, while I enjoy the view. I wanted to build a futuristic space where friends and people we respect could stay and relax. A place to do mindfulness practice, collaborate together as well as to think about the past, the present and most importantly: the future – our future. Our original vision was for the dome to be a guest house. We handed out sets of keys with 3D printed dome keychains and a card to all of our friends. The card was an invitation to stay whenever they wanted. We only requested that they fill the fridge before they leave (laughs).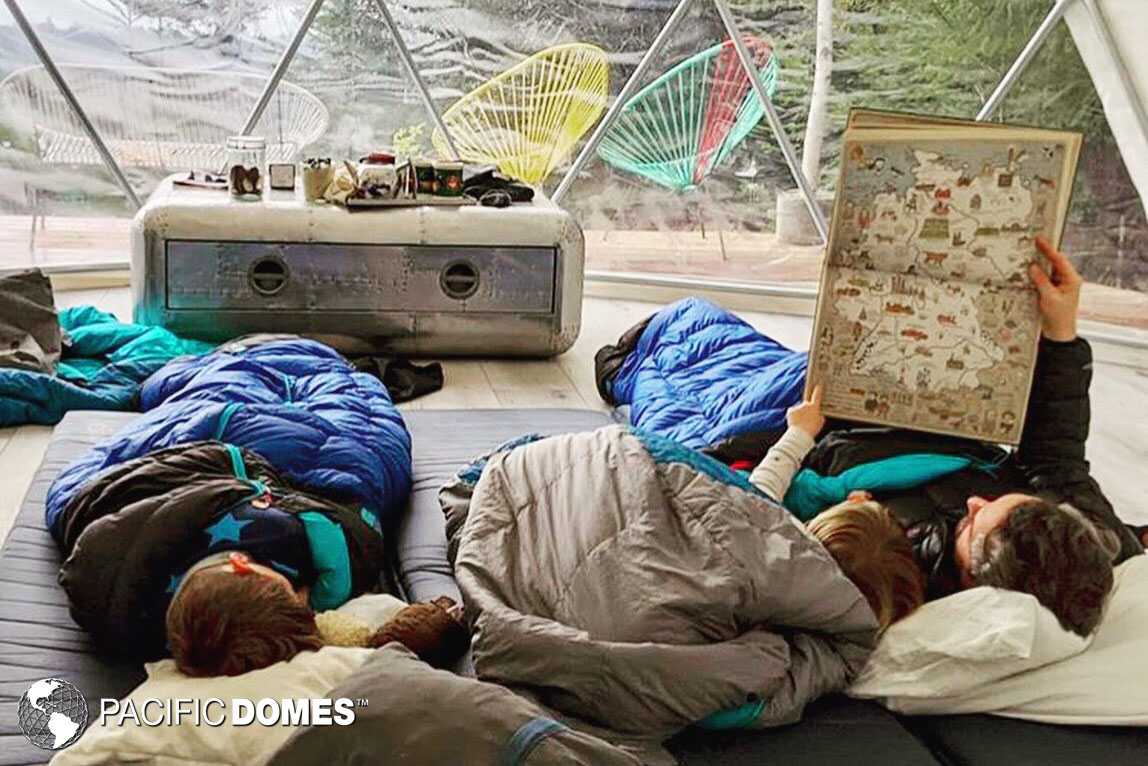 PD: What have you actually used the dome for?
Frederik: We have not continued on our original vision because the pandemic and stay-at-home order happened and we weren't able to hand out all the keys, specifically to friends and family in Europe. That's still coming. Our vision shifted from having a "FriendsDome" (which is still the name for it) to being a work dome. It is now a place where we can work, play, relax, recharge and come together as a family. Last evening our family had sushi together in the dome, where the kids and I ended up sleeping for the night. So we now use it as a working environment, which actually is perfect. Every time I am on a video call, everyone is jealous of my workspace. In light of the quarantine, my friends believe that I somehow anticipated the need for a different, personalized workspace. The dome is the place I can brainstorm and think about the future. I come up here and I feel like I'm coming into a spaceship. Not just because the set-up is kind of futuristic, but also because it fits the type of work that I am doing. I am trying to help individuals, teams and whole organizations reimagine what the future can bring. I ask, "How can we use our creativity to continue to innovate, experiment, and try different things and imagine a better future for all?" I am quite happy that I have this environment for me to follow my mission. This morning I had a couple of meetings, then Josefina, my daughter who is 4 did some drawings here. Later today, we will have my other 2 kids come up here as well. They take turns doing video calls with their Grandmothers. They do an hour every day of teaching and education. The kids use the dome to go to school virtually. We call it "Dome School."
PD: What are you using to heat the dome?
Frederik: Before I had the woodstove, I had a small electric heater in the dome, which I still have, and I have the wood stove, so it is the perfect set up to heat the dome to exactly the perfect temperature. The solar fan really helps to reach the perfect level and to cool it down as well. Obviously we have not experienced summer in the dome, so we still have to learn about that. We don't know how hot it is going to be, but we have solar-powered fan to help us keep it at perfect temperature.
PD: What do you like most about the dome?
Frederik: In times of social distancing, what we are experiencing now, it is important to find my own space, to connect with myself, the family and my work team virtually. I am doing some virtual education as well at Stanford and also some other places. At a time when many feel socially isolated, I feel very connected, not just to nature, but to other people, my wife also has her computer in the dome . So I think just having an environment where I can be creative and collaborate with others is just a fantastic thing to have. Having a dome is a start to our vision of sustainability. We want to eventually live off the grid to live sustainably with solar power and we already built our own well for fresh water supply. The next plan is to get a greenhouse dome. These are the things I am quite passionate about and that gets me excited every day because our learning curve is very steep currently.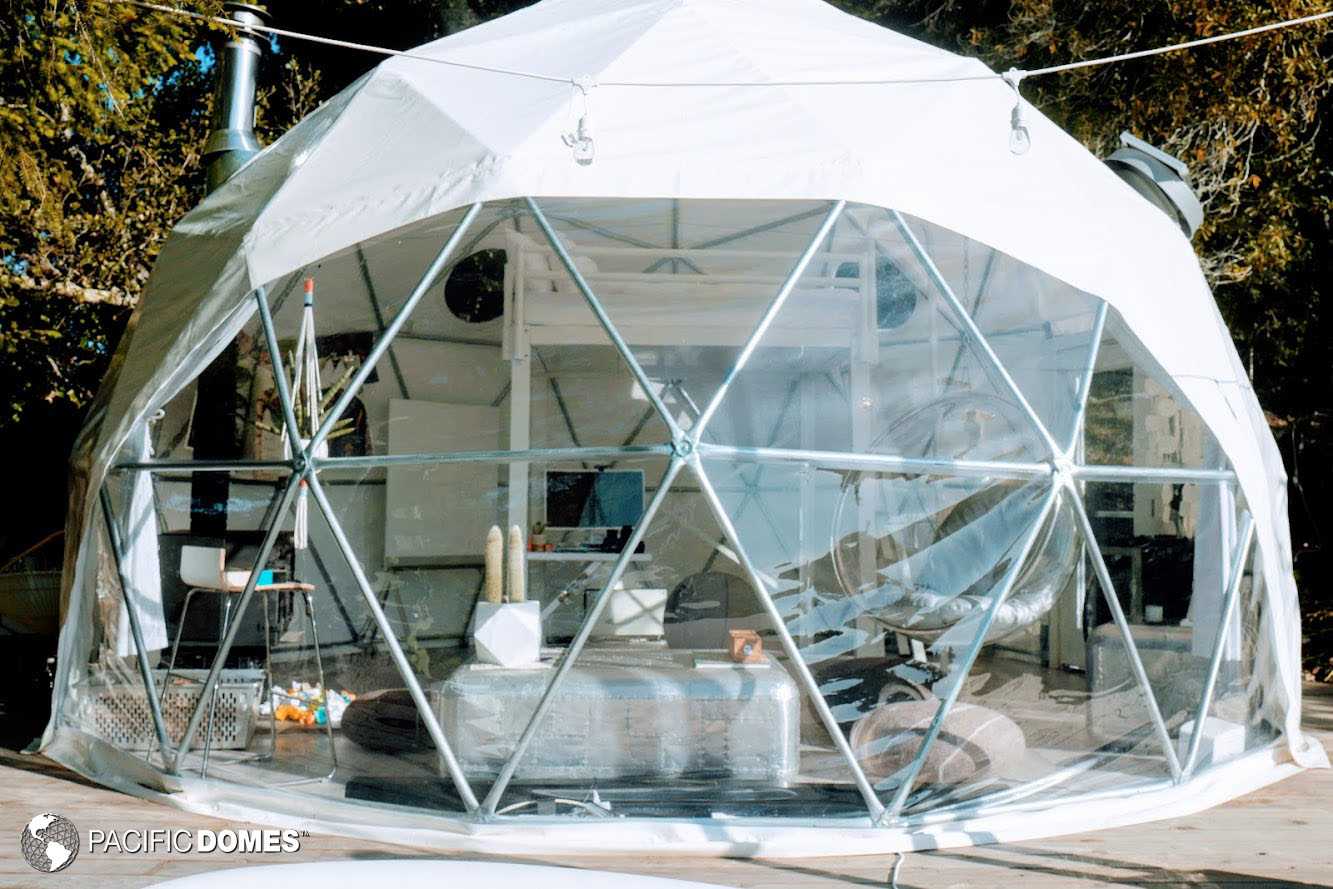 PD: Is there anything else you want to add to the story?
Frederik: We are enjoying our experiment here, as we see these different modes of working now, the whole world is basically trying to find ways to work from home because most people cannot be in an office environment. If you have these different modes of working: focused work, socializing, learning, collaboration and recharge as the five modes of working, I think the geodesic dome provides the ideal environment for all of these modes. The original vision was to have a "FriendsDome" which will happen eventually – but now it is a place where we can work, we can play, we can recharge. I would highly recommend that everyone start thinking about alternative spaces to erect in their backyards that inspire different ways of working, playing and recharging. I hope it is an inspiration to many people that without having the expertise, a dome can be built in a few days with the help of friends. I deeply believe that spaces gather influence how we think and feel.
In times of social distancing, it's important to find your own "space" to connect with
yourself, family, team, nature and the world.
"I've often heard people say: 'I wonder what it would feel like to be on board a spaceship,' and the answer is very simple. What does it feel like? That's all we have ever experienced. We are all astronauts on a little spaceship called Earth." -R. Buckminster Fuller