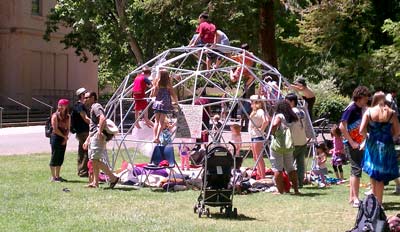 The Whole Earth Festival celebrates its 42nd year on the University of California, Davis campus. It was created in 1969 when an art class taught by Jose Arguelles had an "Art Happening" on the UC Davis campus. The students used art to involve those that attended in an educational process that dared to exceed the normal system of standardized tests and impersonal lectures. Following the United Nations declaration of "Earth Day" in 1970, the second "Art Happening" in 1971 was renamed "Whole Earth." Later it was sponsored by the Associated Student's Experimental College, and then became a self-sustaining festival. The Whole Earth Festival has evolved over three decades into what can be seen on Mother's Day weekend on the U.C. Davis campus each year drawing around 30,000 people.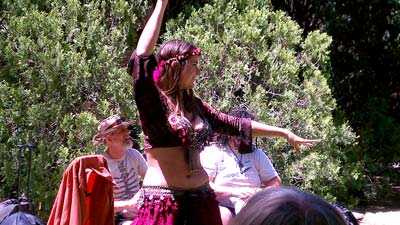 The mission of the Whole Earth Festival is to envision and create a community driven festival of education, music and art. The common goal is to create as little 'waste' as possible during the festival and carpool as much as possible. In addition, the festival has cultivated organic produce into tasty, nutritional meals to feed volunteers, staff and performers, while making it both yummy and educational. The goal of the festival is to create a safe, educational and inspiring environment not only for the three day festival but to help develop a conscious community that will go out into the world after the festival and encourage these values.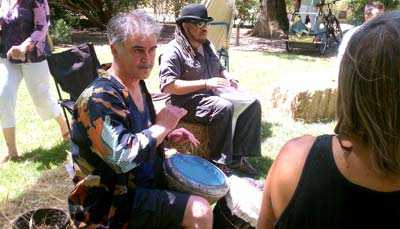 On March 23, 2011 Jose Arguelles passed and the festival hosted a beautiful memorial for him. However, Arguelle's visions still live on through the festival and the CREST Thirteen Project, which consists of making thirteen dome villages around the world. His vision after 2012 of the New Earth was composed of thirteen small sustainable eco-villages which Pacific domes is working towards in conjunction with the CREST Thirteen Project. The purpose of the CREST program (Centers for the Restitution, Investigation and Education of the Natural Mind) of the Galactic Research Institute (GRI) is to establish a telepathic network to anticipate the noosphere as a mutation of consciousness. When its first stage is completed by mid-2009, this planetary engineering project will be composed of thirteen centers strategically located in both the Southern and Northern hemispheres (six in each half of the globe, the thirteenth near Mt. Kilimanjaro on the equator). Through a program that first trains the researchers in the recognition of natural mind free of ego and all conceptualizations, the planetary engineering project then advances the mind to coordinated telepathic exercises with researchers in the other twelve centers.