"A regenerative future is designed through collaboration." — Design Science Decade
---
Calling attention to sustainable environmental solutions and bringing light to some of our most urgent ecological challenges, annual Earth Day Events have been catalyzing the power of the self-organizing collective and steering humanity towards a regenerative future for more than five decades. Ever since the United Nations' officially recognized April 22nd as Earth Day in 1970, activists – also, known as earth stewards, have religiously organized Earth Day Events around the globe – persistent in their efforts to envision a regenerative future for spaceship earth– a future that honors Mother Earth – Gaia.
"It's Utopia or Oblivion." — R. Buckminster Fuller
Mother Earth knows collaboration best!
As the time-bomb keeps ticking towards an uncertain planetary future, some of us are reminded of Buckminster Fuller's famous quote, "It's Utopia or Oblivion." In observing how Mother Nature cooperates to build ecosystems, many conscious thinkers recognize that the way forward towards a regenerative future is for the self-organizing collective to follow nature's template – a model based on collaboration.
"When the self-organizing collective comes together, we mobilize an unstoppable force for good."
---
This Earth Day Join the "Save Soil" Movement

Why Save Soil?
Sadhguru launched Save Soil to address the immediate soil crisis. Save Soil unites people from around the world to stand up for Soil Health – supporting leaders of all nations to institute national policies and actions toward increasing the organic content in cultivable land and soil.
---
"The clutch is in… will we shift up or down?" — BFI Design Science Studio
It's time for ART that changes history
Apr 21, 11:00 am – May 1, 2022, 7:00 pm MST (Local)
Mobilize April 21-May 1 in a historical moment for planetary regeneration, the re-emergence of regen·era: a story-universe created by the Design Science Studio to scaffold thousands of projects and ideas throughout the decade ahead for a future that is regenerative, equitable and just. 
Design Science Studio's Mission
The Design Science Studio is an educational incubator for art that empowers creators to imagine a regenerative future. As part of the story-universe of regen·era, they will also be launching 144 (r)Evolutionary projects of the second coheART – each helping co-create and propel the transition to the world we imagine. 
A (r)Evolutionary incubator for ART inspiring a regenerative future that works for 100% of life and supporting global creators in imagining an equitable and just future… because, the future is always first an idea.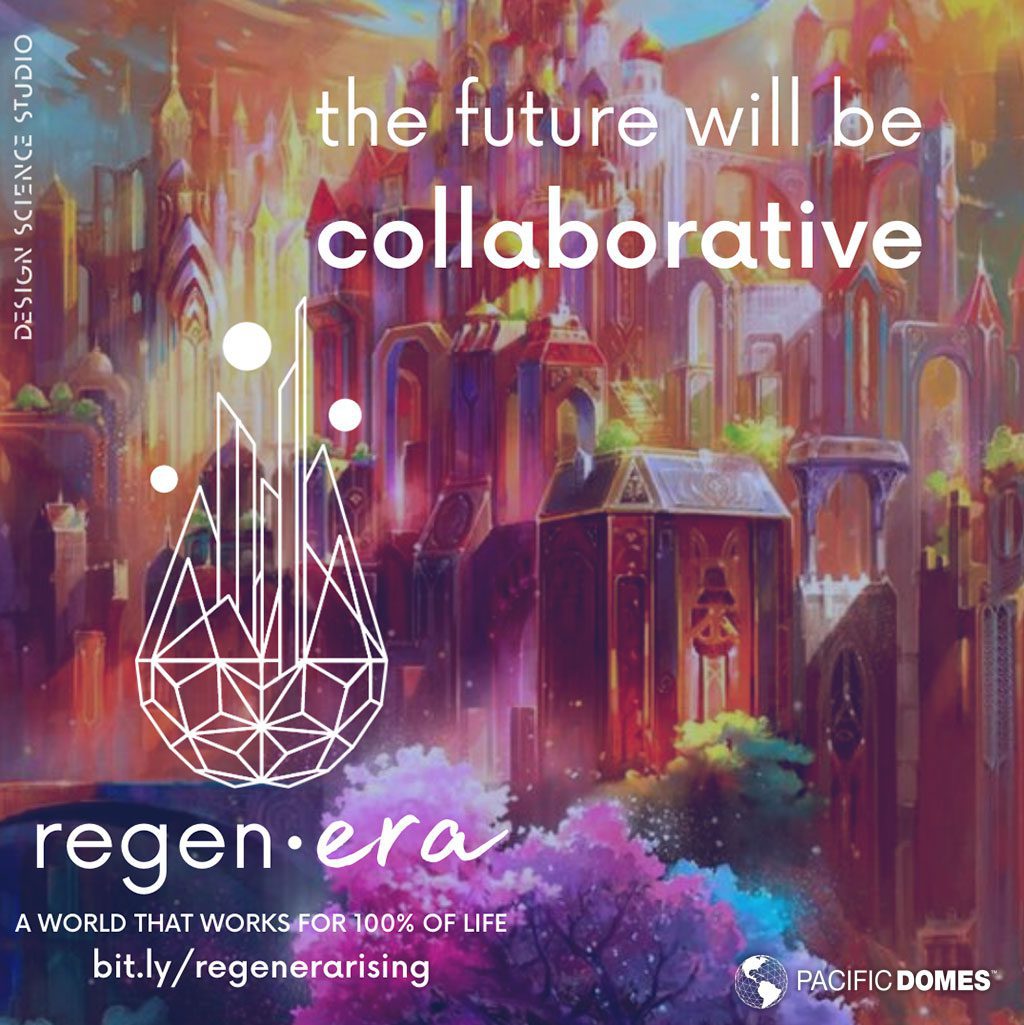 regen·era rising: A Global Confluence for Creators of Regenerative Futures
Earth Day events in 2022 are once again catalyzing us to action as regen·era re-emerges to inspire us in envisioning what's possible during this decade. As we transition from flailing infrastructures to more sustainable systems, it's our collective vision that will help restore ecosystems and bring about the principles of a Design Science Decade – to this end, Design Science Studio has woven 'the city' prototype with the principles of our collective mission.
regen·era is a virtual floating city designed to be the home and heART of the Regenaissance – a cultural and social movement that seeks to comprehensively transform the way in which we think and live in society – and, redefining our relationship with each other and the planet. 
The arrival of 'the city' is celebrated with an 11-day virtual summit called regen·era rising: a confluence of immersive experiences, celebrations, talks, workshops, art and surprises – each showcasing the important, powerful and collaborative ways that design, science, and story collide within the shared environments of Zoom, New Art City and Topia.
Join regen·era rising in their second annual celebration of the Regenaissance: a decade-long global movement bringing together (r)Evolutionary creators, systems thinkers and organizations to envision, collaborate and co-create a world that works for 100% of life on earth.
---
This blog is brought to you by Pacific Domes of Southern Oregon – manufacturers of award-winning Event Domes!
---