Shelter Domes by Pacific Domes
Pacific Domes of Oregon builds the worlds best Geodesic Domes Shelters for Eco-Resorts, Eco-Tourism and Eco-Retreat locations across the globe.
We have built Dome Shelters for the top Glamping Sites and Glamping Retreats in the world, erecting fantastic living spaces in the most fantastic and remote of locations.
With over 36 years as the industry leader, Pacific Domes is proud to have built the best Geodesic Dome Shelters in the world, for many of the top Resorts in the world. Our Glamping Shelter Domes are featured in Award winning Glamping Sites and Eco Resorts of the highest order: Amazing Escapes Dome Shelters in Bolivia, White Pod Dome Shelters in the Swiss Alps, Shelter Dome Bungalos for Asilia Africa, and Shelter Domes for Weltevreden Retreat in Australia, to name a few.
Our Geodome Shelters provide ideal accommodations in every climate, providing unparalleled snow, rain and wind protection for your guests.
For generations, the dominant American axiom has been to strive towards "bigness," an idea that has driven us to SUVs, outrageous meal portions, and McMansions. Thankfully, there are many who continue to push back, who embrace the idea that "less is more," that perhaps the most fulfilling life is the one where you consume least. Whether you plan to move off the grid entirely or just desire to live simply within city limits, Pacific Dome's Eco-Living Domes can help you downsize and live more sustainably.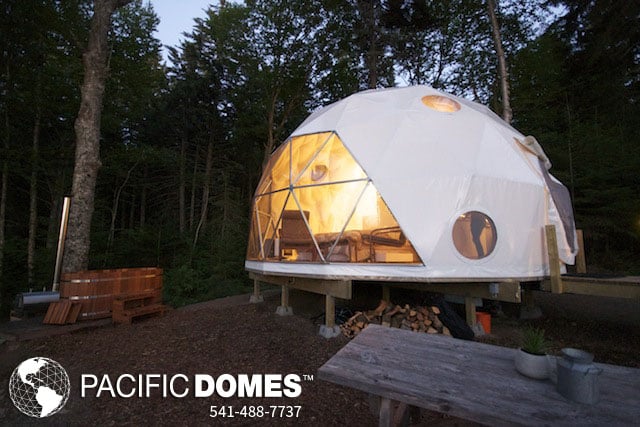 One of the most amazing attributes of geodesic domes is their high volume-to-materials ratio. Though our domes can grow to be over 120' in diameter, many of our clients have found that even a 16' diameter dome provides enough space to function comfortably as a home. For those requiring more space, our larger domes are still remarkably sustainable and portable, and their wealth of volume can be partitioned off into several rooms. Domes small and large cut down on energy bills as well, as their curved shape allows for efficient heating and cooling. Many of our clients have felt that after moving from houses to Eco-Living Domes they feel more grounded and closer to nature.