Pacific Domes of Oregon has been the leading manufacturer of Geodesic Shelter Systems for over 36 years in the USA. We build world leading Dome Shelters, Resort Dome Tents, Glamping Shelter Systems and some of the best dome shelter prices in the industry.
Astronaut Harrison Schmitt describes his moonwalk as "one of those events in life that are extraordinarily meaningful because they had far more impact on memory and emotion than one could have ever anticipated by talking to others, reading, viewing pictures, or just dreaming. Such experiences cannot be adequately described, but must be experienced."
The adventurous soul will go to great lengths to do just that. Days and nights spent on the Bolivian Salt Flats can be compared to being on the moon: a peak experience that lies beyond the scope of words.
Such is the geodesic dome camp set up on the awe inspiring Salar de Uyuni by Amazing Escapes.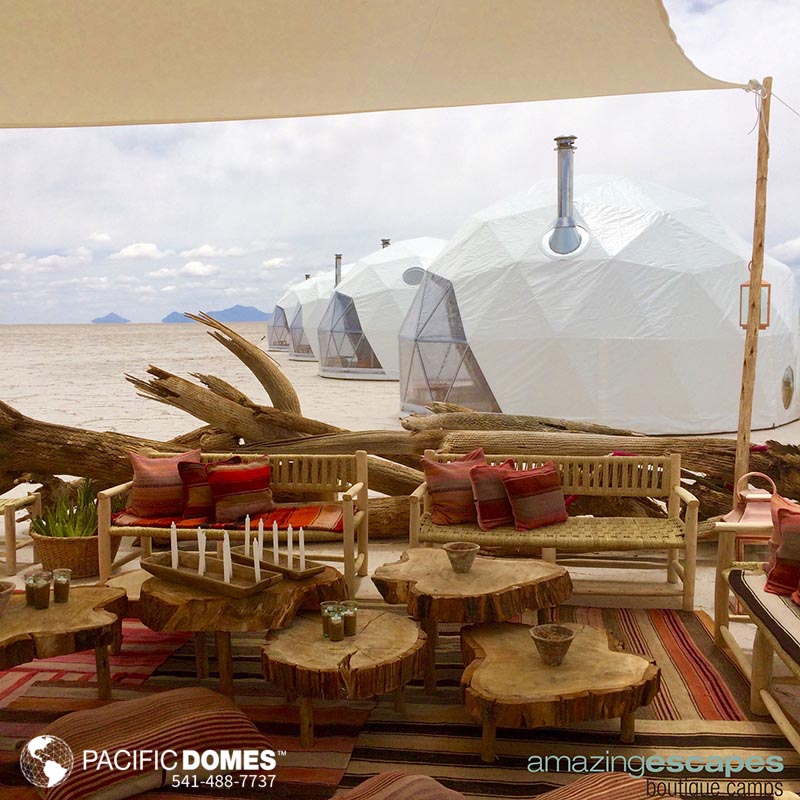 Located in Bolivia, near the crest of the Andes at an elevation of 11, 995 feet, the Bolivia Salt Flats, known locally as the Salar de Uyuni, stretch over 4,000 square miles. Normally an arid, barren surface, during the rainy season, a thin film of water gathers on the vast plain of salt deposits, transforming it into the world's largest natural mirror.
The dream-like sight over such immense landscape inspires a feeling of timelessness. Reflecting clouds challenge the imagination as to what is up or down. Recalling the classical images of heaven — surely this is here – one is shuttled utterly out of the mundane. It has been worth the long journey.
"We're used to thinking of actual otherworldly locations, such as Mars or our moon, as having these dry, lifeless surfaces, which, like the Salar de Uyuni in its dry state, are interesting in their own right, but when this ancient lake bed is covered with a few centimeters of water, it becomes what is surely one of the most beautiful places on Earth." Chris Tackett, September 27, 2012 Tree Hugger.com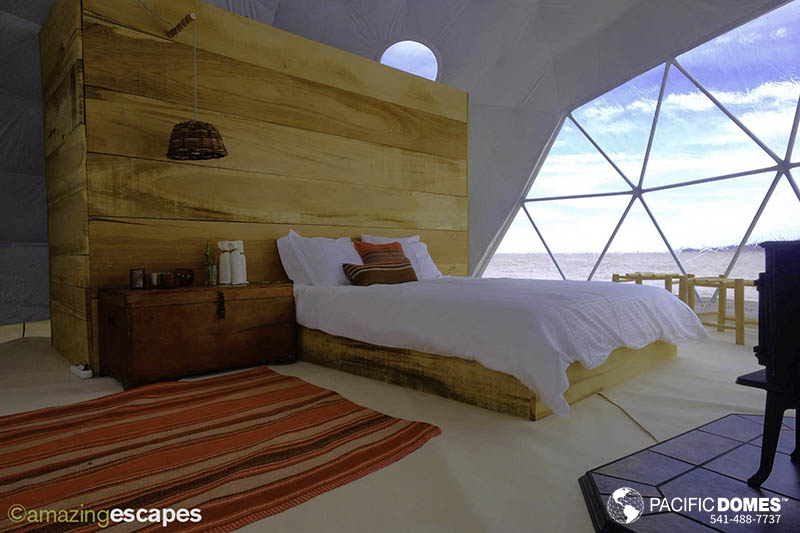 Amazing Escapes' founder, Paul Kennes, CEO, and partner Vincent Raisiere, have planned in detail for your comfort and amusement at each step of the way. Combining their years of experience in upmarket tourism and adventure travel, they invite people to "discover the wildest places on Earth with a touch of luxury."
Kennes and Raisiere have gathered around them an international team of professionals in design, hotel management, food and beverage management, ground operations and infrastructure development. The attention to detail is that expected at the most renowned hotels, and the result is glamping comfort that belies the environment, in a style that recalls the glamour of the nineteenth century adventurer.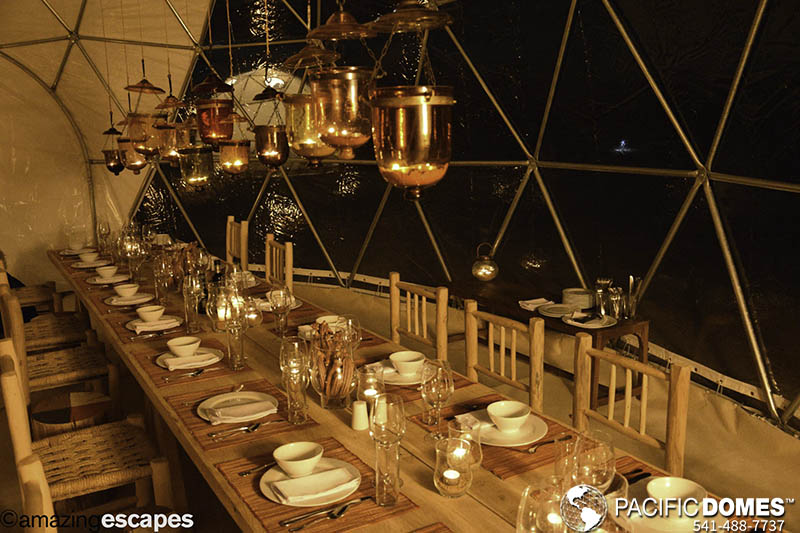 Amazing Escapes is also innovative and invests in green technologies. They utilize light imprint structures, such as the Pacific Domes pods, and use platforms to minimize ground site impact. Through a partnership with a French company specializing in self sufficient water treatment and energy supply systems, they are able to provide an autonomous private bathroom with running hot water and toilets in every tent, no matter where the camp is. In this way, they believe they serve the most discriminating clients, the traveler eager for wilderness but not willing to compromise on his/her comfort.