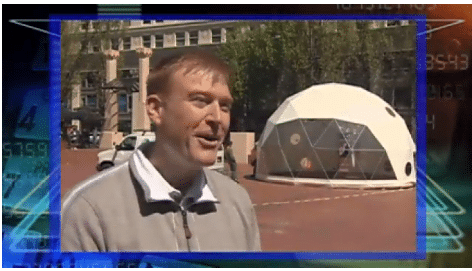 PORTLAND – A geodesic dome at Pioneer Courthouse Square was the Riverplace Hotel's general manager Ryan Kunzer's idea.
He's now making his bed and he'll lie it in for the next three nights under the 24-foot dome.
The room is a replica of the 84 renovated guest rooms at Riverplace to showcase their recent $2.5-million makeover.
The update comes just in time for the big summer tourist season.
The hotel is planning different events over the three days. Thursday, bright and early, a yoga instructor will stop by.
Kimpton Hotel based in Seattle, bought the property about a year ago. They also own the Vintage Plaza and the Monaco downtown.
"We figured Pioneer Square would be a great place to get the out-of-towners," Kunzer said. "You get a lot of visitors to come check out Pioneer Square, so what good visibility out here."
Also: Kimpton Hotels yoga mat roll-out program and RiverPlace dome on 'Good Day Oregon' at the Pioneer Courthouse Square. May 2, 2013 – Portland, OR.