Yoga and Meditation Studio Domes by Pacific Domes
---
Geodesic Domes are a popular option for yoga and meditation practitioners who want to create a harmonious Zen-like setting for their yoga and meditation practice. Within the energetic qualities of a Sacred Geometry Dome, every activity in the natural world can be rebalanced and restored! 
Sacred Geometry has been applied in dome architecture since ancient times and continues to this day in modern geodesic dome building systems by Pacific Domes. Domes recalibrate energy fields creating a very specific harmonic resonance that nurtures and revitalizes ones spiritual and vital life essence.  The practice of yoga amidst beautiful naturescapes further attunes one's body to the earth's energetic healing frequencies.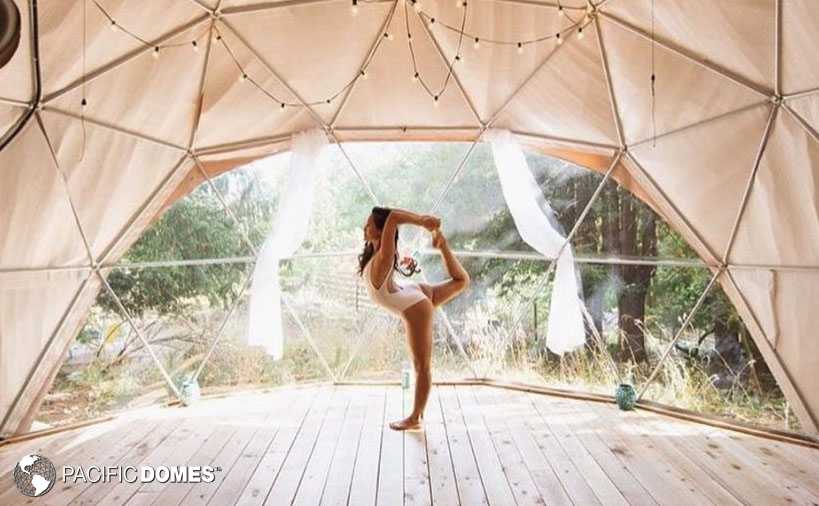 "When we found Pacific Domes, we knew that their domes were the perfect structure for us. We love the ideology behind the construction of the dome, the high ceilings, the circular shape, the ability to open into nature, and that it can be used year-round. Since we live in a rainforest and can have harsh Canadian winters, the winterization capability of the dome was perfect." — Nectar Yoga
Yoga has finally found it's perfect home!
Nestled in Mother Nature's gorgeous natural surroundings on Bowen Island in Vancouver, Canada, Nectar Yoga Bed and Breakfast, offers guests a yoga retreat experience which includes yoga classes, meditation, guided relaxation and daily healthy breakfasts.  Nectar Yoga has created the perfect space to connect with your higher self and with nature in an Eco-Retreat Dome by Pacific Domes.
In search of a unique studio space that would be low impact its natural surroundings, Nectar owner, Andrea Clark, researched a wide variety of possible structures for creating the perfect yoga environment – moroccan tents, yurts and even shipping containers, before settling on a Pacific Dome. Andrea remarked, "Yoga has finally found it's perfect home!"
Hot Yoga Studio

Setting up your Hot Yoga Dome Studio with a prefab geodesic building system makes sense in today's economy. You'll be amazed at the cost savings when compared to conventional buildings!
You'll love creating your unique retreat space with customized dome options to choose from, such as, bay windows, skylight roofs, connecting tunnels and round event doors; as well as, other functional accessories.  
Dome covers come in assortment of fabrics and are available in a variety of colors. Illumination Dome covers can be used for digital projections and light shows, allowing images to be seen both inside and outside the dome. Pacific Domes specializes in custom printed artwork and logos directly imprinted onto your fabric of choice.
Various types of studio flooring can be installed in Yoga Domes to provide a comfortable and aesthetically pleasing unique environment for every function.  Multiple Yoga Domes may even be connected to create a whole dome complex.
---
Yoga Studios and Meditation Spaces by Pacific Domes – the original Sacred Geometry Geodesic Dome manufacturer since 1980.