The "Fuller Design Revolution Challenge" Inspires Planetarium Domes
"Don't fight forces, use them." — R. Buckminster Fuller
About the "Fuller Design Revolution Challenge"
Each year, the Buckminster Fuller Institute (BFI) invites innovators to take the "Fuller Design Revolution Challenge." 2017 marked the 10th anniversary of this unique contest with a record number of entries.
People from all over the world, representing many respected fields, are encouraged to enter the Challenge. Regarded as design's highest socially responsible award, the Challenge is about advancing a whole systems approach to "addressing the many crises facing humanity and the fundamental systems that support life on Earth."
Participants are given the opportunity to win the $100,000 grand prize. The annual entry deadline is typically the end of March. To learn more about how you can participate, go to: bfi.org/challenge
Buckminster Fuller's Contribution
R. Buckminster Fuller blazed the trail for others to follow through his life's work as a prolific researcher, inventor, writer and teacher. The driving force behind Fuller's contributions was the principle that the world must work for 100% of humanity.
The geodesic dome, based on nature's own geometry, is one of Bucky's most well-known and significant inventions. Space is full of 'buckyballs,' also known as "Fullerenes," which are icosahedral molecules with 60 linked carbon atoms.
We live in a holographic universe, and buckyballs are found at every scale from nano particles to galactic measure. This same geometry mirrors itself throughout the interwoven continuum of the cosmos.
Enjoy a "Fuller" view of the universe inside a Planetarium Dome.
Inspired by the Fuller Challenge, Pacific Domes has created a Planetarium Dome using his cosmic architectural model. What better place to navigate the heavens than from inside the very structure from which it is designed?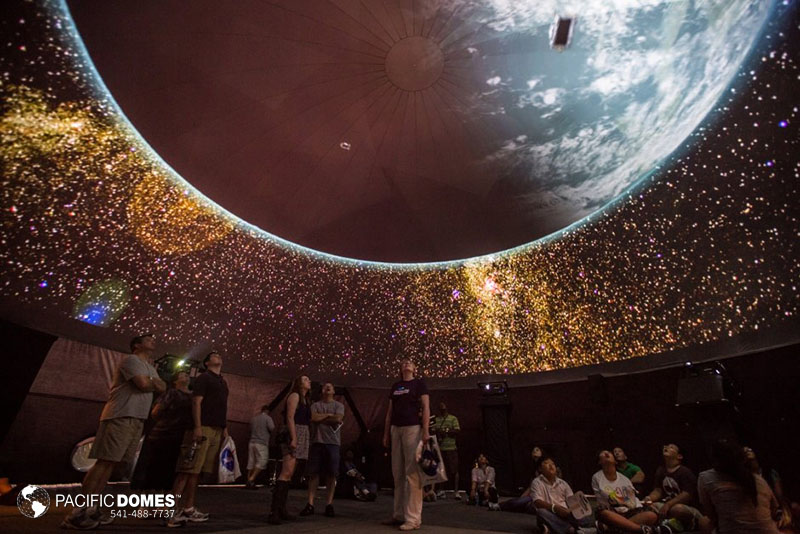 Out of the strength and portability of Bucky's geodesic blueprint, Pacific Domes designed one of the most imposing free-standing Planetarium Domes on Earth. The dome houses a 360° projection screen onto which spectacular scenes of the heavens realistically simulate the motions of stars, planets and celestial objects.
Planetarium Dome Uses
Portable Planetarium Domes are being used for entertainment and education about astronomy, the night sky and celestial navigation training. This immersive environment enables interactive exploration of both earth and space science.
Visualizations can directly impact decision making, allowing people to understand global issues. Hot topics (such as climate change issues) come to life in a genuine way.
Pacific Domes' mobile free-standing Planetarium Domes are recommended by Planetarium leaders. Projection dome theaters with patented projection liner can be implemented for one tenth the price of other planetarium systems.
For additional inspiration on how you can adopt a "Fuller" cosmic and world view inside a Planetarium Dome, be sure to visit Pacific Domes' Gallery.