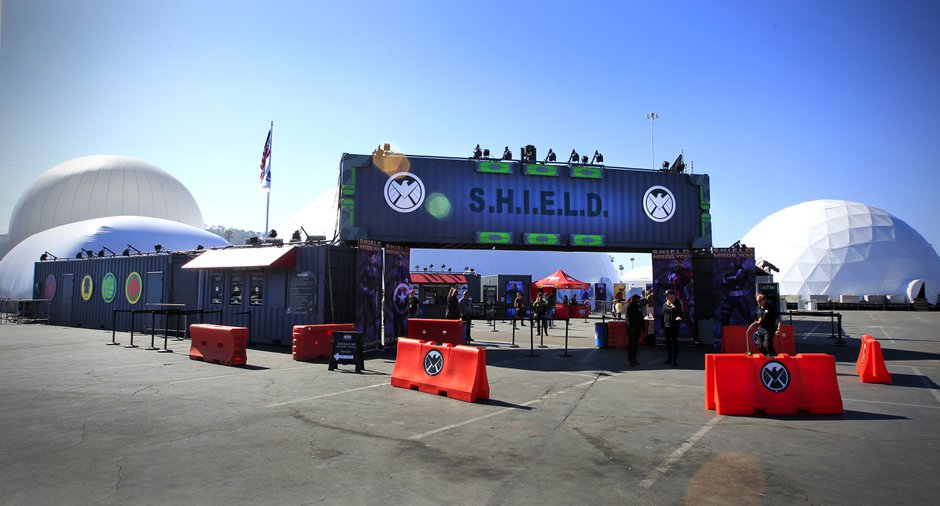 Corporate Event Tents, Festivals Domes and Trade Show Booth Displays by Pacific Domes of Oregon, the world's leading Geodesic Dome Company. We manufacture the best built, engineered Geodesic Dome Structures for Sale, Rental Event Tents and Trade Show Booths, all built by hand in the US of A. 
Imagine Iron Man, Wolverine, Captain America, Black Widow, Thor, the Hulk, all your favorite Marvel characters, leaping and fighting side by side with regular people, in a custom-made geodesic dome. Well, it's about to become a reality. On December 19, legendary comics publisher Marvel begins a U.S. tour for its "Marvel Experience" in Phoenix, Arizona, with subsequent stops in Dallas, San Diego, and San Francisco.
Hero Ventures announced that Production Resource Group, the event team behind productions of Broadway's Spider-Man: Turn Off the Dark, helped design and construct the 140,000 square-foot complex of inflatable domes for their Marvel-themed tour.
A crucial part of this dome network is geodesic. Hero Ventures connected one of our 70-foot geodesic domes with a 78-foot dome by way of a rectangular chamber, creating a very large, mobile space for their interactive event, a sort of traveling theme park with rides, games, live theater, 3-D videos, and more!
"The layers of complexity were insane," says Jason Rosen, chief production officer of Hero Ventures. "This takes things to a whole new level from the days of super heroes running around in costumes at shopping malls."
Filmmaker and super-nerd Kevin Smith was in this commercial for the tour.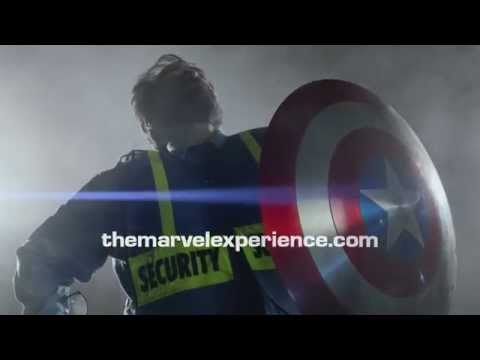 Executives from Hero Ventures and PRG deem the experience "hyper reality." It's the world's largest touring, motion-based attraction, a mix of hands-on interactive games, 360-degree 3-D stereo projection, atmospheric lighting and audio, animatronics, virtual and augmented reality, and projection mapping.
Electrosonic, another tech partner, provided audio and video design systems that enrich the experience, according to Duke Durfee, PRG's creative director and design manager.
MediaMation, a leading maker of 4-D/5-D motion theaters, helped develop a ride for the Marvel Experience with a customized seat-tilt that ensures the audience will stay fully immersed in the action regardless of where they sit, complete with wind and water spray effects.
Jake Berry, tour manager for U2's 360 tour, will overseeing transport and construction of the ambitious project, which is targeted for an older crowd already familiar with Marvel and its comics heroes.
"We're on the cusp of some very cool things here," says Rick Licht, CEO of Hero Ventures. "It is a reimagining of live entertainment. And each successive version will be more cool."