Located just off the 199 Redwood Highway and tucked away in the magnificent Rogue River-Siskiyou National Forest, Cedar Bloom Farm is an unforgettable Southern Oregon camping sanctuary. If you're looking for an extraordinary glamping experience, Cedar Bloom Farm's secluded campground is surrounded in all directions by 100-acres of beautiful, pristine forest – it's a truly magical nature escape.
With its own private beach, Cedar Bloom Farm's River Overlook Dome is situated along the banks of the Illinois River. Southwest Oregon's Illinois River has remained a largely unexplored region, making this 30-ft. glamp dome an ideal adventure base camp.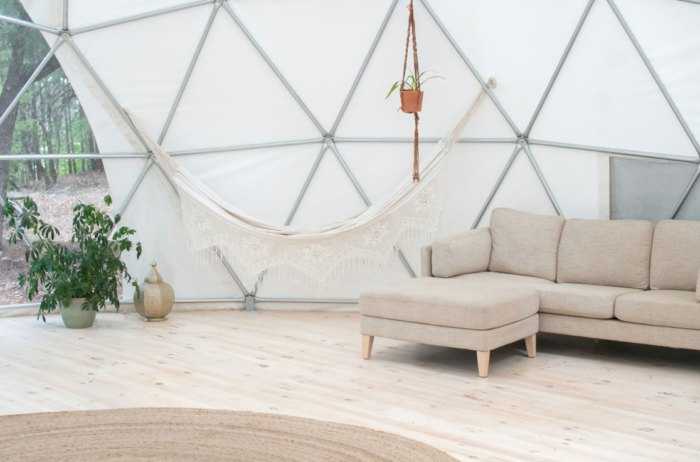 The interior dome design has several nooks to hang-out, relax, read or listen to music – there's even, a fun machine to make music. Guests love that there's a hammock for their relaxing pleasure.
---
About Cedar Bloom Farm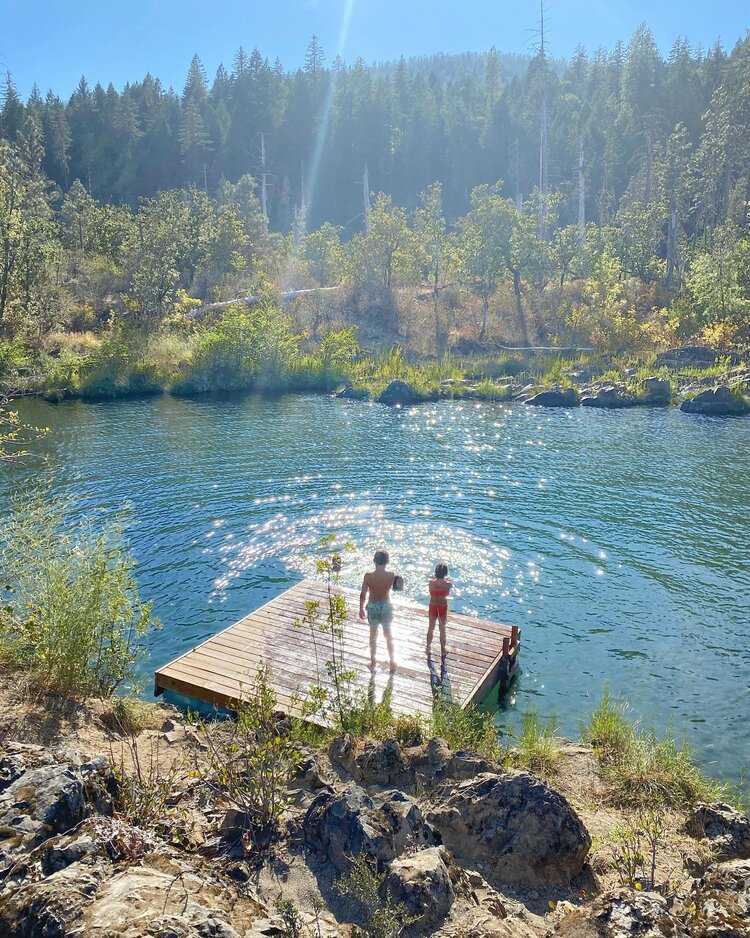 There are times when your spirit yearns to get as close to nature as possible – and, at the River Overlook Dome, you can do just that.
Immersed in gorgeous scenery, Cedar Bloom invites guests to gather and savor its splendor! The campground is close to major cities such as Grants Pass, Medford, Crescent City and Ashland.
What makes Cedar Bloom Farm so attractive is its close proximity to the Redwoods, the Oregon Caves and other scenic and recreational sites worth exploring. Guests have access to several giant meadows, enclosed by groves of towering trees, where they can enjoy leisurely activities.
There are three refreshing swimming spots along the mile-long Illinois River frontage – it's a great place to recharge your spirit.
---
About the 30-foot River Overlook Dome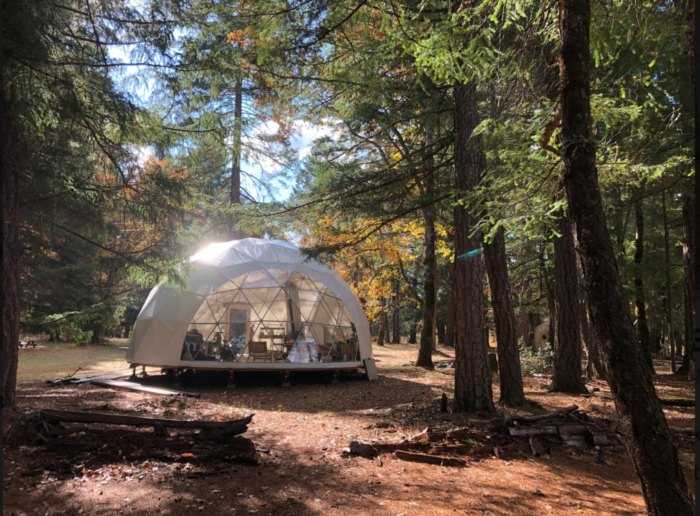 One of a Pacific Dome's amazing qualities is its large bay window, which is perfect for solar passive heating, especially when facing south. The clear marine vinyl allows perfect light transfer, while the luminous architectural fabric cover lends a Zen-like ambiance while allowing for maximum heat gain. With the addition of winter liners in snowy winter climates, many clients have reported that they don't even need to light their woodstoves when the sun is shining.
The 30-ft. Pacific Dome can comfortably accommodate up to four guests. Although the dome is ideal for two to four people, bedding is only included for 2 people – so, if you have children or other guests, feel free to bring extra pads and bedding for the floor area. Please, no shoes in the dome, though
Internet is available yet limited. Cell phone service works great if you have AT&T or Verizon.
While the River Overlook Dome does not have indoor plumbing, the shower and bathrooms at Cedar Bloom are centrally located and offer a relaxing, spa-like experience. The dome includes electricity along with a charming kitchenette. Cedar Bloom hosts invite you to use their lovely, spacious communal kitchen, whenever possible – it's equipped with everything you need to cook your meals!
The dome includes a clean, queen-sized mattress outfitted with a touch of elegance. There's a comfortable lounging couch – the couch is an additional sleeping option.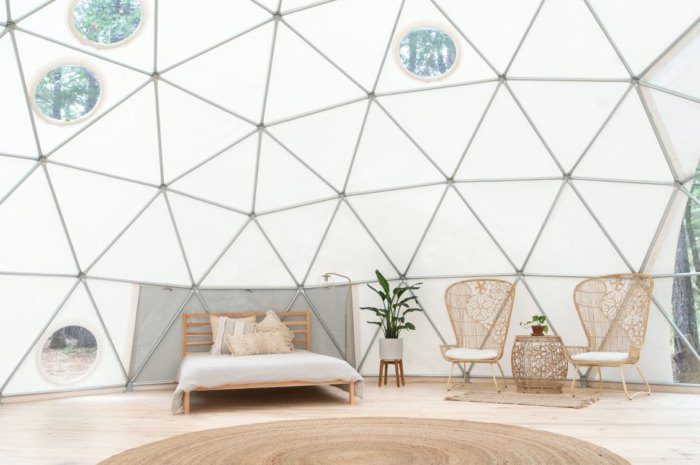 When it's cold outside, the dome has a wood-burning stove, where you can cozy-up and take in the forest views. That said, Cedar Bloom cannot guarantee the stove will always keep the dome warm – due to its solar passive heating, the dome doesn't require insulation during optimal seasonal temps.
However, for your comfort, there are electric blankets inside – and, you can always grab hot-water bottles for extra warmth. If you're looking for added warmth during cooler weather, The Gnome Dome, which is a separate listing, does have an electric stove inside.
Creating a Glamping Dome Experience
Nenah from Cedar Bloom Farm gives a dome tour and offers her insights on what it takes to turn a 30′ dome into a glamping experience. (4:12 minutes)
---
Your Dome can pay your mortgage!
Did you know that your dome can pay your mortgage? Booking sites, such as, Hipcamp have popularized Dome glamping (glamorous camping) as a unique way to experience the outdoors  – the best part is it's free to host. Learn more about Hipcamp Hosting Here.
For additional inspiration, take a map tour of Pacific Domes' glamping domes and eco-resorts around the globe – it's where you'll find everything from private home stays, farm stays and glamping to remote basecamps, yoga retreats and chic eco-resorts.
If you're getting excited and want to learn more about creating a glamping dome, be sure to visit Pacific Domes Knowledge Base of How to Guides. You'll find just about everything you need to get you started on your journey.
---