Pacific Domes of Oregon, the worlds leading Projection Dome and Projection Theater company, providing show stopping, state of the art 360 Degree Projection Systems for Corporate Events, Corporate Parties and Educational GIS Displays.
"The world is our canvas" says Obscura Digital and anyone who has seen any of their projects knows that this quote is no exaggeration. Combine this award winning design team with the incredible structures of its partner company, Pacific Domes, and the end result is many pleased clients and thousands of awe-struck spectators.
The fusion of Pacific Domes and Obscura Digital offers people around the globe a visual adventure unlike anything they've ever experienced. It can be described as going to a world class theater whose presentation wraps around 360 degrees with enchanting picture and video.
Our two main event fabrics are splendid and translucent to allow projected images to be seen both inside and outside the dome. At night, it is magnificent for not only the audience, but dazzling for onlookers as well. For those more private events, or daytime events with interior projection only, we use a durable blackout vinyl, which prevents any images from escaping to the exterior of the dome.
Obscura and Pacific Domes have provided services for many A-list clients including the people at AOL, Canon, Pioneer and others. One of the more recent projects was a product launch for a company who held its event in San Francisco. Inside the dome was full custom content by Obscura as well as a large hologram display, center stage.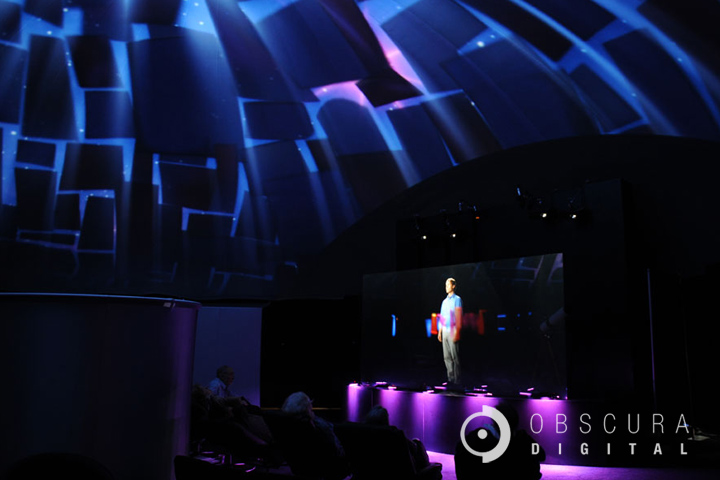 If your goal is to enthrall your audience with a personalized and distinguished visual adventure, then a projection dome needs to be at your next event. Where imagination stops ours begins.