---
"Keep Your Dome Cool and Dry, Come What May" – Pacific Domes
---
Welcome to this blog post, where geodome functionality and comfort come together to create a delightfully fresh and airy Zen-like haven! If you're wondering how to cool your dome during those scorching summertime temps, get ready to make some pleasant discoveries as we explore ecoliving dome home features and benefits – along with tips for energy-efficient and customizable cooling options.
Harnessing Ambient Airflow for Comfort
In a world where sustainability and exerting a light eco-footprint on our environment has become a hot topic, green-building studies have uncovered that domes offer at least 30% more heating and cooling efficiency as compared to standard housing. A deeper dive reveals that domes are naturally energy-efficient due to unobstructed circulation of ambient air and energy flow.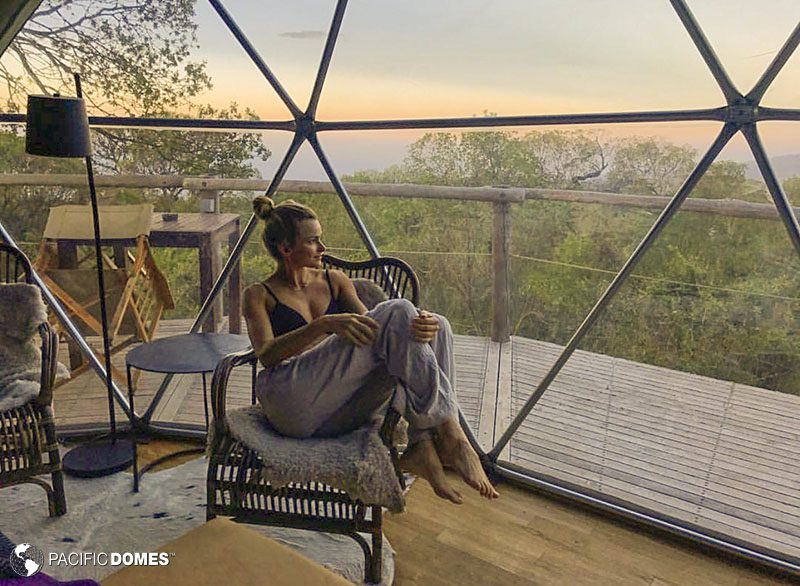 The Key to Effortless Dome Cooling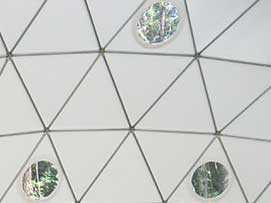 Window Screens – Designed for optimal ventilation, your dome stays cool with a breath of fresh air along a dome's walled surface!
The key to near effortless dome cooling begins by creating optimal ventilation with custom-designed windows and screens to transform your living space.
Each dome comes with a cross ventilation system. Large sections of the side wall open up.
Optional screens are available. Strategically placed custom crafted cooling options ensure that your dome remains a refreshing dwelling space, even during the hottest of days.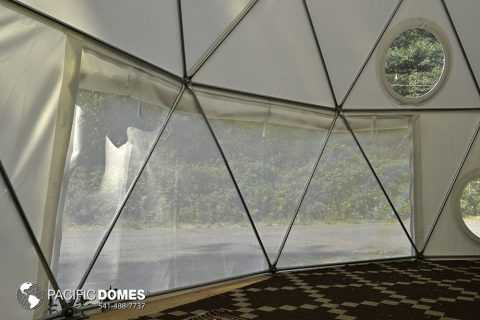 Base-roll-up Ventilation Screens –
Keeping cool inside, pesky critters out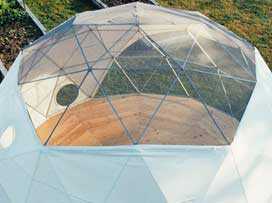 Zippered Roof Screen – Nature's cooling exchange exits warm air from the top.
Picture this: window screens that allow for natural ventilation, base screens that invite ambient air and gentle breezes to circulate freely – and, a zippered roof screen that unveils the cosmos while hugging your dome with coolness from above.
Other Dome Home Cooling Options
When normal ventilation methods aren't enough, many clients have found that solar fans aid with ventilation in areas prone to moderate and excessive rain fall. Solar fans can be placed in any of the round portals to exit hot air from the Dome.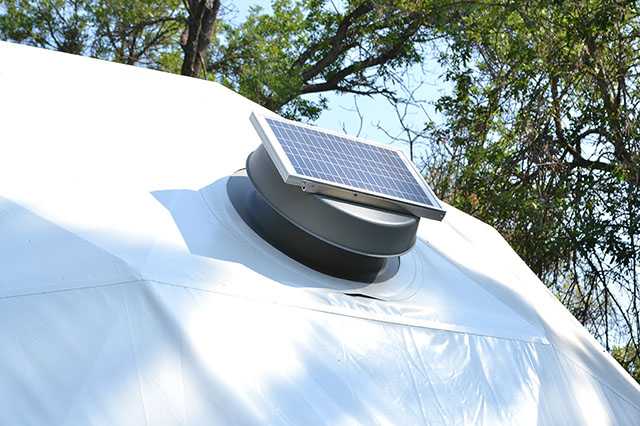 Rain, Rain, Stay Away –
The Solar Fan's gentle air-vent solution
Additionally, Pacific Domes Thermo-Shield® paint can be applied to the exterior of the dome and will protect the dome from UV keeping it much cooler inside. As a Thermoshield Distributor, Pacific Domes is able to pass savings on to our clients – clients benefit from below retail prices.
Portable evaporative coolers, room air conditioners and mini-split systems are, also, very effective in maintaining comfy temperatures inside. Client needs are unique. Pacific Domes always recommends doing your own online research prior to purchasing a cooling system for your dome home.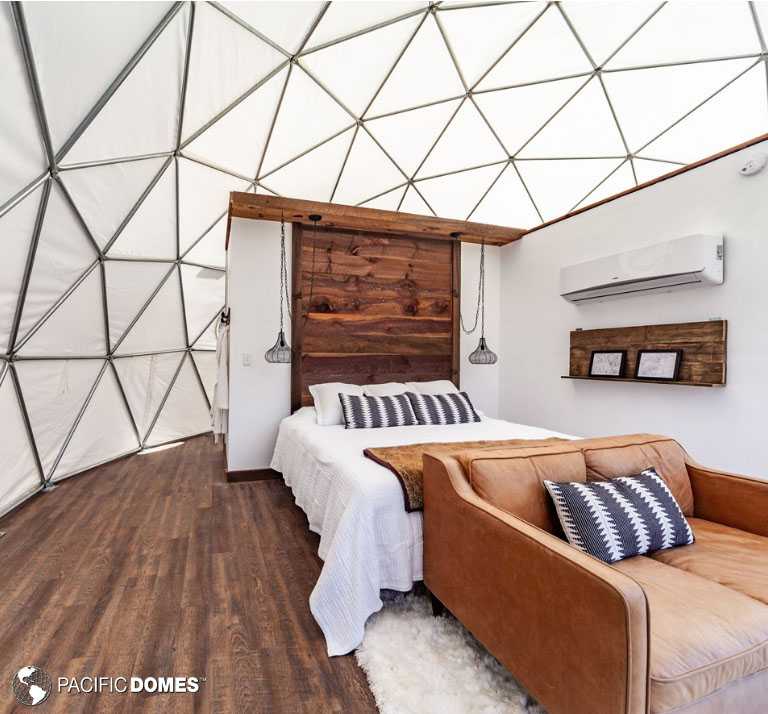 Perfect for Dome Homes a Mini Split air-handler – installed on the bedroom wall!
Consider a Modern Mini Split System for Your Dome Home
Many Pacific Domes' clients use a mini split system for both heating and cooling their domes. A mini split is a ductless solution to heating and cooling dome home spaces. It has an exterior pump connected to one or more interior units – no need for venting.
A mini split system allows you to easily control temperatures in separate zones with one or more thermostats. It goes without saying that a mini-split requires running electric – yet, it's easy to install with a few DIY skills or by hiring skilled labor.
About Mini Split Systems
Mini splits are small in size – no need to purchase an entire HVAC system.
Mini splits are ductless and energy-efficient – no need to run venting throughout your dome.
Installation is easy – option to hire a skilled installer or rely on your DIY skills.
Mini splits can heat or cool separate zones – each zone can have its own thermostat.
Mini splits ensure better air quality because of the triple filtration and humidity control features.
Mini splits Offer better security – unlike exterior-mounted wall units that give easy access.
Low-maintenance – wash each unit's filter monthly for proper maintenance.
Dome Insulation: An Eco-Friendly Barrier for a Cool Dome Oasis
Providing insulation from seasonal weather fluxes, insulated liners are flame-retardant and mildew-resistant. Matching window covers are velcroed-in for convenient operation.
There are several insulation options to choose from:
Thermo-Shield® is recommended for use in both hot and cold climates. It has proven to slice utility costs up to 40%. When applied to the inside of the dome, it can rplace a liner. Thermo-Shield® is a non-toxic elastomeric paint containing ceramic microspheres that can be painted either, inside or outside ‒ has excellent adhesion properties to most substrates.
EcoWool has mold and mildew resistant properties; as well as, fire retardants. It is made of 100% organic felted wool and comes in natural white. Sewn to an outer shell of durable polyester, this cover can also be painted with Thermo-Shield® for added insulation.
---
---
Have Questions?
Our friendly Customer Support is here to answer your burning questions! With years of combined product knowledge they can guide you on your journey from concept to completion.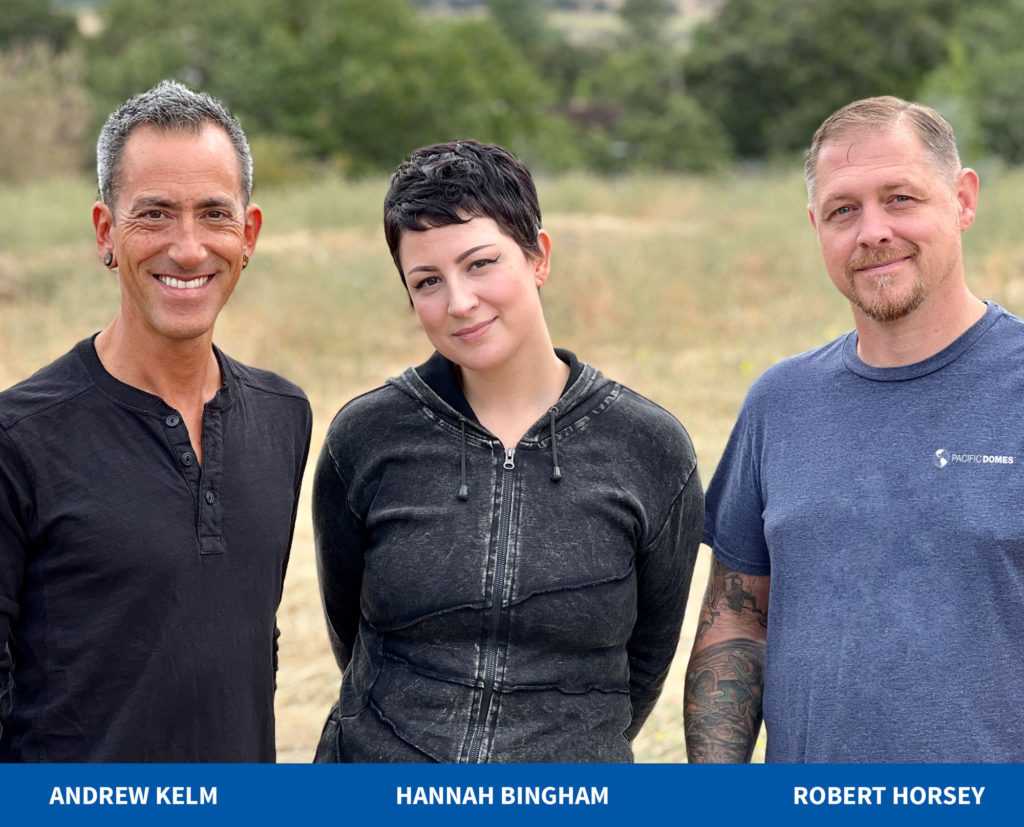 ---