Knowledge Base
| Geodesic Dome Home Specifications and FAQ'S
---
Geodesic Dome Home Specifications and FAQ'S
---
Some wet blankets would have you believe that building a geodesic dome home is wasteful, that it's not a good real estate investment and so on. Yet, they don't offer any alternative options to the downside of building many conventional structures – the wastefulness and high-cost of today's unsustainable housing industry and real-estate market, etc.
In all fairness, while considering the pros and cons that anyone building a dome home should be aware of, there are plenty of convincing arguments as to the benefits and features of prefab geodesic dome homes. While building a dome home isn't for everyone, we hope you'll find this article educational and inspiring – we'll leave you to draw your own conclusions as to whether an ecoliving, alternative-housing lifestyle is for you.
What is a prefab geodesic dome home?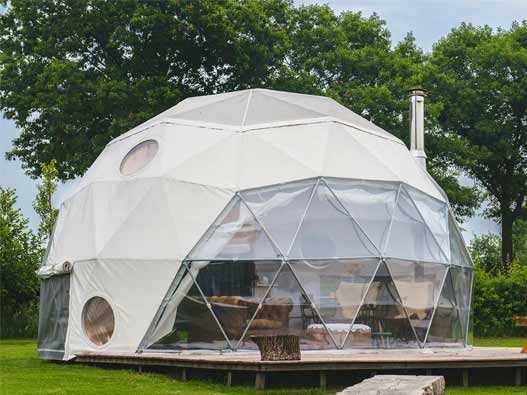 Although, dome homes can be built using any number of commonly available materials, a Pacific Domes prefab dome home is a fabric-covered, spherical shelter composed of intersecting steel triangles that lends its structural strength and energy-efficiency. Credited as the inventor of the modern geodesic dome, R. Buckminster 'Bucky' Fuller, was awarded 28 U.S. Patents and received many awards during his distinguished career; including, a Gold Medal Award from the American Institute of Architects – "A man responsible for the design of the strongest, lightest and most efficient means of enclosing space yet devised by man."
Historically, free-standing geodesic dome shelters have been used for events, greenhouses, equipment storage; as well as, cabins and eco base camps in remote locations where portability and ease-of-set-up was a key factor; notwithstanding, their ability to weather Nature's extremes.
What are the popular prefab dome home sizes?
Are larger sizes available? Yes, larger sizes are most certainly available as a custom option.
What type of frame do I need?
Geodesic dome geometry is one of the sturdiest and most aerodynamic structures ever designed! For areas with snow or strong wind, we will need to consult our engineering specs program to calculate the tubing diameter required for maximum snow and wind loads in your area. You may need to contact your local County Building Department for snow load and combined wind requirements, as well as a seismic rating for your location.
What are dome frames made of? How strong are the frames?
Our dome frames are made from galvanized steel. The steel, in conjunction with the geodesic design, creates an amazingly strong structure using a minimal amount of material. Geodesic domes are world-renowned for their strength and integrity. Depending on your situation and needs, we offer 'Extreme' 1.9", 'Burly' 1.66, and our 'Standard' 1.31".
What type of cover do I need?
The main consideration in choosing fabric covers for your dome is longevity. The two causes of deterioration are UV and mildew. If you live in a dry desert-like area with high UV, we recommend Thermo-shield paint, which reflects heat and UV off of the dome cover and dramatically extends the cover's life expectancy. We also recommend SunShield because of its additional laminate coating offers protection against UV and it's easy to clean and are more resistant to mold and mildew.
More Dome FAQ's…
What do I need to do to take good care of my dome?
Cleaning your SunShield cover every 180 days (6-months) will ensure your dome retains its new and clean appearance and prolongs the life of your dome cover. We recommend that you do periodic inspections and don't allow dirt or stains to build up on the fabric. Be sure to clean both interior and exterior walls as needed.
You can clean your dome using your garden hose with a spray nozzle attachment and/or a mild soap solution and scrub brush. Only use mild soap and water with a SOFT bristle brush or rag on your dome. NEVER USE SOLVENTS, HEAVY BRUSHES, WIRE PADS OR HIGH PRESSURE STEAM CLEANERS TO REMOVE DIRT OR STAINS OFF YOUR DOME. Remember to rinse the dome thoroughly with water after cleaning to remove any traces of cleaning solutions.
Maintenance Tip: It's recommended that you regularly brush out the bottoms of all the window pockets where the rain will wash down dirt and leaves; as well as, the bottom of the dome, where dirt collects between the cover and the floor.
NEVER ALLOW ANY TYPE OF SOLVENT TO COME IN CONTACT WITH THE SURFACE OF THE DOME, AS IT WILL DAMAGE OR REMOVE THE TOP COAT. THIS INCLUDES MEK SOLUTIONS, PETROLEUM AND SILICONE BASED PRODUCTS.
How do I clean off mildew?
Although this question is related to the previous question, it deserves to be addressed separately. In order to prevent mildew in climates prone to humidity, it's important to keep your dome well-ventilated and dry. When storing your dome cover, keep it as dry as possible. Sponge down all mildew areas with a strong bleach solution (1 part bleach to 4 parts water). Wear gloves and keep your dome well-ventilated to avoid inhaling fumes. Mildew will turn pale when it dies. Always rinse with clean water following any bleach treatment!
Natural mildew treatments:
| | | | |
| --- | --- | --- | --- |
| 2 ½ gallons water | 20-drops Tea Tree Oil | ¼ cup Borax | ½ cup white vinegar |
| | | |
| --- | --- | --- |
| Hydrogen Peroxide | Lemon Juice | Borax |
3. Watch our video on How to Clean a Dome.
I am wondering about zoning restrictions related to residential dome structures in an urban setting.
Zoning and building regulations vary from city to city and county to county. Our seasoned staff is happy to provide a structural analysis document that will meet county requirements for seismic, wind load, and snow load. This usually satisfies building departments in most rural areas.
At Pacific Domes, our domes are promoted as alternative housing. Considered temporary or semi-permanent structures – as such, permitting has not been required in many areas. The growing popularity of geodesic domes as alt-shelters mirrors the burst of the tiny home movement.
Over the years, Pacific Domes has put up many smaller size domes within city limits in back yards with no issues. These days, it's quite likely that a large dome used as a primary residence within city limits will require approval from your local Building Department. Unless you're considering a backyard garden studio or greenhouse, why would you want to build your primary dome dwelling in one of those typical cookie-cutter neighborhoods and risk sticking out like a sore thumb, anyway? For the most part, our dome homes appeal to nature lovers – we like to encourage our clients to explore building an off-grid dome home where they're surrounded by a private Nature retreat!
Encroaching regulations imposed by building departments has given rise to the need for building permits in densely populated regions of the country where tract homes are the norm. It's a personal decision that individual clients make on their own once they have weighed-in on their options.
What is the shipping size and weight?
The shipping size and weight of each sized dome package can be found on the appropriate dome size page. Up-graded frames and added components will increase the standard weights listed on our website. Please contact us with your specific dome needs for the most accurate weights.
---
Were Here to Help!
No matter whether your project is large or small, our friendly Customer Support team is happy to assist you with realizing your dreams. Don't hesitate to contact us for further assistance.