Home gardens are an integral part of family food security. Educated consumers want to know where their food comes from ‒ that it's fresh, pesticide-free and safe for their family to eat.
In other words, discerning shoppers, concerned about their family's food security, are opting for real homegrown food. Farmer's Markets continue to increase in popularity, rising to meet the burgeoning interest in boosting food production at a local level. More and more people are exploring ways to harvest farm-to-table produce in smaller, manageable spaces, such as backyard or community gardens.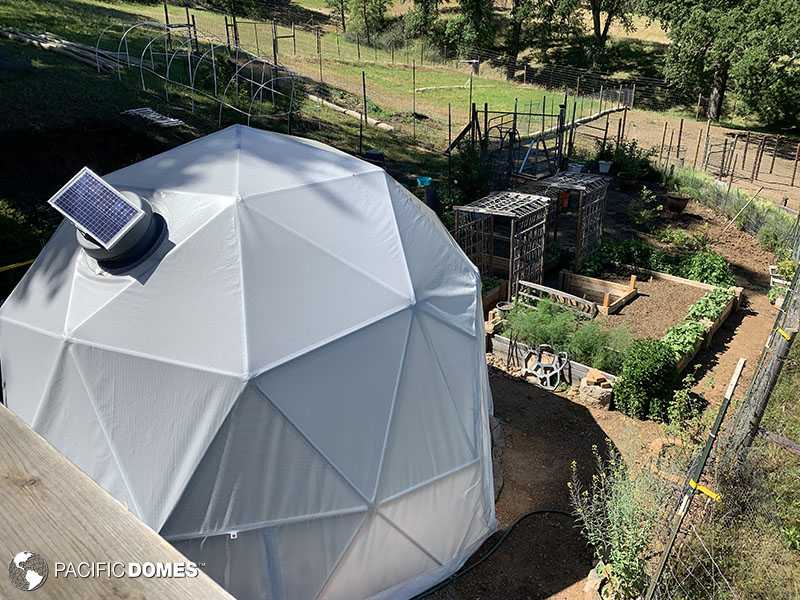 The optimally controlled environment of a geodesic greenhouse dome makes it possible to take charge of your family's food security ‒ thus, creating a partial or fully automated ecosystem that's efficient, fun and rewarding for the entire family. When exploring and comparing less expensive greenhouse kits available in big box stores, people are pleased to discover that geodesic greenhouses offer the best all-around growing environment for maximum yields.
Mycology
The understory of every natural environment is fantastic fungi. Growing table mushrooms has become part of the family greenhouse adventure. Mycelial inoculated logs are easily purchased and fun to grow, supplying your family with a nutritious source of protein.
Benefits of Geodesic Greenhouse Domes
"I invented a way of enclosing space with what's called a geodesic dome, which is very much stronger and more efficient than other ways of enclosing space" — Buckminster Fuller
The unobstructed spaciousness of the greenhouse dome's interior structure offers limitless design possibilities from raised bed gardens to vertical growing towers. Its circular design encloses the greatest volume of interior space with the least amount of surface area.
Synergistic Benefit: Studies, backed by data, have uncovered that geodesic greenhouse domes have a beneficial effect on both plants and people. Scientific conclusions, derived from extensive research into bio-geometrical shapes, determined that the inherent frequency of geodesic design produces the highest vibrational environment, beneficial to both humans and healthy plants. For more information see the energetic qualities of domes.
1) Extended Year-Round Growing Season
Did you know that geodesic structures make great year-round greenhouses and can be found around the globe, from tropical climates to Arctic regions? With near-seamless efficiency, one of the primary benefits that dome structures offer home and community gardens is an extended growing season ‒ especially relevant, to less moderate climates.
2) Geodesic Greenhouse Structural Strength
Geodesic domes are composed of inter-connected triangles that give them unparalleled structural strength. Buckminster 'Bucky' Fuller, father of the modern geodesic dome, demonstrated the difference in strength between a rectangle and a triangle by applying pressure to both structures. The triangle proved to be twice as strong ‒ and, remained rigid while the unstable rectangle collapsed.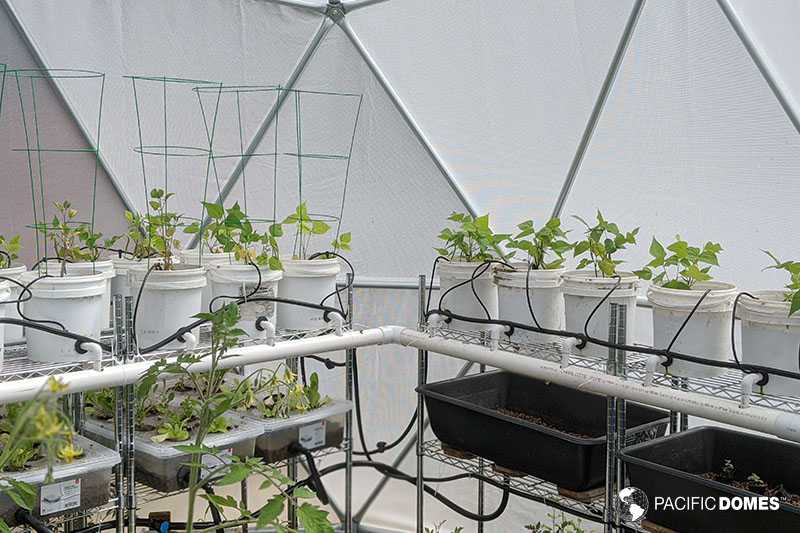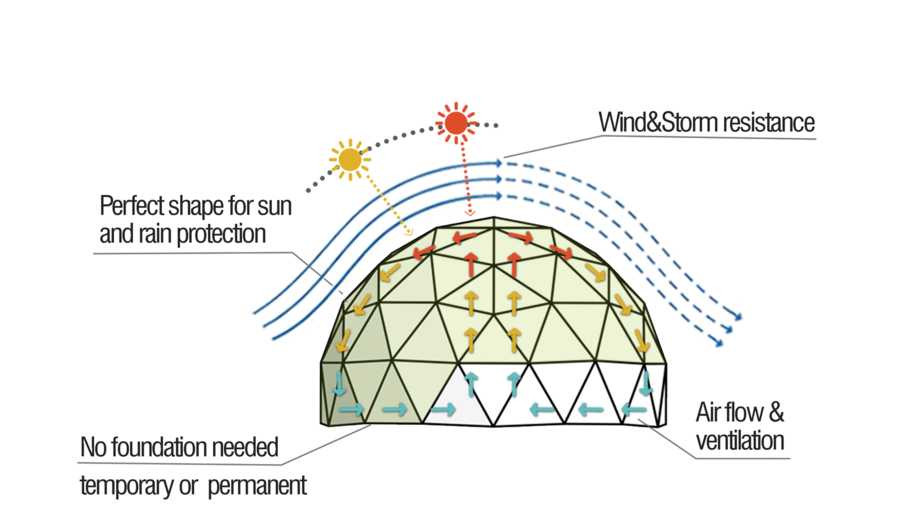 The American Institute of Architects calls the geodesic dome "the strongest, lightest and most efficient means of enclosing space known to man." Pacific Domes prefab greenhouse kits are manufactured in the USA, using the highest tensegrity (tensional integrity) geodesic-engineering standards.
3) Cost Effective and Energy Efficient
Rated as one of the most efficient interior spaces, the dome design allows air and energy to circulate without obstruction. This enables natural heating and cooling.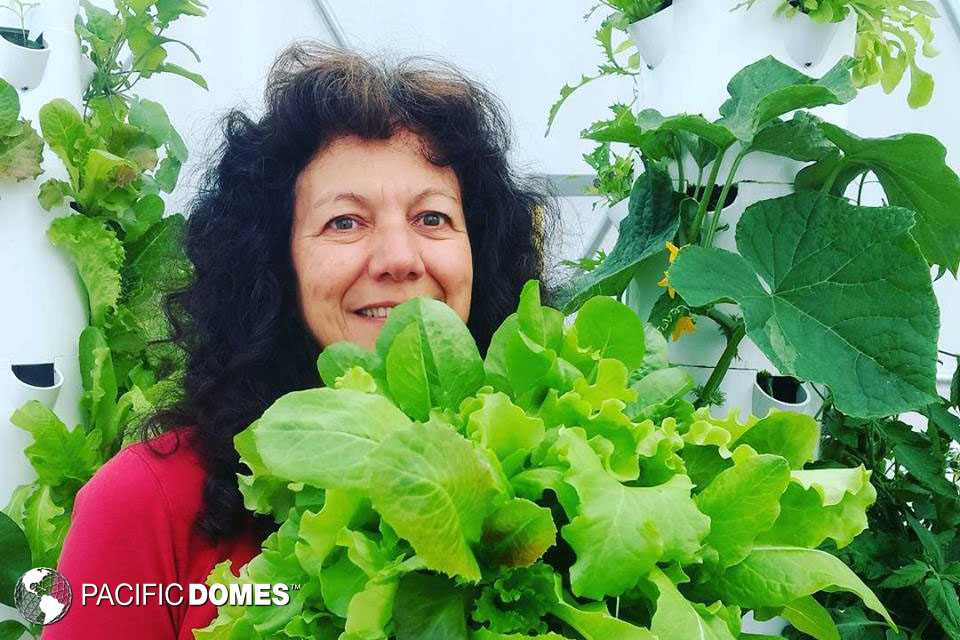 Specifically, a dome is cost effective and energy efficient for the following reasons:
Its decreased surface area requires less building materials. Bucky Fuller reintroduced the idea that when a sphere's diameter is doubled, it will quadruple its square footage, producing eight times its volume.
Dome studies, comparing same-size traditional structures, have shown a 30% energy savings.
As per the Buckminster Fuller Institute, geodesic domes are energy efficient for this reason: "The concave interior creates a natural airflow that allows the hot or cool air to flow evenly throughout the dome with help from return air ducts. Extreme wind turbulence is lessened because winds that contribute to heat loss flow smoothly around the dome. Additionally, the spherical dome shape acts like a type of giant downward reflector, concentrating interior heat and preventing radiant heat loss."
Due to less surface area per unit of volume, there's decreased exposure to cold in winter and heat in summer.
Extreme wind turbulence is lessened because winds contributing to heat loss flow evenly around the dome. And, in windy areas, clients choose geodesic greenhouse domes because they withstand high winds, whereas, conventional greenhouses would have been destroyed.
4) Portability and Ease-of-Set-up
With a few DIY skills, a ladder and some hand-tools (ratcheting tools), a small crew of 2-4 can assemble a small to mid-sized greenhouse dome kits in less than a day. Commercial sizes may require trained field crews.
5) Durability and Life Expectancy
Longevity is uppermost in people's minds when considering greenhouse kit options. Thanks to its inherent geodesic strength, greenhouse frames can last a life-time and beyond. Made of galvanized structural steel and engineered to the highest Industry Standards, the Geodesic Greenhouse Dome has been known to be the only structure left standing after a natural disaster. UV resistant Greenhouse Dome Covers can last 20-years with proper maintenance.
Ecological Benefits of Geodesic Greenhouse Domes
Exerting a light footprint In a world that has become increasingly unsustainable, geodesic greenhouse domes are universally-recognized icons of sustainability. Prefab BioDome greenhouses are suited to sensitive Ecocentric (nature-centered) environments.
Their portability makes domes the preferred choice for remote locations. And, they can be easily assembled and disassembled without adversely impacting the environment.
Designing Your Greenhouse Dome
"The world is suffering from loss of growing habitat, genetically modified seeds and global warming. Aquaponics empowers growers to stay ahead of climate change, making it the future of sustainable farming. An outdoor geodesic dome can house the system, and we enjoy maximum yields from little labor. It's an ethical way to make healthy, quality food, affordable and profitable." ― Erik Oberholtzer, Tender Greens Restaurants
Things to consider:
Design • Site Selection • Foundation Options • Building Permits • Installation Options
Designing and outfitting your dome begins with asking yourself what type of system works best for you. Modern technology has made it possible to install systems that are fairly self-regulating and require very little maintenance, such as an aquaponic or vertical tower system.
You may wish to explore the convenience of both a closed-loop aquaponics system and a grow tower system. You'll be pleasantly surprised at how much food you can continually harvest… you can grow enough pesticide-free organic produce for your entire family, friends and even share your abundance at a local Farmer's Market!
Pacific Domes attributes our success to the large community of greenhouse dome enthusiasts that have sparked our design concepts and fueled our company culture over the past 40-years. You've asked if it's possible, and we've responded with, Sky's the Limit!
Available in various sizes, from backyard to commercial sizes, Pacific Domes prefab geodesic greenhouse dome kits offer the biggest-bang-for-your-buck. Check out our greenhouse pricing brochure Here
Also, be sure to visit Pacific Domes Greenhouse Gallery for inspiration.
Get started today by exploring a variety of available sizes and customized options.
The Pacific Domes sales and support teams are there to assist you each step of the way. We're here to answer your burning questions during hours of operation (PST).