"Building Sustainable Communities Through Spontaneous Co-operation" — Pacific Domes Inc.
A Bright Ecoliving Future
It is predicted that by the year 2050, well over 70% of the human population will be made up of urban dwellers.  Modeling a sustainable and scientific approach to growing, the urban farm domed greenhouse challenges city infrastructures to address the urgent need for creating fresh, abundant local food sources.
BioDome projects (enclosed dome-like ecosystems) are rising to meet the challenge of responsible environmental stewardship through earth-based science.  Forging a new era and working toward the future of life on Earth and beyond, NASA's BioDome is a working model of such an enclosed, controlled and self-sufficient eco-system.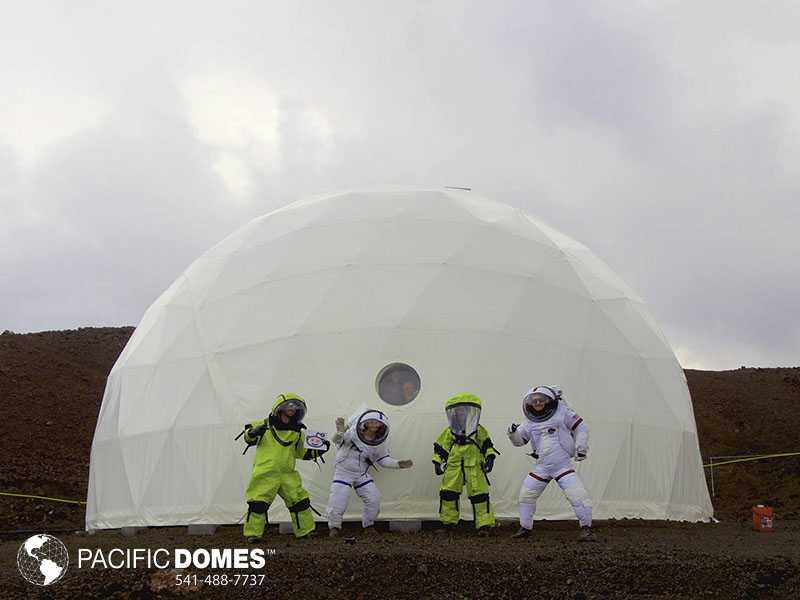 To test some of the possible challenges of living on Mars, NASA, HI-SEAS (Hawaii Space Exploration Analogue & Simulation) and Pacific Domes of Southern Oregon, teamed up in early 2013, to erect a 36ft. geodesic-engineered BioDome on the northern slope of Mauna Loa, Hawaii. Mission Mars BioDome research continues in this dome in January for another 8 month stint for crew members.
Why Domed Greenhouses?
Integrating the innate Intelligence found in Nature's self-sustained ecosystems, the spacious interior of an urban farm domed greenhouse closely replicates outdoor environments, providing natural filtered sunlight and optimal air flow.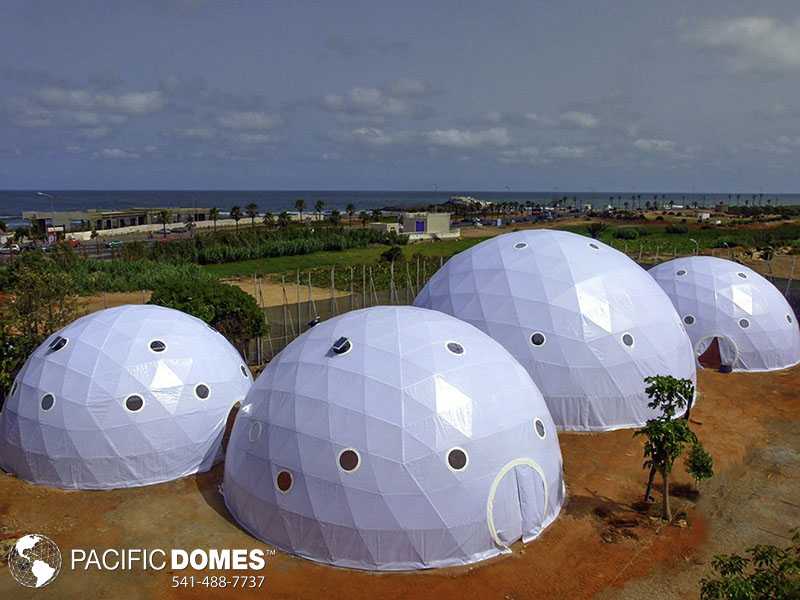 A domed greenhouse offers innovative opportunities for organic growing methods of food production; such as, vertical tower farming, aeroponics, aquaculture and hydroponics with balanced organic liquid formulas. Here's a few valid reasons why domed greenhouses make good sense:
Strength: Arguably, the most obvious reason is the superior geodesic-engineered strength of BioDome greenhouses, making them the strongest greenhouse structure known to man. Geodesic dome structures have been erected worldwide, due to their inherent ability to withstand the forces of nature – such as extreme temperatures, winds and earthquakes.
Sustainability: Building sustainably with a light eco-footprint, portable prefab BioDome greenhouses come in many sizes and are suited to sensitive Ecocentric (nature-centered) environments; and, they can be assembled quickly with basic hand-held tools.
Spaciousness: Buckminster Fuller discovered the doing more with less principle, in that the dome encloses the largest volume of interior space with the least amount of surface area, thus saving on materials and cost. Bucky Fuller reintroduced the idea that when a sphere's diameter is doubled, it will quadruple its square footage, producing eight times its volume.
Synergistic: A benefit derived from extensive research into bio-geometrical shapes, further fuels scientific conclusions that the inherent frequency of geodesic architecture produces the highest vibrational environment beneficial to both humans and healthy plants.
Efficient: According to the Buckminster Fuller Institute, geodesic domes' concave interior "creates a natural airflow that allows the hot or cool air to flow evenly throughout the dome with help from return air ducts. Extreme wind turbulence is lessened because winds that contribute to heat loss flow smoothly around the dome. Additionally, the spherical dome shape acts like a type of giant downward reflector, concentrating interior heat and preventing radiant heat loss."
Geodesic Dome Greenhouses (3:40 min.)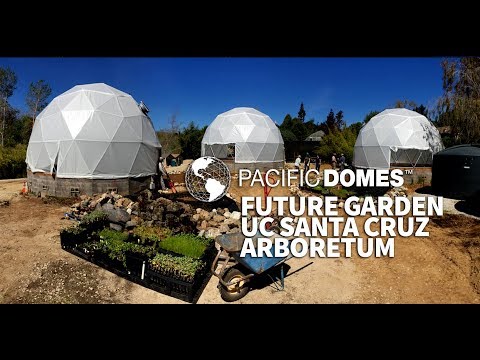 Domed Greenhouses began as simple structures meant to keep tropical plants warm during the winter. Later they were, and are, used to extend the growing season. Domed greenhouses do all this, plus they can do things no other greenhouse can do. The geodesic design is self-insulating, and amplifies winter lighting. This makes them the 21st Century choice.
More reasons why domed greenhouses make good sense…
In a recent interview, Ray, an Aerospace & Avionics Engineer (former NASA Contractor), with over 40 years work experience says, "I have been researching atmospheric anomalies, and specifically the Upper Oxone layer since 1994 – last year after returning from Mount Hamilton in California, I performed a statistical probability of the exponential rate of decay of our ozone layer and determined that if all the SAI, SRM, and the military weather programs continued unabated, that in 2025 we could no longer grow crops on the earth surface."
Be the change you want to see!

Aerodynamic and hurricane proof!  Pacific Domes encourages the world to think Geodesic Dome, the strongest structure known to man! 
Pacific Domes manufactures prefab domed greenhouse kits.  Find out for yourself, why BioDome Greenhouses and Grow Dome Kits offer a bright sustainable future by browsing their gallery of geodesic-engineered greenhouse building systems.