Emergency Geodome Tents for Relief Efforts & Refugee Camps by Pacific Domes
"Our Eco-Friendly Geo-Engineered Portable Dome Tents Are Rapidly Deployable"
— Pacific Domes Inc.
Portable Geodome Tents for disaster preparedness, emergency relief efforts and portable tent cities & refugee camps are engineered to withstand harsh extremes during all types of natural earth changes and tragic man-made events. A USA manufacturer with a global outreach, Pacific Domes takes disaster preparedness seriously, leading the way forward with the finest geodome tents on the planet.
Emergency Preparedness plans begin with erecting free-standing medical tent shelters amidst the chaos. Following the storms of this past century, Disaster Preparedness is now taken more seriously by communities throughout the World. A portable first-aid shelter continues to remain high on the priority list.
The next step in creating infrastructure order from in the aftermath of a disaster is the immediacy for humanitarian tent housing, food & water storage, and waste disposal. Portable electricity and plumbing for hygiene are necessities in establishing tent cities and refugee camps. The formation of meeting places for empowering community volunteers and sparking the spirit of 'Contributionism' based on skills and training is essential, as well as creating temporary centers for social activities, training and schools.
Pacific Domes portable dome villages are the perfect solution when it comes to rapidly deployable shelters. Pacific Domes brings over 35 years of industry expertise in organizing donated dome shelters for various relief efforts. Pacific Domes most recent hurricane relief efforts have been during the 2016 Hurricanes that hit the southeast United States, Haiti, and Mexico.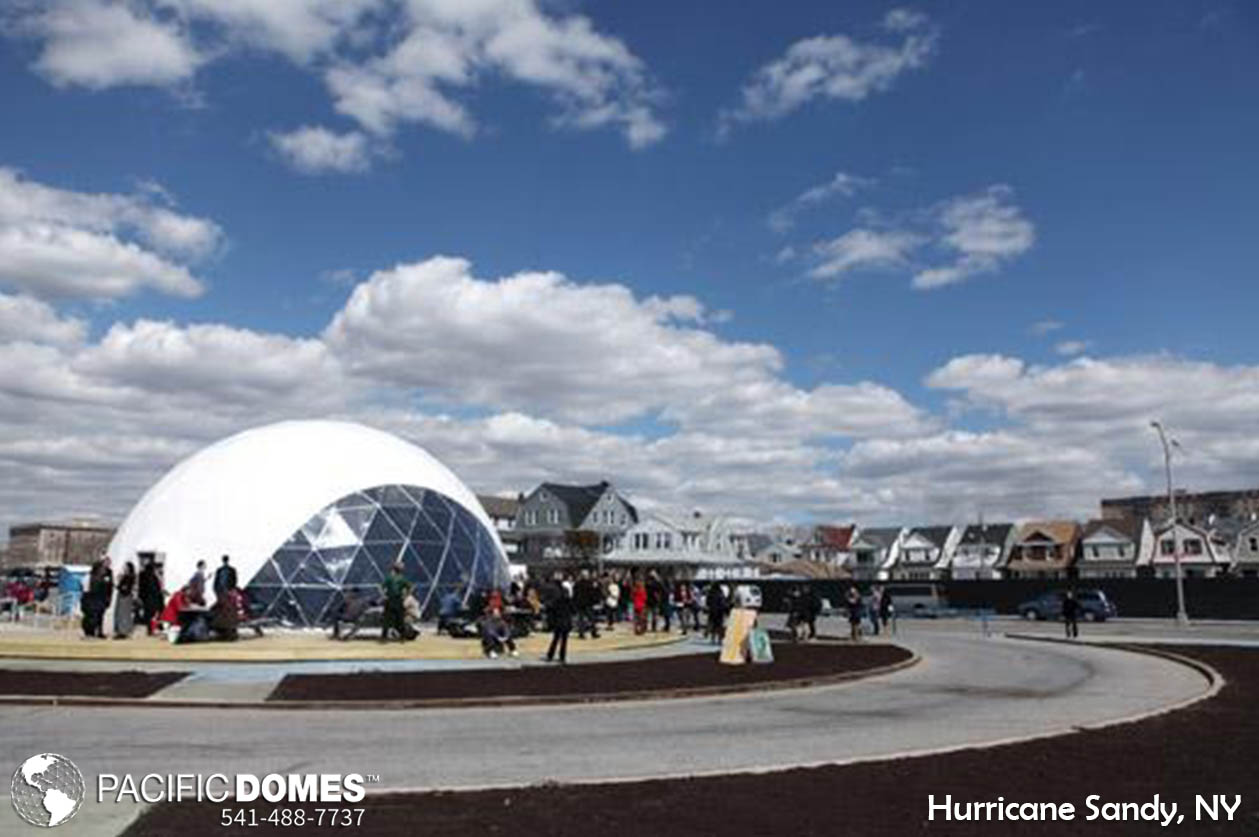 There are continuous reports of the geodesic dome being the only structure left standing after a hurricane. As hurricanes continue to devastate many coastal communities, Pacific Domes encourages the world to consider 'geodesic dome' as the best immediate response, the strongest structure known to man… aerodynamic and hurricane proof!