"Geodesic Domes are the strongest most energy efficient structure known to man" — Pacific Domes, Inc.
---
When exploring the pros and cons of off-grid living in alternative housing, you'll want to look at the benefits dome life has to offer. Saving you thousands of dollars in construction costs, prefab dome home kits are affordable and easy to assemble – even if you've never built anything before.
Dome life provides domesteaders with peace of mind, knowing that their dome home shelter has been time-tested for its durability, longevity and ability to withstand Nature's extremes. Regardless of whether you're looking for a temporary or a more permanent alt-housing option, you can enjoy the spaciousness and comfort of dome life for many years to come – affording you time to focus your energy on priorities associated with building a homesteading lifestyle.
Why Dome Life?
As people search for a safe haven to retreat to during times of extremes, there's no question that the recent urban exodus has fueled the tiny house movement. That said, do you really want to sacrifice headroom and creature comforts when, for a modest investment an ecoliving dome life offers such a reasonably priced choice?
Dome FAQ: A dome home's circular design encloses the largest volume of interior space with the least amount of surface area.  When the dome's diameter is doubled, it quadruples its square footage and produces eight times its volume.
There's nothing tiny about living in a dome home. People love a dome's open floor plan and high vaulted ceilings. And, there are no interior load-bearing walls to obstruct your dome's interior design.
Its an Alternative Shelter Solution
Structural Advantages: In the world of architecture and structural engineering, geodesic dome shelters have proven to be the most efficient human shelter, bar none. Dome homes have been known to be the only structures to survive major earthquakes, tornadoes, hurricanes and fires. As per FEMA (USA), dome homes are strong enough to withstand EF5 tornadoes and Category 5 hurricanes – and, have a natural resistance to seismic events up to 8.5 (and higher) on the Richter scale.
Energy Efficiency: When he invented the geodesic dome, Buckminster Fuller understood that real wealth is energy – hence, energy-efficiency was his priority. Dome studies have revealed a 30% heating-cooling efficiency, due to the sphere's unobstructed air and energy flow.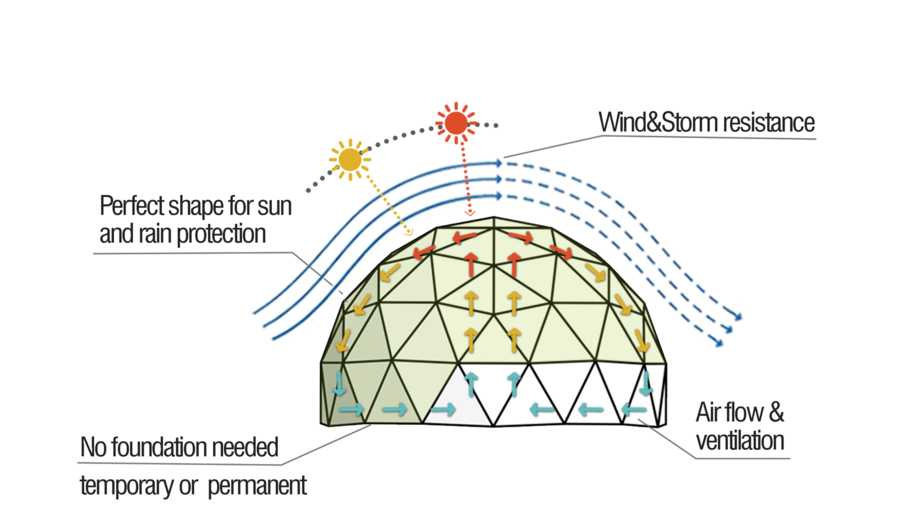 Portability: Portable ecoliving domes are suited to all types of terrains; are fully deployable and can be erected in hours with friends and a few simple hand tools. A 20-ft Nomad Dome is the perfect size for for digital nomads and Nomadic lifestyles.
Cost-effective: If you're looking for ways to save money on construction costs, prefab dome home kits hold an economical pricing edge over other alternative home shelters. Considered temporary shelters, meaning that they can be taken down when no longer needed, simplifies or bypasses many permitting requirements and local building codes altogether.
For those desiring creature comforts, technological advances now make it possible to take advantage of a fully responsive and dynamic living experience that can be customized to suit your needs. An array of sensors and digital controllers embedded around the dome is responsible for looking at all the variables, such as monitoring dome home security, lighting, and opening-closing vents for optimal climate control.
Once you've explored the Knowledge Base FAQ's and Support Topics, you'll love learning about all the  dome home features and versatile dome home uses – you'll wonder why you haven't invested in the living large dome life sooner.
What is Domesteading?
Domesteading is a resurgence of the much larger off-grid, back-to-the-land movement. Ironically, prompted by emerging technologies, domesteading has gained popularity as more and more people have become educated and sensitive to the ecological impact we humans have on our environment.
While this lifestyle isn't for everyone, recent pandemic-related issues have prompted more and more people to ask, "Why would I want to live in a stressful urban environment, when I can be enjoying the self-sufficient freedom of an ecoliving lifestyle?" Living sustainably, immersed in Nature is what reconnects us to who we are as biological beings. To name just a few of the benefits of domesteading – abundant health, wellness and family food security.
Pacific Domes Featured on Discovery Channel Domestead
A Must See! You don't want to miss this exciting episode of Homestead Rescue where the Raneys assist a family to prepare their cliffside domestead tosurvive and thrive during harsh winter snows.
Bordering the Payette National Forest, Garden Valley lies northeast of Boise, Idaho. "No Place Like Dome" (1:40-minutes) premiered on The Discovery Channel's Season 9 – Episode 3 (10-31-21).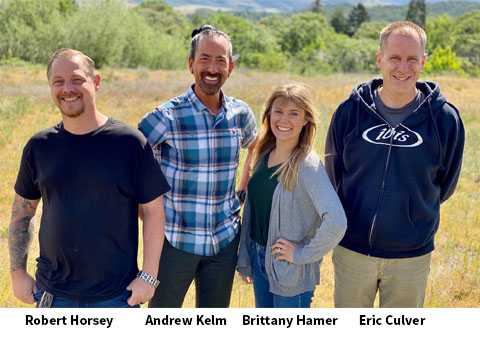 If you're among those looking for a simpler, back-to Nature lifestyle, we invite you to explore ecoliving dome life and domesteading. Visit with one of our friendly Customer Support Representatives today.