"Do it in a dome!" — Pacific Domes, Inc.
To Celebrate Community Ecoliving at Black Rock Playa, Pacific Domes is offering 50% off our regularly priced 20 ft. Glamping Domes thru the end of August 2017. This offer is limited to our in-house inventory and won't last long at these prices.
The Black Rock Desert Playa is host to the famous Burning Man annual gathering of eclectic 'out-of-the-box' thinkers, inventors, artists, visionaries and a rowdy bunch of peace loving groupies who like to camp and listen to music underneath Nevada's starry skies. This year's festival begins August 27th and runs through September 4th, 2017.
Pacific Domes at Burning Man 2016
Condition: New
Type: Glamping
Size: 20ft. (5m)
Ceiling Height: 11.875ft. 6in. (3.6 meters)
Floor Area: 296 sq. ft. (27 sq. meters)
Serial Number: DB2021APR2017BO
INCLUDES
Accessories: 2 Base Roll-ups, 2 Base Roll-up Screens, Door Screen, Custom Anchors
Cover Fabric: White /White Blackout Vinyl
Frame: 1.315″
Doors: Hoop
Windows: 6
PRICE
List Price: $8,800.00
DISCOUNT: 50%
SALE PRICE: $4,400.00
YOU SAVE: $4,400.00
25 IN STOCK
Great for Small Groups!
DIRECT LINK TO SALE: https://pacificdomes.com/domes-on-sale/#20ft-glamping-dome
If you've been wanting to experience the adventure of dome glamping, now's your opportunity to get in on some spectacular savings! You can share expenses by sleeping, cooking and much more in the safety and comfort of a glamping dome.
To get a better idea of what you can expect from dome glamping, check out domeglamping.com.
Tips for Black Rock Playa Ecoliving
Learn about some do's and don'ts for Playa Living at the Playa Base Camp. If you're planning on attending Burning Man, you'll find these tips for Playa ecoliving helpful: Playa Ecoliving Guide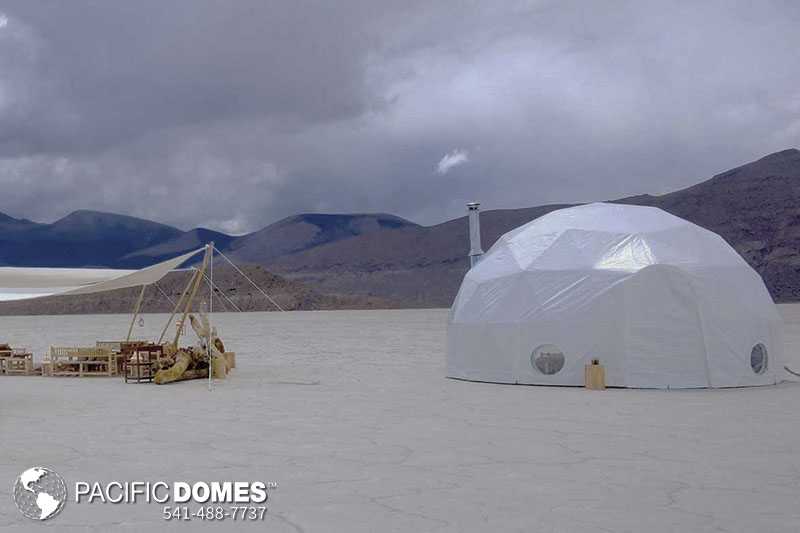 Pacific Domes has been blazing the trail since 1980 with over 35 years of industry expertise. The ecoliving dome manufacturer offers rapidly deployable Zen Domes that are gorgeous works of geodesic engineering.
Based in Ashland, Oregon, Pacific Domes is an award-winning family owned business, and we've been proudly manufacturing made in the USA domes from U.S. steel since 1980. In addition to manufacturing the best geo-engineered structures in the world, finding creative solutions to satisfy your needs and manifest your dreams is what we love to do best.