Mobile Virtual Reality & Augmented Reality Projection Domes by Pacific Domes
"Our VR Projection Domes are dedicated to the advancement of Highly Immersive Virtual Environments for experiential marketing, entertainment & education technology." ― Pacific Domes, Inc.
Welcome to the persuasive power of immersive projection domes! Activating every sense, VR (Virtual Reality) & AR (Augmented Reality) Immersive Environments place your audience right in the heart of your message or story.
Experiential marketing is one of the most powerful tools you can use to generate brand awareness. Creating an immersive experience is what full dome projection brings to your experiential marketing strategy.
Learn and Network with Experts
If you want to gain more knowledge about the latest in experiential marketing, fulldome showcases and technology, you'll want to visit the annual Imersa Summit at the Center of Science & Industry (COSI), Columbus, OH. Imersa Summit is a great opportunity to visit live exhibits, attend sessions and network with industry experts and peers.
The 2017 Imersa Summit brought together a distinguished community of cutting-edge VR fulldome, planetarium, giant screen and immersive entertainment professionals committed to advancing this burgeoning industry.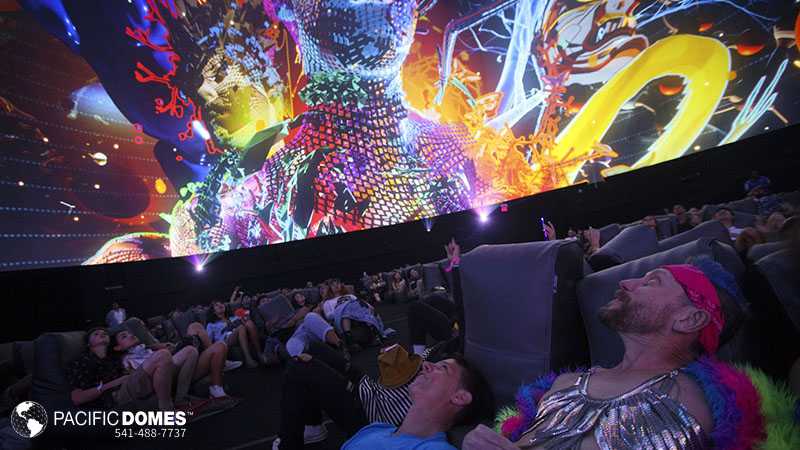 Mark your calendar, as the annual 3-Day Imersa Summit continues the conversation in 2018, February 24th thru the 27th.
The Role of Immersive Projection Domes in Experiential Marketing
VR projection domes play a key role in the future of experiential marketing. Immersive 360° projection domes have an influential multi-sensory impact, and the open space of the VR projection dome theater provides the perfect spatial platform for shared human interactions.
A 360° visual stimulation, paired with booming surround sound systems and hands-on demonstrations, creates a lasting organic connection. This is the ultimate experience you can provide your audience.
Immersive environments are the cornerstones of VR & AR Projection Event Domes by Pacific Domes. Pacific Domes works with some of the world's best 360° Projection companies to create HIVE theaters and planetariums using the latest in VR dome projection(GISs) mapping.