"Your Patrons will love the outdoor dining dome experience" — Pacific Domes
Become Everyone's Favorite Dining Hub – Move your eating establishment outside!
People are looking for a memorable dining experience ‒ a spark of romance spiced with a dash of adventure. Igloo-style Dining Dome Tents are the latest entrepreneurial tidal wave to hit the waterfront restaurant scene during these unprecedented times of social distancing. Turning the tide of adversity into opportunity, waterfront and floating pavilions, are catching receptive public reviews and reaping financial rewards for dining establishments situated near water ‒ seasides, harbors, marinas, rivers and lakes.
Protection from the elements
A weather-resistant geodesic dome is a big draw for waterfront restaurants who wish to offer a unique dockside dining experience. Compared with inexpensive igloo-style pop-up tents that don't meet local building and fire-safety codes or hold up to unexpected situations, geodesic dining dome tents are designed to withstand Nature's extremes. Geodesic-engineered steel frames by Pacific Domes, handle extreme wind and snow loads ‒ as well as, accommodate heating-cooling systems.
The naturally illuminated beauty and tensile strength of long-lasting UV resistant, flame-proof and waterproof covers give dining dome tents a spacious interior atmosphere ‒ a Zen-like closeness with Nature. Dome covers are available in a variety of colorful indoor and outdoor fabrics with accessories and options to choose from. Translucent covers may be customized depending on need and usage.
The versatility and functionality of portable domes offers limitless possibilities for design creativity. Domes support most lighting and sound equipment. Various types of floorings can be installed to provide a comfortable and aesthetically pleasing unique environment for every function.
Suited to all types of terrains, the spherical design of a dome encapsulates the largest volume of interior space with the least amount of surface area. When the dome's diameter is doubled it will quadruple its square footage and yield eight times the volume, thus saving on materials and cost while ensuring a light eco-footprint.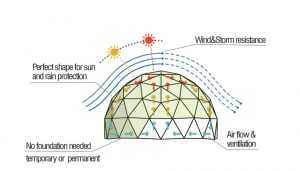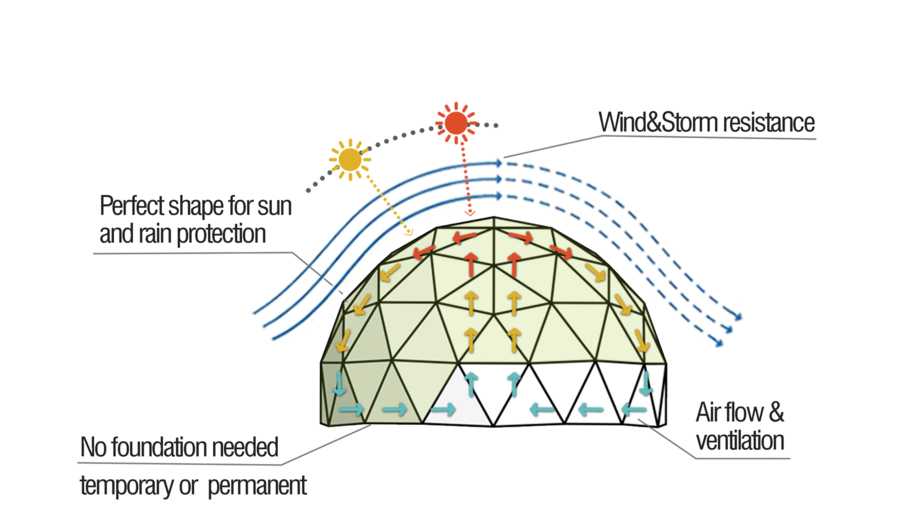 Energy-efficient Design:
Exposure to cold in winter and heat in summer is decreased, due to less surface area per unit of volume.
The concave interior creates a natural airflow, allowing hot or cool air to flow evenly throughout the dome with the help of return air-ducts.
Extreme wind turbulence is lessened because winds contributing to heat loss flow evenly around the dome.
It acts like a giant downward reflector that concentrates interior heat, preventing radiant heat loss.
Dome studies, comparing same-size traditional structures, have shown a 30% energy savings.
The fact that domes are temporary structures, means that they can be easily transported to your location, go up quickly with hand ratcheting tools ‒ and, can be just as easily taken down when they are no longer needed.
Floating Dome Pavilions
Floating Dining Dome Pavilion
Everyone's Favorite Dining Hub… a unique and safe waterfront restaurant !
Imagine your patrons enjoying a unique culinary experience served dockside while being gently lulled on the water's edge. With nothing to obstruct views the waterfront deck area of your exotic floating dining dome pavilion affords romantic vistas, an endless parade of beautiful boats and harbor lights.
Looking to expand to a floating dock pavilion? Recommended resource: A comprehensive directory of floating dock manufacturers, service companies and distributors listed in Thomasnet.com.
Established in 1980, our award-winning dome tents are great for outdoor dining experiences, restaurants, bistros and cafés. Our customizable branded dome tents make your logos and graphics stand out in any crowd.
Pacific Domes in-house staff is equipped to walk you through each step of the way. We're here to inspire your dreams with customized 3-D renderings that come to life right before your eyes.
Pacific Domes, has been blazing the trail since 1980 with over 40-years of industry expertise. Based in Ashland Oregon, the ecoliving dome manufacturer offers rapidly deployable domes that are a gorgeous work of geodesic engineering.